So you've left South Africa to take up permanent residence abroad, and started your new life in your chosen country to live and work, such as the UK or Australia. In order to make the most of your assets you should consider financially emigrating. Let's take a look at what this means for you and your assets.
Why you should know about financial emigration
Simply packing your bags and leaving South Africa may change your status as a resident, but it does not change your status for exchange control purposes. To do this you must apply to the South African Reserve Bank (SARB) to financially emigrate. Financial emigration does not affect your citizenship or passport, but is necessary if you want to move certain financial assets with you to your new home.
Once you have officially financially emigrated, you may transfer the following assets abroad:
Your retirement annuity, pension and provident funds (at any age)
The assets declared in your application
Any inheritance you may receive in SA
Proceeds from a life policy
Passive income received from sources such as annuities, rental, trusts and payments for services rendered in South Africa
It is important to remember that financial emigration results in a deemed disposal of all your assets in South Africa. This means that you will be forced to pay Capital Gains Tax on your assets, with the exception of immovable property and personal assets.
Emigrate now, financially emigrate later
If you intend on moving to another country, you do not have to financially emigrate to start transferring your wealth abroad. You are still able to utilize your foreign allowances as follows:
Up to R1 million per year discretionary allowance – no tax clearance certificate required
Up to R10 million per year investment allowance – tax clearance certificate required
To transfer more than R10 million you will need a tax clearance certificate and you must submit an application to the Financial Surveillance Department of the SARB for approval
In most cases, we would recommend externalizing the assets you wish to take offshore by utilizing the various options stated above before you financially emigrate. Once you've relocated and settled abroad, you can start the process of formal emigration so that you can transfer the remainder of your assets.
The benefit of doing it in this order is that it allows you to externalize the bulk of your assets without having to go through the lengthy process of financial emigration. It is mostly retirement funds that are left behind that you would then be able to move offshore once you have financially emigrated process.
Before you financially emigrate, you will have to make a decision as to whether you will indeed be returning to South Africa or not. Reversing some of these decisions, while not impossible, will be quite time consuming and potentially expensive.
Get help transferring your retirement savings abroad
Financial emigration is a service offered by Sable International's wealth division. This service helps South Africans financially emigrate and transfer their retirement savings to their new home. Below is a breakdown on how we can help you cash out and transfer your retirement savings, no matter how old you are.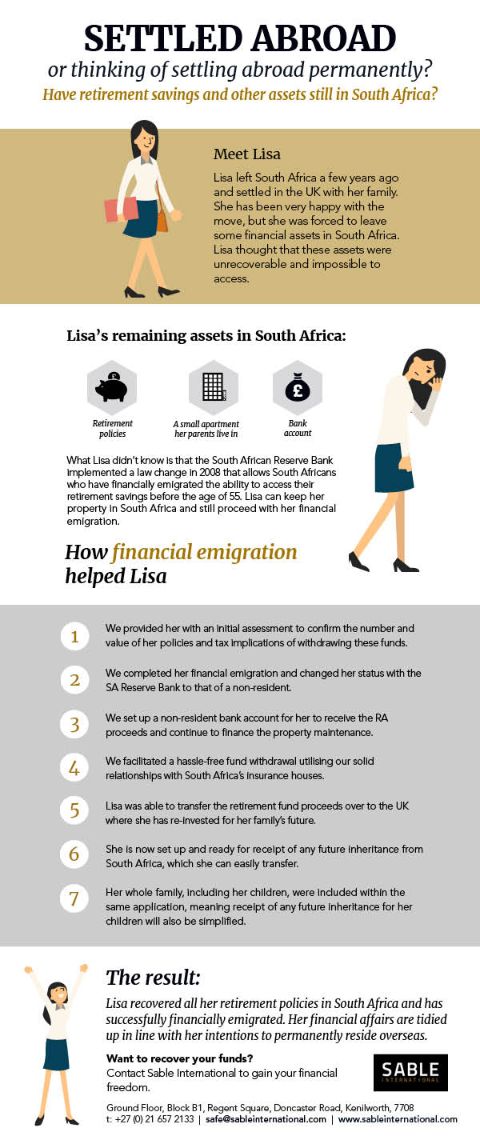 ---
To get started with transferring your retirement savings overseas, fill in the financial emigration assessment questionnaire and we'll start your free assessment. If you'd like to speak to a consultant directly, you can call us on +27 (0) 21 657 2133 or send us an email.
We are a professional services company that specialises in cross-border financial and immigration advice and solutions.
Our teams in the UK, South Africa and Australia can ensure that when you decide to move overseas, invest offshore or expand your business internationally, you'll do so with the backing of experienced local experts.