Sending money in or out of Hong Kong using a bank can be time consuming and inefficient. That's where our forex service can make a difference. Below we explain how our Hong Kong office surpasses the banks in every way when it comes to international money transfers.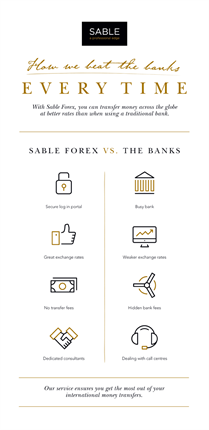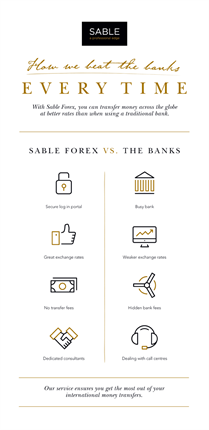 The bottom line
We don't charge fees on forex transactions and our rates will always be better than traditional banks. In addition to this, we are able to offer our clients a hands-on service tailored specifically to their needs. Banks are not able to do this since, for them, international transfers are not a key service.
A comprehensive international money transfer service
As part of Sable, our service offering can extend beyond basic forex transfers. If you'd like, we can set up a consultation with one of our independent financial advisers in our Wealth division. Our advisers will help your grow and protect assets at home or offshore.
---
If you want to send money abroad register with us today. If you have any other questions about international money transfers, give us a call on +44 (0) 20 7759 7554 or email us on forex@sableinternational.com
We are a professional services company that specialises in cross-border financial and immigration advice and solutions.
Our teams in the UK, South Africa and Australia can ensure that when you decide to move overseas, invest offshore or expand your business internationally, you'll do so with the backing of experienced local experts.