With so much of today's property hunting being done online, there's more opportunity for fraudsters to take advantage of unsuspecting tenants. Here are a few common rental property scams to be wary of.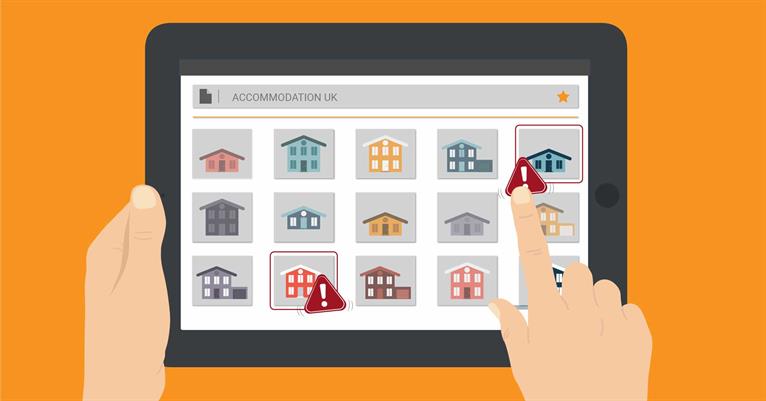 Scam artists are offering cheap flats for rent and demanding instant payments, stealing would-be tenants' hard-earned cash.

London property is in high demand, so you'll often be told to "act fast" if you want to secure the deal. This pressure on tenants makes it easier for scammers to prey on individuals who may not be aware of the rental processes in the UK.
Is it a scam?
When in doubt, trust your gut. You should never feel pressured into parting with your money in the moment. If you find yourself questioning a deal, it may be your intuition telling you there's something wrong.
If you're ever unsure about whether an advertisement is a scam, here are a few key warning signs to look out for:
Very low rent
Using money transfer services or odd payment methods
Requiring a deposit upfront
Not requiring a deposit
Not being able to arrange a viewing
An overseas landlord
Poorly worded ads
Letting agency has little online presence
Lack of pictures
When hunting for a new place, it's a good idea to speak to a relocation specialist who will connect you with legitimate housing advisors in the UK.
Here are the most common signs of an offer you should be wary of:
1. The price is too good to be true
A good sign of a potentially fraudulent advertisement is the price. Always start your property search by exploring other property listings in the area. This will give you an idea of the market rate and better equip you to spot when something is being advertised for far too little for its location.
Money transfer services
Another thing many scammers do is ask you to use money transfer services like Western Union or Moneygram. If a landlord asks you to pay your holding deposit or rent using any other method than credit or debit card, be careful. When used properly, money services are convenient, however, the money is often untraceable once you've paid it. This is another reason paying in cash is unwise. Once you've paid it's very difficult to prove.
2. No viewings allowed
You have the right to view a property or room before signing any contracts or handing over any amount of money. If you hear an excuse like, "the apartment is currently being renovated" or "the tenant works from home and doesn't want to be disturbed", simply stay away from the listing. This either means it's a fake property and isn't up for rent or the property isn't in good condition and you wouldn't want to live there anyway.
If you're searching for somewhere to rent from outside the UK, it's important that you do a look-and-see visit before agreeing to rent. We have relationships with some of the UK's top accommodation providers and can help you save while on your exploratory trip. If you can't travel for a look-and-see trip, have a friend or family member living in the UK do it on your behalf.
3. An overseas landlord
There is nothing more frustrating than finding the perfect property listing online, but when you contact the landlord, they tell you they can't meet because they live overseas. This could be a common online scam where a fake landlord will get potential tenants interested and request they transfer a holding deposit into a foreign account. Once the money has been transferred, the fraudster will vanish and be impossible to track down.
Never hand over your money before viewing the property in person or having someone you trust view the property on your behalf. Most overseas landlords will use letting agents or a close family member in the UK to manage their properties for them.
4. Poorly worded advertisements
A lot of scams are based on unauthorised individuals letting out properties online. Fraudsters use free listing websites like Gumtree because no one is running regular checks on them. These sites also provide access to a large audience of potential renters outside the UK.
When scrolling through ads, take notice of how they read. Does it seem like it was written by someone who is not fluent in English? Do the contact details seem professional? If there is only a mobile number and a free email to contact the landlord, this may be a sign that they are illegitimate.
A fast way to learn if the landlord is who they claim to be is to ask them for their business contact information. If they are a genuine advertiser, they'll know you need this information and they should have no problem sending it to you. You can even request they send you their proof of ownership.
Tips for dealing directly with landlords
Ask questions about the property
The landlord should know every detail about the property. Be wary if they struggle to answer your questions.
Don't agree to a property that requires repairs
This is a common mistake that first-time tenants make. If the landlord isn't willing to address the repairs before your move-in date, they may never be done. Refrain from signing the contract until everything is in working order.
Legal obligations
Before starting your tenancy, ensure a gas and safety check has been conducted and that you're shown a valid energy performance certificate. Check that there's a working smoke or fire alarm.

Get references
You can ask the landlord for the previous tenant's details. Ask about their experience and reason for leaving. You can also speak with your potential neighbours about the landlord and previous tenants.
Have you ever been a victim of rental fraud? Tell us about your experience in the comments.
---
If you're in the process of moving to the UK our relocation consultants can help. Call us on +44 (0) 20 7759 7536 to get a relocation package that suits your individual circumstances today.
We are a professional services company that specialises in cross-border financial and immigration advice and solutions.
Our teams in the UK, South Africa and Australia can ensure that when you decide to move overseas, invest offshore or expand your business internationally, you'll do so with the backing of experienced local experts.