When you first arrive in the UK from South Africa and wish to buy a property, the UK mortgage landscape can be confusing. We break down everything you need to know to secure a loan for your dream home.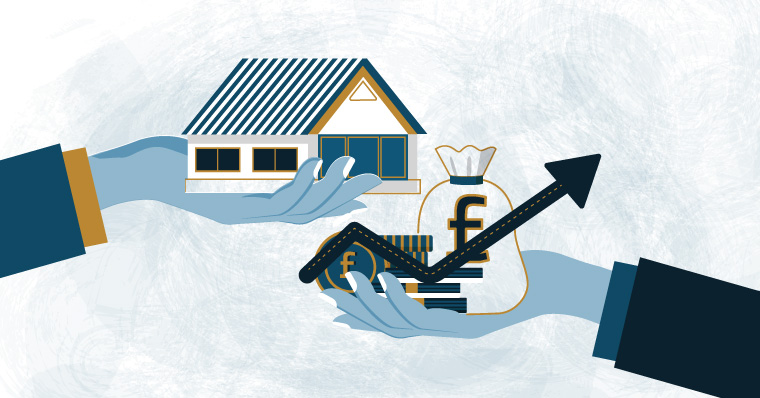 We often speak to clients who are planning to come over to the UK from South Africa or have recently come from South Africa and are anxious to purchase a property as quickly as possible. What they often struggle to understand is that lenders only lend based on your UK credit score and the time you've been here.
What credit score is needed for a UK mortgage?
The rule of thumb is you need to be in the UK for at least 12 to 24 months before you can get a mortgage. However, there are some lenders that could lend hypothetically on day one, as in the day you land, as long as your credit score is high enough. However, the credit score is likely not going to be high enough until you've been in the UK for around six months.
Your South African credit score won't matter. When you land in the UK, you start afresh.
How to improve your UK credit score
1. Get on the electoral register
A little-known fact is that you don't necessarily have to be a citizen of the UK to vote. As South Africa is a qualifying Commonwealth country, you can vote in UK elections as long as you are over 18 and living in the UK.
The electoral roll lists the names and addresses of everyone who's registered to vote. This is a key area of your credit score because it tells the government where you're based and offers proof that you're living at your address.
2. Get a UK bank account (and credit card)
The sooner you get a UK bank account after landing in the UK, the sooner you'll be able to start building that credit score. Ideally you want to get a credit card. That might seem counter-productive, but if you think about it, what is a mortgage? It's a really large amount of debt that you're paying off slowly over a long period of time. A credit card is a great way of proving that you're good at paying back debt. One of the best ways is to use your credit card like a debit card, to pay for all of your day-to-day expenses, then have a direct debit standing order to pay off that outstanding credit card each month. It shows the bank that you're paying credit, and you have the ability to service that debt.
See also: Do you know how much you really need to retire?
Getting a UK mortgage if you're a foreign national on a visa
Now, many South Africans don't actually have a British passport when they arrive in the UK. They come over on an Ancestry visa – which is a five-year visa – or a spousal visa. Those are the two I see most often. Many lenders won't consider giving someone a mortgage if they're on a visa. However, they will potentially consider it if you have a 25% deposit.
There are some lenders who will consider your case if you have less than 25%, but some of them want you to have been living in the UK for at least two years, some of them require you to be earing over £100,000 income, and some will consider you as long as your partner is British. But, as a general rule, having a deposit of 25% puts you in a good position.
The Help to Buy scheme – assistance for first-time buyers
The UK government currently has a programme called Help to Buy that assists first-time buyers by loaning them 20%-40% of the purchase price of a newly built home in exchange for a 5% deposit.
You then have five years to pay back that loan interest-free. Thereafter, you'll be charged 1.75% interest, which will increase year-on-year until the loan is repaid.
This could be an excellent way to make up the 25% deposit if you're in the UK on a visa, provided you find a qualifying property. In London these are usually in apartments, but outside of the big city, you can find a number of larger freehold properties that qualify.
The scheme will run until 31 March 2023, so now is the perfect time to take advantage.
Getting a UK mortgage if you're self employed
Another thing to consider is if you come over to the UK as an entrepreneur. Many South Africans come over when they expand their business to the UK by opening up a branch or subsidiary.
Banks generally lend based on your employed income with one to two months of payslips. However, if you're self-employed, many lenders would want to see at least two years of company accounts or two years of tax payments to HMRC. Meaning you may need to be tax resident in the UK for at least two years before you can apply for a mortgage. However, it would depend on your specific lender.
Insurance is a must
It should go without saying that, as someone arriving into a new job in a strange country, taking out a large hard-currency loan is risky.
The property you're looking to buy is likely to be your single biggest purchase in your lifetime and making sure that large amount of debt has a financial protection in place is paramount.
Life cover is an insurance policy that will pay out a tax-free lump sum in the event of your death, which can be used to pay off your home loan. You might also wish to consider disability cover, which would pay out a tax-free lump sum in the event of your permanent disability or income protection benefit, which pays out following a temporary or permanent disability that affects your ability to earn income.
See also: Family income benefit: Protecting your children when you're gone
Understanding the UK mortgage process
In the UK, you're only able to get an offer from a lender once they've been able to view and value the property and underwrite your circumstances. So that means you have to go searching for a property, get an offer accepted, and only then can you make an application. As a result, you'll generally go between two to four weeks from application to potential offer.
This is one of a few ways that the UK mortgage system is different from South Africa's and it can be confusing when you first arrive in the country. We have a great deal of experience helping South Africans coming over to the UK and have a full understanding of both markets.
How our mortgage advisors can help you
We work with you to understand your unique circumstances and research your options before presenting you with a pool of lenders who are likely to offer you a mortgage and their various rates. We will advise you on what your monthly repayments are going to be, what term works for you and the long-term impact of the loan to truly find the most suitable option for you. While we cannot guarantee a mortgage, but we can arm you with essential knowledge before you make an offer on a property and help you find the lenders who are most likely to give you what you need.
---
We are a mortgage brokerage and independent financial planning firm that specialises in whole of market, cross-border wealth advice. Our primary aim is to make your transition to UK property ownership as easy as possible by sourcing you the best deal with the highest chance of success. You can get in touch with our London and South African offices at +44 (0) 20 7759 7519 (UK), +27 (0) 21 657 1540 (SA) or by emailing us at mortgages@sableinternational.com
The information contained herein is for informational purposes only which is subject to change and should not be relied upon. You should seek advice from a professional adviser before embarking on any financial planning activity.

We are a professional services company that specialises in cross-border financial and immigration advice and solutions.

Our teams in the UK, South Africa and Australia can ensure that when you decide to move overseas, invest offshore or expand your business internationally, you'll do so with the backing of experienced local experts.

;