If you'd like to study abroad in Australia, Canada, the USA, or many other countries, you will need to provide a Statement of Purpose (SOP) along with your visa application. Here's how to write one.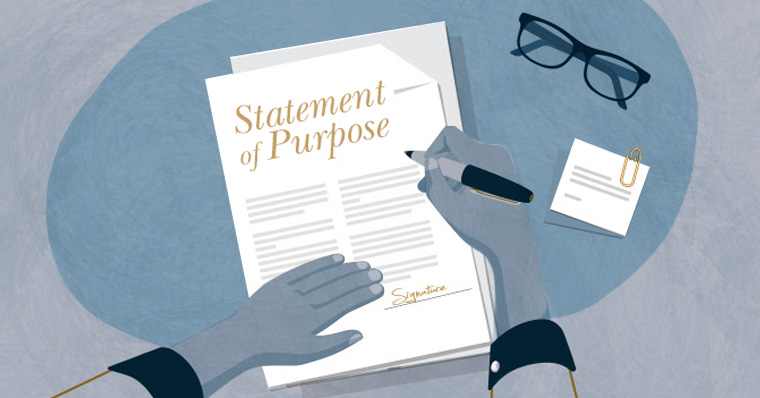 Your statement of purpose is a signed essay that is the essence of your visa application to study abroad. While it is personal to you and intended to reflect your own situation, there are certain areas you need to cover.
Why are you right for this course?
Write about your best achievements, hobbies, school/college, any relevant work experience, and anything you think might be helpful in showing the visa agent that you are a knowledgeable student. In this section, you want to make yourself stand out from the crowd.
Also include what your most recent qualification was, where you studied it and what you've been doing since completing it. You should explain how the new course is a progression on top of your previous qualification, and how your previous course and subjects will help you in this new course (even high school subjects).
If the time between your last course or high school and your chosen course is more than six months, they will expect you to have been doing something useful since then. This might include voluntary work, a paid job, or short academic courses. If you were previously unsuccessful in your studies, you will need to explain why this was and why you will be able to perform better now.
Tip: Prepare some reference letters from your employers or any volunteer organisations you've worked for since you last studied.
What do you know about the programme you have chosen?
Here's where you can show your passion. What are some of the subjects you will study? Is there an internship component?
Demonstrate why this course fits into your plans. Why does this subject interest you? What is it about this course and the modules in it that interests you?
What do you know about the university you have chosen?
What are your reasons for choosing this particular institution and have you considered any other colleges or universities for a similar course?
You need to show your knowledge of the institution. You can include facts such as location, rankings, facilities, noteworthy professors, etc.
Explore your options with our study abroad institution search.
What do you know about the country and city you have chosen?
You need to explain why you have chosen that country and add details. You should be able to answer why you want to study in this country rather than any other country. Why not your country? Especially if this course is available in your country.
Tip: Avoid making negative comments about the country you come from and focus on why your chosen country will make you an asset to your country.
What is your plan after completion of studies?
Show how this course will help you to achieve your career goals, and what your plans are after you have completed your studies. Give details and make sure your plan is in your home country.
It is extremely important that your Statement of Purpose shows clearly that you do not intend to stay in the country in which you are studying and that you have strong ties to your home and will be returning.
See also: How we can help you study abroad.
Statement of Purpose format
Always check the requirements for your specific country. In general, SOPs should be about two pages long and written in paragraph form. A good rule of thumb is to try to write between 1,000 and 1,500 words.
Avoid using colourful text, fonts, images and an over-reliance on bullet points.
It's good practice to use the format of a formal letter, with your name, address and email address in the top right corner and your name signed at the bottom. The statement should be addressed to the visa officer of the country you're applying to, for example:
The Visa Officer
High Commission of Australia
This should be followed by the subject: Statement of Purpose for Student Visa application (or similar)
Tips for writing your statement of purpose
Be sure to avoid too much repetition.
Do not use automatic translation software.
Remember to include the name of your educational institution.
Keep your sentences clear and concise and come straight to the point.
Tell the truth about yourself and your achievements.
Avoid using slang or informal language.
Be as specific as possible, avoid overly general or cliched words and sentences.
Take your time to write it and think about what you'd like to say.
Ask someone to proofread your statement to check for typos and grammatical errors so that you can make the best impression.
Be original and express yourself. You want to show your unique personality and goals, so don't rely on ChatGPT or other AI to write your statement for you, don't use a template or copy anyone else's statement.
---
Our study advisers are qualified to help you with applying to various programmes and will assist you along the journey.
Our direct access to the university admissions teams makes it easy for you to apply and get your enrolment letter. Get in touch with us at study@sableinternational.com.
We are a professional services company that specialises in cross-border financial and immigration advice and solutions.

Our teams in the UK, South Africa and Australia can ensure that when you decide to move overseas, invest offshore or expand your business internationally, you'll do so with the backing of experienced local experts.

;