If you're a South African who is thinking about moving abroad, or who has already moved, you should consider financially emigrating. Among other things, financial emigration allows you to withdraw and transfer your South African retirement annuities offshore. Below is a case study illustrating the benefits of proceeding with formalising your emigration.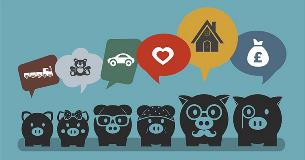 Should you financially emigrate?
Whether or not financial emigration is right for you depends on what kind of retirement savings and assets you hold. The process is complex and each situation is unique, so it's always a good idea to get in touch with an expert who can carefully consider your personal circumstances and advise you on the right course of action.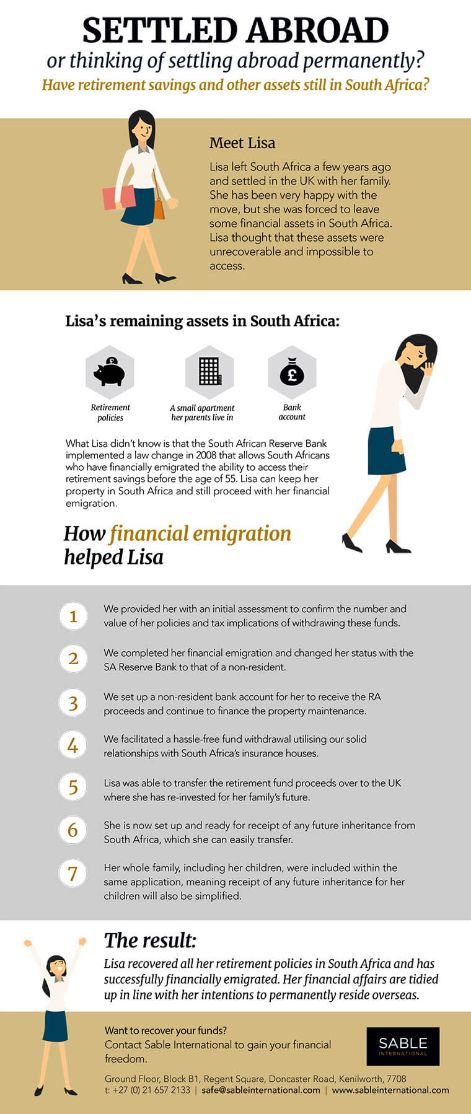 Will I lose my South African citizenship if I financially emigrate?
Financial emigration does not mean that you lose your South African citizenship. Many people confuse the financial aspect of emigration with relinquishing their passport and citizenship.
You will only be at risk of losing your South African citizenship if you have acquired citizenship in another country without the prior written consent of the South African Minister of Home Affairs.
These are two different processes. If you financially emigrate, only your tax status with the SARB will change to that of a non-resident. You will not have to give up your South African citizenship or passport to do this.
The benefits of financial emigration
Once you have changed your tax status to non-resident, you are able to, amongst other things, withdraw and transfer your retirement savings out of South Africa – even if you are below the age of 55.
It is very possible that legislation will change in the years between your emigration overseas and your application to financially emigrate. It's advisable to complete the process of financial emigration once you have decided that you are not returning to South Africa, so you can enjoy having access to your funds as soon as possible.
The process of financial emigration can be daunting and frustrating for many. We provide assistance from start to finish, making the entire process as stress-free as possible. You can be assured that you'll be in safe hands.
See also: We answer your questions about financial emigration

Asset recovery case study
Meet Lisa
Lisa left South Africa a few years ago and settled in the UK with her family. She has been very happy with the move, but she was forced to leave some financial assets in South Africa. Lisa thought that these assets were unrecoverable and impossible to access.
Lisa's remaining assets in South Africa:
Retirement policies
A small apartment her parents live in
Bank account
What Lisa didn't know is that the South African Reserve Bank implemented a law change in 2008 that allows South Africans who have financially emigrated the ability to access their retirement savings before the age of 55. Lisa can keep her property in South Africa and still proceed with her financial emigration.
How financial emigration helped Lisa
We provided her with an initial assessment to confirm the number and value of her policies and tax implications of withdrawing these funds.
We completed her financial emigration and changed her status with the SA Reserve Bank to that of a non-resident.
We set up a non-resident bank account for her to receive the RA proceeds and continue to finance the property maintenance.
We facilitated a hassle-free fund withdrawal utilising our solid relationships with South Africa's insurance houses.
Lisa was able to transfer the retirement fund proceeds over to the UK where she has re-invested for her family's future.
She is now set up and ready for receipt of any future inheritance from South Africa, which she can easily transfer.
Her whole family, including her children, were included within the same application, meaning receipt of any future inheritance for her children will also be simplified.
The result:
Lisa recovered all her retirement policies in South Africa and has successfully financially emigrated. Her financial affairs are tidied up in line with her intentions to permanently reside overseas.
---
Our team of experts can help you secure your financial future. Give us a call on +27 (0) 21 657 2153 or send us an email at safe@sableinternational.com and we'll get back to you.
We are a professional services company that specialises in cross-border financial and immigration advice and solutions.

Our teams in the UK, South Africa and Australia can ensure that when you decide to move overseas, invest offshore or expand your business internationally, you'll do so with the backing of experienced local experts.

;