UK universities typically accept international applications up to 30 June. If you dreamed of starting your studies in the UK this year, but you missed this deadline, it's not too late. Here's what you need to know about Clearing – a process that could help you secure a place at a UK university in 2023.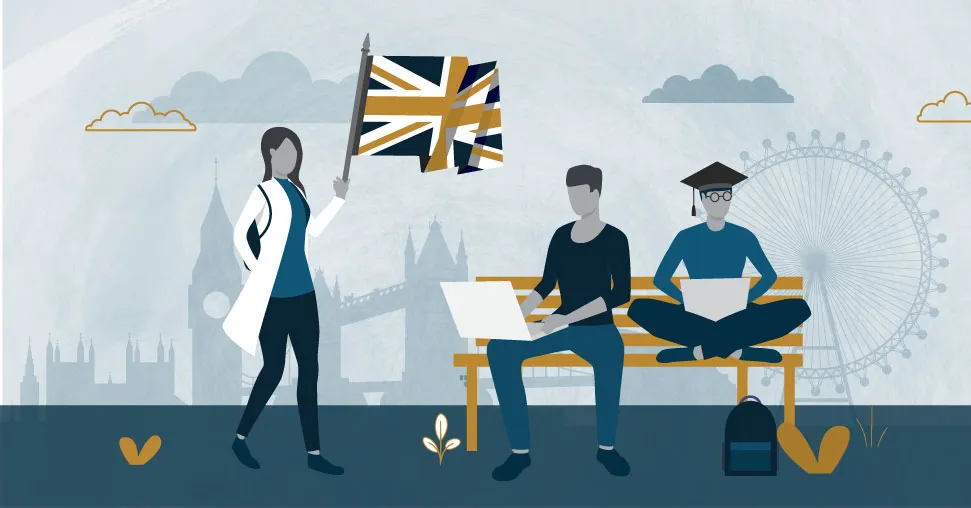 "Clearing" is a system that UK universities use to fill places in courses that still have capacity after the initial application cycle is complete.
It isn't only for less desirable courses – sometimes students who were accepted to the most popular courses have a change of plans or are unable to attend for various reasons, opening up space.
This year, Clearing runs from 5 July – 17 October.
Who is Clearing for?
You'll want to take advantage of Clearing if:
You didn't receive offers from your chosen unis – Clearing gives you an opportunity to try apply again, or select a new institution that you missed the cut off for before
You didn't respond to your offers in time or missed the 30 June cut-off
Your results were better than you expected, and you want to change unis
Your results were unfortunately too low for your offers, and you would like to explore other options
You've changed your mind about what you'd like to study
Students who applied to study in the UK through the Universities and Colleges Admissions Service (UCAS) and didn't meet the entry requirements for their chosen courses, or didn't receive any offers from the unis they applied to, are automatically entered into Clearing. But if you haven't applied yet, you're also welcome to apply during Clearing.
The Clearing process
Step 1: Research
You can find a full list of available Clearing options on the UCAS website, but before you enter the process it's essential to research universities and courses that align with your academic interests and career aspirations.
Explore university websites, course catalogs, rankings, and student testimonials to gain insight into the programmes on offer. Create a shortlist, considering factors such as location, reputation, course content, fees, and support services for international students.
If this sounds overwhelming, the good news is our study abroad advisers are experts at doing just this. We are partnered with over 100 universities in the UK and are well-versed in the programmes they have on offer.
It's important to remain flexible regarding course choices and university preferences. While you may have a particular institution in mind, be open to exploring different courses and universities that have vacancies, as this can lead to exciting new opportunities.
Step 2: Contact universities
Once you've made your shortlist, you should get in touch with your chosen universities to enquire about available Clearing vacancies. Be prepared to provide information such as your qualifications, academic transcripts, personal statement, and a brief explanation of why you are interested in their institution.
Alternatively, make use of our services and we'll get in touch with universities on your behalf.
This initial contact is crucial as it allows universities to assess your eligibility and potential fit for their programmes. If they have a vacancy, they might even give you a decision right away.
We have direct access to our partner universities' admissions departments
Get in touch
Step 3: Make a decision
You can only have one official Clearing choice at a time, so think carefully before committing.
Evaluate each offer based on factors such as course content, location, university reputation, and career prospects. You may even wish to reach out to current students or alumni through social media or university forums to gain insights into the university experience.
Step 4: Secure your place
Like all undergraduate UK university applications, Clearing runs through UCAS. If you haven't already, you will need to pay a £26 fee to submit through UCAS and receive a Clearing number.
You will need to have your UCAS Clearing number available before you can officially add a Clearing choice. Your Clearing choice is seen as acceptance of an offer, so you should only add it to your UCAS profile after a university you've spoken to has given you permission. Follow their instructions regarding the next steps. You may need to provide additional documentation, such as proof of qualifications or financial statements, to secure your place. It's important to adhere to the deadlines provided by the university to ensure a smooth enrollment process.
If the university doesn't confirm your place, you'll be given the option to make another choice.
If you already have an offer, either from Clearing or before the June cut-off, and would like to change your mind, you can decline the offer on UCAS and release yourself into Clearing.
About our Study Abroad service
Our partnership with over 320 international universities gives us the ability to offer a free study abroad consultation service to fee-paying students.
As part of our service, we:
Help you choose a university and course
Assist you with your application and your visas
Arrange on-campus accommodation and offer other pre-departure assistance
---
Get in touch with us at study@sableinternational.com or give us a call and we'll be happy to help you through the Clearing process.
We are a professional services company that specialises in cross-border financial and immigration advice and solutions.

Our teams in the UK, South Africa and Australia can ensure that when you decide to move overseas, invest offshore or expand your business internationally, you'll do so with the backing of experienced local experts.

;