If you're sponsoring workers from overseas, or plan to travel to the UK as a Skilled Worker in the coming months, here's our summary of some key news items that you'll want to be aware of.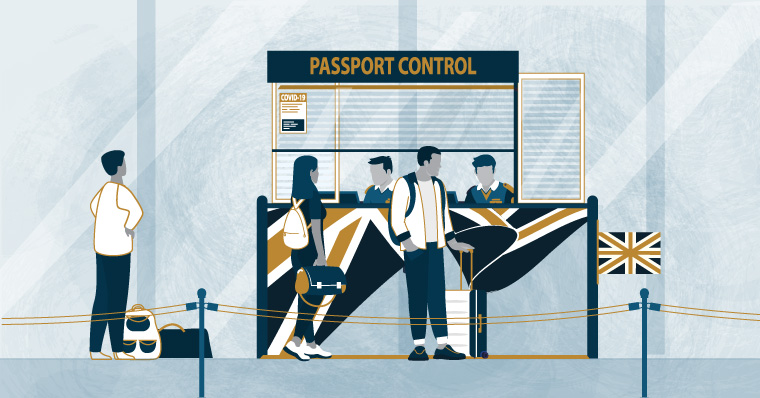 In recent news, the UK has seen:

Here is a detailed look at what you need to know.
Immigration staff at UK airports to strike over Christmas
UK Border Force staff plan to go on strike at airports across the UK during the busy Christmas season, from 23 December to 31 December, in a dispute over pay. Travellers are warned that they will face severe disruptions at some of the busiest airports around the country such as Heathrow, Gatwick, Birmingham, Cardiff, Glasgow, Manchester and Port of Newhaven.
Public and Commercial Services (PCS) union general secretary, Mark Serwotka, said about 2,000 - 3,000 workers would be on strike. He said that workers are struggling to cope with the soaring cost of living, caused by double-digit inflation and sky-high energy prices on the back of the war in Ukraine. PCS members were "desperate" and a proposed two-percent pay increase was not enough when inflation had crossed 11 percent, he added.
Confusion around the issuing of Biometric Residence Permits
There is some uncertainty when it comes to who will be issued a Biometric Residence Permit (BRP) in the UK. The Home Office intends to phase out physical BRPs by 2024 and plans to go fully digital when issuing visas. As such, the official guidance is that BRPs will only be issued to people who require a visa to enter the UK. But, in reality, it seems the reverse has been happening, causing confusion amongst visa holders. We have seen clients who were not expecting to receive a BRP being given one, and conversely clients who required one being told that they would not be receiving one.
We have reached out to the Home Office and hope to get some clarity on this soon. As it stands, we are unable to advise who will receive a BRP when coming to live and work in the UK. The Home Office has stated that if you make your application using the UK Visa and Citizenship Application Service (UKVCAS) IDV app, you won't be issued a BRP.
Home Office UK visa processing time delay
UK visa processing times have yet to return to pre-Covid levels. According to the Home Office, there have been significant delays when it comes to both in-country and out-of-country applications due to ongoing developments in Ukraine and high global demand for visas.
Out-of-country UK visa applications
In light of the current processing priority for Ukraine Family Scheme visa applications, the Home Office has advised that applications for study, work and family visas may take longer to process.
In August 2022, UKVI advised that processing was taking longer than the three-week standard for out-of-country applications, with the following times being observed:
Work visas – an average of four weeks
Visit visas – an average of six weeks
Student visa applications are being processed within the standard service time
In June, UKVI provided an update stating that certain family applications made outside the UK, such as joining a family member in the UK, may now take up to 24 weeks to process. There are also instances of dependant children and spouse visa applications taking longer to process than main Skilled Worker visa applicants. Other types of applications, such as transit visas, may see a delay of up to six weeks to process.
In-country UK visa applications
In November 2022, the Home Office issued an update on delayed processing of in-country applications for Skilled Worker visa and Health and Care Worker visa extensions and switching; these applications are now taking an average of 16 weeks to process.
UKVI is currently experiencing significant delays in processing Certificate of Sponsorship (CoS) applications under the standard service. Sponsors should note that CoS allocation requests are currently taking several weeks and in some cases months.
Priority processing remains available to A-rated sponsors for fast-tracked CoS allocations and other Change of Circumstances requests for a fee of £200 per application. Priority requests are generally processed within five working days.
Asylum seeker crossings across the English Channel
Small boat crossings across the English Channel from France to Dover have increased drastically over the last year. Asylum is at its highest in two decades and the fifth highest level ever. To date already 44,000 illegal immigrants have arrived in the UK during 2022, with the number expected to reach 47, 000 before the new year.
Asylum seeker numbers have been rising significantly over the last five years:
299 in 2018
1,843 in 2019
8,466 in 2020
28,526 in 2021
The UK government is struggling to keep up with this influx of illegal entrants and short-term holding facilities, such as Manston in Kent, are holding far more people than they have the capacity for. The facility, which has the capacity to hold 1600 people at a time, at one point held 4000.
The Home Secretary has endorsed a report proposing that the only asylum seekers who should be accepted are those who come to the UK through official resettlement schemes, like the Ukraine, Afghanistan and Hong Kong or are from countries with which the UK has a historical link.
Concerns about the UK points-based immigration system
Another issue being addressed is the suggestion that the current points-based immigration system should be revised. Several senior ministers feel that this post-Brexit system has opened the UK up to "unlimited" numbers of high-skilled migrants, while starving businesses reliant on cheaper, more flexible labour like fruit pickers and farm workers.
While there have been 330,000 work visas issued this year to June, sectors like the hospitality industry and adult social care are struggling to fill roles.
Should the points-based system be reviewed, it might offer a greater opportunity for foreign workers The Prime Minister, however, is focused on getting the five million Britons who are out of work back into the workforce before relaxing quotas for low-skilled workers. According to The Sunday Times: "What the PM wants to show is that we have done everything we can get back into work in this country before going into the lower-skilled categories of immigration.
Sponsor licence guidance
The Home Office has made some recent amendments to the Workers and Temporary Workers: Guidance for Sponsors, which sets the rules for sponsoring workers from overseas.
New start date concessions
Sponsors are required to enter a start date on all Certificates of Sponsorship (CoS) that they assign. This should be the date you expect the person to start working for you if their visa is granted. There has always been some flexibility around start dates with workers required to start their job on the date listed or within 28 days of this date.
The recent amendments provide even greater flexibility on start dates for sponsored workers, allowing them to start earlier than the date listed on their CoS. You do not have to let the Home Office know if the start date has been brought forward if the person has permission to enter the UK before their commencement date.
Working hours and salary information
If employers wish to sponsor a skilled worker who is making their application from outside of the UK, they will need to apply for a defined CoS. The salary information that appears on this CoS must be a genuine reflection of the salary you intend to pay the worker and must meet the salary requirement of the Skilled Worker route.
In addition, working hours must also be stated on the CoS as part of the application. If the working hours will vary, you must give details of what the working pattern will be. This will help UKVI confirm that the stated salary meets the general threshold, going rate and hourly rate required. If you fail to give this information, your application is likely to be rejected.
Unpaid absences
When a sponsored worker is absent from work without pay for more than four weeks in total in any calendar year (1 January to 31 December), then their employer must normally stop sponsoring them. These four weeks do not need to be consecutive. However, a new amendment to the guidance has been added that says this unpaid leave can last longer than four weeks if there are compelling or exceptional circumstances.
If you believe that there is a compelling or exceptional circumstance as to why you should not stop sponsoring the worker, you must report this absence and reasoning to UKVI via the "Report migrant activity" function in the SMS for consideration. It should be noted that if the UKVI is not satisfied with the reasoning, they might cancel the worker's permission and you will have to stop sponsoring the worker.
---
We understand the complexity of UK immigration law and the issues that could lead to non-compliance. Our experienced team in the UK can guide you through aspects of UK immigration and can assist with ongoing employee immigration management. Contact us on +44 (0) 20 7759 5307 or at workpermits@sableinternational.com .
We are a professional services company that specialises in cross-border financial and immigration advice and solutions.
Our teams in the UK, South Africa and Australia can ensure that when you decide to move overseas, invest offshore or expand your business internationally, you'll do so with the backing of experienced local experts.