Mishal Patel, our Director of Citizenship and Immigration, discusses British citizenship through triple descent for children under 18. This is a very rare route to citizenship through a UK-born great-grandparent, even if you, your parent and even your grandparent were born out of the UK.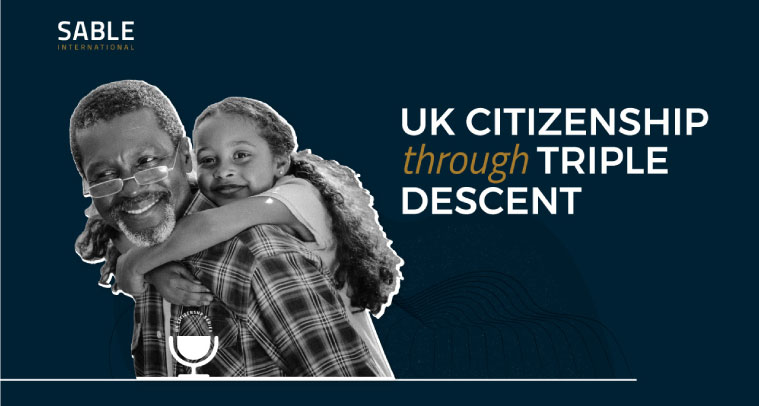 Watch on YouTube
Listen

Topic navigation
Episode transcript
This transcript has been lightly edited for clarity.
Shannan Collop: Hello and welcome to the third episode of Sable International citizenship podcast. My name is Shannan and I'm here with Mishal Patel, Director of our Immigration and Citizenship division. To recap, in the seven-part series, Mishal and I will explain in detail all the routes to British citizenship for children under 18. We have already covered routes to citizenship by birth and descent through a parent and through a grandparent.
Today's episode will focus on the complex and rare route to British citizenship by triple descent, through a great-grandparent.
What is citizenship through triple descent?
SC: How is triple descent different than claiming citizenship by descent or double descent?
MP: Usually in cases where you have triple descent claims, you have an applicant who is born out of UK, and their British parent was also born out of the UK. And, in fact, unlike the last time we did this podcast on double descent, even the grandparent is born out of the UK. And usually, it's the great-grandparent born in the UK. So, when you're looking at triple descent, it's from the great-grandparent to the grandparent, from the grandparent to the parent and from the parent to the applicant. So, when we talk about how many lines of descent that citizenship passes, it's three.
SC: Can you briefly describe certain routes by triple descent with examples of past cases that you might have encountered?
MP: I would say there are three main ones that are most common one for people who are from the Southern African region.
Example 1: Parent born in a federation/protectorate
MP: The first one that we see more than the other two, is where the applicant could be someone that's born in, let's say South Africa. And their relevant parent is born in the Federation of Rhodesia and Nyasaland. That means someone born in Northern Rhodesia, which is now Zambia, before independence, but during the time they formed part of the Federation, between 1958 and the last day in 1963. Now, the relevant parent's parent, the applicant's grandparent, should always be born outside of Northern Rhodesia, in South Africa for example, and their parent (the great-grandparent) born in the UK.
In this very specific set of circumstances, we found that the parent becomes a British citizen "otherwise than by descent", which means any child born to them out of the UK will be automatically British. Only because their nationality was not acquired through descent, it's actually acquired through birth in the Federation. And also, they would have the Right of Abode in more than one way, because they had a grandparent born UK (which, in this case, would be the great-grandmother of the applicant).
So, when we have a great-grandparent born in the UK, with a parent born in Northern Rhodesia, it will be worth looking out for that family tree.
Example 2: Parent born in UK colony
MP: The second example is where you have the parent born in a UK colony. This is different than where previously I said Northern Rhodesia. Northern Rhodesia was a British protectorate, slightly different type of UK territory, whereas a colony is under full control the UK. In this example, let's say you have:<
An applicant born in South Africa.
Their parent born in Kenya colony.
Their grandfather born in South Africa.
Their great-grandmother born in the UK.
In this scenario, you have the parent picking up UK nationality by his birth in a UK colony, and through his grandmother's birth in the UK, he will be reclassified as a British citizen "otherwise than by descent". Which means, again, you have a scenario where that nationality jumps from either a great-grandparent or grandparent, to the father, then to the child. And the child then becomes an automatic British citizen by descent at the time of their birth, even if they're born out of the UK. So, again, you have a scenario where British nationality can come down those three generations.
British by descent and Crown Service
MP: The third example of triple descent is a little bit different, because in the previous two routes we talked about the relevant parent being British "otherwise than by descent", which will allow the nationality to pass automatically to the person claiming it in modern day. In this case, the relevant parent will be British by descent and spent three years in the UK before the child's birth. The relevant grandparent was born in South Africa at the time that his father (the applicant's great-grandfather) was in Crown Service.
We would then be looking to register their children, but they have to be under 18, at the time of the application.
Great-grandfather – UK citizen in Crown Service.
Grandfather – born in South Africa (British other than by descent).
Father – British by descent (spent three years in the UK before child's birth).
Child under 18 – can register as a British citizen.
In the last couple of years, we've successfully argued a few cases like the above three examples.
Common types of Crown Service
SC: You mentioned Crown Service, and we discussed this in relation to double descent as well, in the previous podcast. What is the most common type when it comes to South Africans?
MP: British South African Police is one of the most common ones we see for those of South African descent or birth. The second most common one would actually be civil officers. Civil officers could also be teachers, nurses, veterinarians, or agricultural officers. I've seen a lot of teachers that were sent from the UK to Southern Rhodesia to teach in the government schools there. There was quite a big recruitment drive for civil officers in these different types of government jobs to go from the UK to Southern Rhodesia, now Zimbabwe, but teachers and British South African Police top my list. I see it all the time.
SC: Thank you so much, Mishal. Thank you for your time. And thank you to everyone who tuned in today. I hope you will all join us for our next episode in this podcast series, which will be British citizenship through adoption for children under 18.
---
Find out if you have a British citizenship claim by filling in our free online British citizenship Assessment. Get in touch with our citizenship team on +44 (0) 20 7759 7581 or at citizenship@sableinternational.com
Catch up on the previous podcast episodes in this series:
1. Complications regarding citizenship for children by birth and descent
2. Citizenship for children under 18 through a grandparent
We are a professional services company that specialises in cross-border financial and immigration advice and solutions.
Our teams in the UK, South Africa and Australia can ensure that when you decide to move overseas, invest offshore or expand your business internationally, you'll do so with the backing of experienced local experts.