The UK Home Office has implemented a couple of changes to some immigration policies in an attempt to speed up the processing of visas.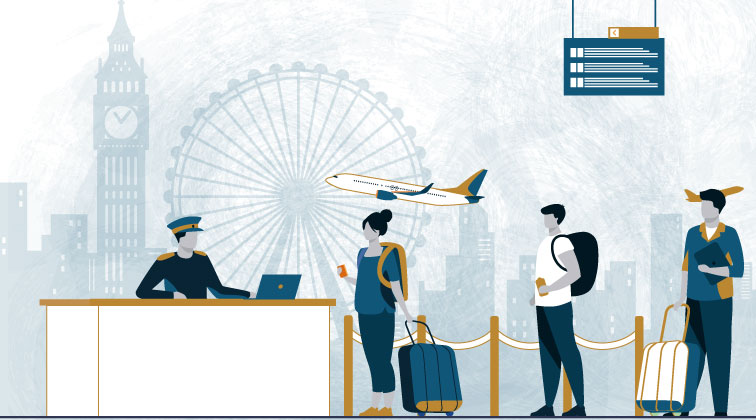 There have been a few significant changes to the UK Immigration policies over the last week in order to speed up the processing of visas and make the overall process more efficient. The first is the reinstatement of UK priority and super priority visa services for new work visa applications and the second is the suspension of police registration for foreign nationals from certain countries.
UK Priority visa services resumed
UKVI (UK Visas and Immigration) has resumed Priority Visa and Super Priority Visa applications from 12 August for new work visa applications. It's important to note that this is only for new applications made after 12 August.
Unfortunately, retrospective Priority and Super Priority visa services are not available if you have already submitted your application. You can, however, withdraw an existing or ongoing standard Work visa application and resubmit your application visa using the Priority or Super Priority services if it's available in your location.
Priority services are only available via the online booking system. This will enable UKVI to continue to deliver standard applications and gradually reduce the overall processing time for all customers.
The following visa routes with qualify for Priority services:
UK priority visa fee and processing time
The UK priority visa fee is £500 in addition to the application fee and you'll get a decision within five working days, compared to the usual four-week processing time (although there have been significant delays in processing and applicants have been waiting between 12 and 15 weeks for a decision on Skilled Worker visas).
Super priority service costs an additional £800 on top of your application fee and you will get a decision by the end of the next working day if your appointment is on a weekday and after two working days if your appointment is on a weekend or a bank holiday.
For each family member applying with you, you'll need to pay an additional:
£500, for priority service
£800, for super priority service
If you apply with members of your family, you'll get a decision for everyone at the same time.
Even with priority services now open again, you should apply as early as you can so that you have plenty of time to attend your appointment and receive your visa.
These changes come on the back of widespread backlogs following the pandemic and war in Ukraine. Some visa categories are currently taking more than double the usual processing time. In July, the Home Secretary admitted that the delays could last for months.
Priority and super priority were temporarily suspended for work, study and family visas and appointments for visit visas were severely reduced.
How to book a priority and super priority visa service
Priority appointments can only be purchased online during the appointment booking process. If they are available for your visa category, you will be offered the option to book one when you make your appointment.
Police registration requirement scrapped
Citizens of some countries were required to register with the police in the UK if they were over the age of 16 and had been granted more than six months' leave under certain immigration categories. This also applied in cases where a visa was extended to take a person's leave over 6 months. In both cases, the individual would be required to report within 7 days.
As foreign nationals are already required to obtain a biometric residence permit and obligated to notify the Home Office of address changes online, the police registration requirement has become redundant and was abolished, with immediate effect, from 11 August 2022.
This also applies if you have already registered with the police and have it as a condition to do so listed as part of your leave to enter or remain in the UK. You will also no longer be required to communicate any updated personal details to the police, as any changes, including a change of address, should be reported online.
You won't need to retain your Police Registration Certificate (PRC) as it's no longer a requirement to produce this to either a police officer or an immigration officer. Unfortunately, you will not be refunded the cost of your PRC if you have already been issued with one.
---
Need help with applying for work visas for your employees? We help individuals and businesses navigate all aspects of UK immigration and can assist with applying for a Skilled Worker visa for foreign nationals that you wish to employ. Contact us at +44 (0) 20 7759 5307 or email workpermits@sableinternational.com.
We are a professional services company that specialises in cross-border financial and immigration advice and solutions.
Our teams in the UK, South Africa and Australia can ensure that when you decide to move overseas, invest offshore or expand your business internationally, you'll do so with the backing of experienced local experts.