The Home Office has released a statement of changes to immigration rules that will come into effect from April 2023. It includes the implementation of the Electronic Travel Authorisation scheme, a new Innovator Founder visa and an update to Skilled Worker visa requirements. Read on to find out more.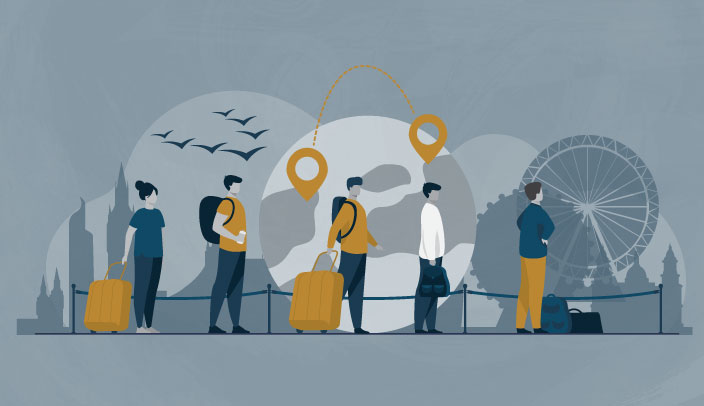 In the wake of a political debate on refugees and the controversial Illegal Immigration Bill, the Home Office has managed to release a new statement of changes that will come into effect on 12 April 2023. We have summarised the key changes as well as who and what they will affect.
1. Electronic Travel Authorisation scheme
An Electronic Travel Authorisation (ETA) is a new requirement for people who do not need a visa to come to the UK. It gives you permission to travel to the UK and it is electronically linked to your passport.
The UK Visas and Immigration (UKVI) has decided to implement the ETA scheme from 12 April 2023, with Qatar set to be the first country to make use of the scheme from 15 November 2023. The scheme will be phased in over two years, aiming to tighten border security.
Bahrain, Jordan, Kuwait, Oman, United Arab Emirates and Saudi Arabia will be the next countries to benefit from the ETA scheme from 22 February 2024. More nationalities will be added to the scheme later with the view of opening it up to those from Europe, and certain people coming to the UK from Ireland.
Early indications seem to suggest that the process will be digital, with most visitors applying via a mobile app and receiving a swift decision on their application. The cost of an ETA is unknown at this time, but it will allow individuals to make multiple visits to the UK over a two-year validity period.
2. Innovator visa to be replaced
The current Innovator visa was introduced in 2019, as a replacement for the older Entrepreneur visa. Now the Home Office is replacing this with the Innovator Founder visa from 13 April 2023.
The main reason behind the initial change was that the Home Office felt the Entrepreneur visa was being abused and not fit for its intended purpose – to attract new businesses to the UK. As a result, when introducing the Innovator visa, they put various strict requirements into place. One of those requirements was that a candidate needed an endorsement of their business plan from an endorsing body pre-approved by the Home Office.
This may explain why only 300 Innovator visas were approved last year. The new Innovator Founder visa, which will come into effect on 13 April 2023, is therefore meant to be more flexible and easier to obtain.
One of the two main changes is there is no longer a need to invest £50,000. As a result, it will also no longer be possible to apply as a new applicant for a UK Start-up visa. The Start-up visa was similar to the Innovator visa, but it didn't require any capital investment.
The second change is those on the new Innovator Founder route can work elsewhere outside of their core business, like people on the Start-up visa had been allowed to do.
3. Employer-sponsored visa changes
The minimum salary threshold has been raised for the Skilled Worker visa as well as a few other employer-sponsored visas:
A Skilled Worker visa is now £26,200
A Global Business Mobility Senior Worker visa is now £45,800
A Global Business Mobility Specialist Worker visa is now £24,220
A Scale-up Worker visa is now £34,600
Other clarifications on this visa route are how the annual salaries are calculated, especially where employees are paid on hourly pay rates with different shift patterns. The calculation of annual salaries will now be based on a 37.5 hour week.
Changes to the UK Expansion worker visa
Australian nationals or permanent residents of Australia will no longer need to prove they are working for their overseas employer for 12 months prior to their application for the Expansion Worker visa.
International Sportsperson route
Applicants can now choose to prove their English language ability using a GCSE/A-level in English that has been awarded from a UK school and that they started when they were under 18.
4. Returning Resident visa
The Returning Resident visa is applied for when a person who held indefinite leave to remain (ILR) has left the UK and their status has lapsed. The reason for this is usually that they have not returned to the UK within a continuous period of two years from the last date they departed.
These people often end up applying for a Visitor visa and the current rules prevent them from then being eligible to apply for a Return Resident visa.
The rules have now been updated to allow a person whose ILR in the UK has lapsed to make an application to resume their settlement even if they have subsequently returned to the UK as a visitor.
5. Youth Mobility Scheme for New Zealanders
Currently, the UK Working Holiday Scheme, also known as the Youth Mobility Scheme (YMS), allows UK citizens between the ages of 18 and 30 to travel to and stay in New Zealand for up to 23 months, and work for up to 12 months. It also allows New Zealand citizens aged between 18 and 30 to live and work in the UK for up to two years. These schemes fall under a reciprocal agreement between the UK and New Zealand governments.
The UK and New Zealand governments have agreed to the following changes:
New Zealand citizens up to the age of 35 years can apply
An extension of the maximum period of time individuals can stay in New Zealand and the UK respectively, from two years (or 23 months in the case of New Zealand) to three years.
An extension to the length of time individuals can work, allowing those in the UK and New Zealand respectively to work for the full duration of their three-year stay.
Current eligible YMS holders in the UK will be able to apply for an extension from 29 June 2023 from within the UK, allowing them to stay in either the UK for three years or work for the remainder of their stay.
6. Definition of 'lawful and continuous' residence
As immigration consultants we often need to accurately define what constitutes "lawful and continuous" residence in the UK. Updated clarification states that any permission to be in the UK that would normally be granted for 12 months or less, and where switching onto another route from within the UK is generally not permitted, will not count towards time lawfully and continuously resident in the UK.
7. Global Talent visa
The Global Talent visa replaced the Tier 1 (Exceptional Talent) visa in February 2020. This visa provides a route to settlement in the UK for those who are talented and promising individuals in the fields of science, digital technology, and arts and culture wishing to work in the UK.
There are too many changes to this route to list, but what's important to note is the change in view of who could be considered "talented". Often it would be based objectively on the person's qualification level. However, the idea now is that endorsing bodies should consider all evidence provided by the applicant, together with that applicant's skills and experience, when looking to decide whether the applicant is an exceptional talent or shows exceptional promise in the relevant field.
Global Talent Visa: Prestigious Prizes
Applicants who hold a qualifying prize are able to qualify without the need to obtain an endorsement from one of the Global Talent endorsing bodies.
Only named recipients of qualifying prizes can apply under this visa (i.e., if you aren't named in a prize, you can't use it as a qualification). So, if you were a film producer and it is the film that won a relevant prize, you may not fall under this visa.

---

Our consultants stay up to date on all the changes to UK immigration rules. If you have any questions about obtaining a UK visa, switching to a different visa or applying for indefinite leave to remain, get in touch with us on +27 (0) 21 657 2180 or at immigration@sableinternational.com.



We are a professional services company that specialises in cross-border financial and immigration advice and solutions.
Our teams in the UK, South Africa and Australia can ensure that when you decide to move overseas, invest offshore or expand your business internationally, you'll do so with the backing of experienced local experts.