Business insurance doesn't only help you hedge against the risks of financial losses but also gives you peace of mind that you're covered should the unexpected happen. There are different types of cover for different types of risk, we guide you through your options.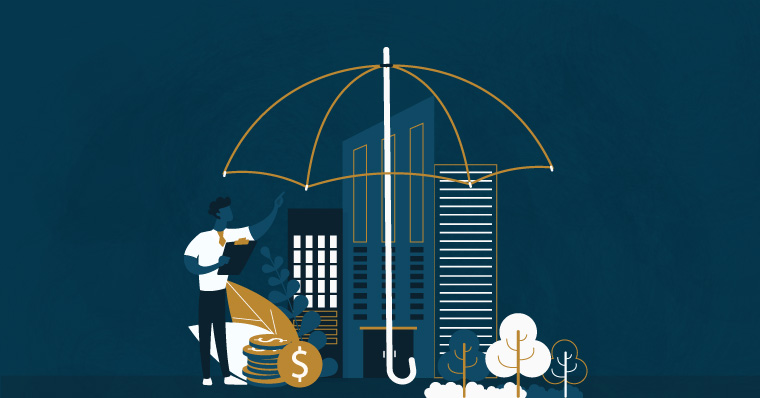 Why your company needs business insurance
SMEs were hard hit by the pandemic, so much so that 33% are now more interested in insurance, according to Deloitte. Business insurance is not just another additional cost, it protects your company against losses and unexpected compensation claims. It's important because it can protect your work, employees, reputation and livelihood.
Small businesses are most at risk as the costs of a compensation or damage claim could have a significant impact on your business. From slips and trips to fire and flooding, accidents can happen at any time. Whether you're selling cupcakes part-time or establishing an e-commerce company, insurance is a must for every business.
There are many different types of insurance, the most popular being: public liability, professional indemnity, employer's liability, business buildings, business contents, product liability, personal accident and legal protection. Your insurance should cover your business's needs as well ensure that you are properly protected should the worst happen.
See also: Small business superheroes: Why an accountant is your secret weapon
Types of business insurance
Before choosing an insurance policy, you need to have an understanding the kind of risks your business is likely to face. There are general risks, and some more industry specific ones. You'll need to decide whether you want cover for all of them or just the risks you feel are important.
Ask yourself the following questions:
Do you have employees, or will you be hiring staff in the near future?
Is there insurance that's legally required for your industry?
What are your industry risks? For example, professional liability insurance can protect against mistakes you make in your professional capacity that could lead to a client's financial loss.
Do you own your business premises? If not, what is covered under your landlord's insurance?
Does your business have any stock, equipment or tools that are key to the running of your business?
Public liability insurance
Public liability insurance protects your business if you engage with members of the public, whether it's on your premises or anywhere else. It protects you against compensation claims for injury or damage made by clients, customers or other third parties. Shops, hairdressers, restaurants, tradesmen and builders opt for this insurance.
Employers' liability insurance
Businesses with employees are legally required to have employers' liability insurance. This covers compensation claims made by employees because they suffered injury, illness or damage as a result of their work.
Professional indemnity insurance
This type of insurance is important if your business gives advice or offers a professional service to other businesses, or if you deal with client data or intellectual property. This covers your business if you make a mistake, and your client loses money and sues you. Certain professional bodies and regulators may require members to have this insurance, this includes bodies for architects, surveyors and accountants.
Business interruption insurance
Should an event such as a fire or flood cause a disruption to your business, business interruption insurance will help to get you back on your feet. For example, if your equipment is damaged, this insurance will cover your loss of revenue, as long as your equipment is also covered.
Business buildings insurance
Business building insurance should be a high priority if you own the property from which your business operates - whether you work from home or at an office or shop. If you rent your business premises, check with your landlord as to what is already covered.
Business contents insurance
This allows you to protect business equipment and tools that are kept on your business premises, onsite or at a client's premises. It covers the cost of replacement or repairs if these are damaged, destroyed, lost or stolen.
Stock insurance
If you keep any stock on your business premises or in storage, this will cover the cost of replacing it if it is damaged, destroyed or stolen.
Product liability insurance
This protects you should a customer suffer damage as a result of a faulty product you provide. You can be held liable for the fault even if you did not manufacture the product.
Personal accident insurance
This insurance covers your business against serious injury or death caused by an accident. It pays out for loss of income, medical costs and hospitalisation.
Business legal protection insurance
This covers your commercial legal expenses and provides protection against the potential costs of legal action brought by or against your business.
Directors' and officers' liability insurance
This covers the cost of compensation claims made against your business's directors and key managers (officers) for alleged wrongful acts, such as breach of trust.
See also: Beware of these small business scams in the UK

Cyber liability insurance
Cyberattacks remain one of the biggest threats to small businesses, with phishing attacks being one of the most common threats. The UK government's annual Cyber Security Breaches Survey 2021 published in March revealed that four in 10 (39%) businesses reported having cyber security breaches or attacks over the previous 12-month period.
Of those businesses that have identified breaches or attacks, a quarter (27%) experience these at least once a week. Phishing attacks remain the most common (83%), followed by impersonation (27%).
One in five (21%) of the affected businesses end up losing money, data or other assets.
Cyber liability insurance is designed to protect businesses from the high cost of a data breach or malicious software attack. In the event that your business suffers an attack, cyber insurance will cover any legal claims and compensation costs.
How much business insurance do I need?
You'll need to consider the level of risk your company faces, or for example, whether clients or customers engage with your product or service on your premises or in a public space where other people are also at risk. Consider the compensation costs you may face if something goes wrong.
How much does business insurance cost?
This will depend on the nature of your work, the type of insurance you need and your cover levels. Business insurers will also look at how likely you are to make a claim and how much a claim would cost. What is important is that you have the right level of cover that will protect you when you do make a claim.
How to reduce your insurance costs
Conduct an annual review
Regularly review your insurance coverage to make sure you're not carrying more insurance than you need. Things like equipment you no longer use or have or even employees that no longer work for your company.
Look for coverage that overlaps or policies that no longer apply to your business.
Minimise risks
Risk plays a big part in the cost of your insurance premiums. Consider upping your vehicle or building security or adding sprinkler systems in relevant areas.
Train your staff
Training ensures your employees perform their jobs safely and properly. Workers that have received proper training lower the risk for injury amongst fellow employees or customers. Find out if your insurer provides discounts if your business completes certain types of training.
Shop around
Insurance premiums can vary dramatically. Regularly compare the type of cover you have and how much it costs to what other insurance providers are offering. Make sure to only deal with reputable companies that have excellent client reviews.
An insurance broker can also assist with helping you get the right coverage and provide quotes.
---
We offer specialist bookkeeping, accounting, financial management and tax advice to businesses. Our accountants listen and learn about your particular circumstances to enable us to design an accounting solution tailored to your specific needs. Get in touch with us at accounting@sableinternational.com or call +44 (0) 20 7759 7553
We are a professional services company that specialises in cross-border financial and immigration advice and solutions.
Our teams in the UK, South Africa and Australia can ensure that when you decide to move overseas, invest offshore or expand your business internationally, you'll do so with the backing of experienced local experts.