The new UK Electronic Travel Authorisation (ETA) is advanced permission to travel to the UK for those who do not currently need to obtain a UK visa. It is part of the UK's new Universal Permission to Travel (UPT) requirement.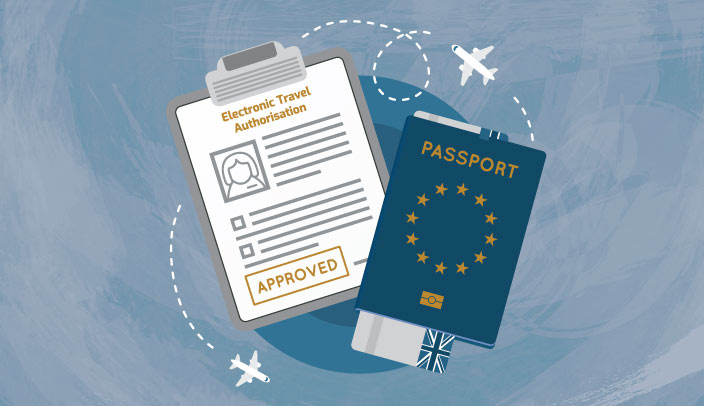 Why is the UK introducing the ETA scheme?
By introducing the ETA scheme, the Home Office intends to strengthen the security of the UK's borders, enhance their ability to screen travellers and stop those who pose a threat to the country's safety from entering the UK.
Who needs an ETA to visit the UK?
Nationals from countries that historically didn't need a visa to enter the UK will now fall under the ETA scheme. British and Irish citizens, or persons lawfully resident in Ireland who arrive via the Common Travel Area are exempt and do not need an ETA to enter the UK.
How long is it issued for and what does it allow the holder to do?
It will be issued electronically for two years through an application that can be entirely completed and paid for through a new ETA mobile app.
It allows the holder to visit the UK multiple times, but for a maximum of six months on each entry. Transit through the UK is also permitted.
Application process and the ETA mobile app
Applicants will apply online or through a mobile app. The form will ask for:
A photograph
Biographical and contact information
Passport details
Answers to questions about criminal offences and immigration history
ID checks and capture of biometric data (i.e., fingerprints) should also be uploaded remotely through the app.
How long will the process take and how much will it cost?
Once the application has been submitted through the ETA mobile app, a decision should be automatically emailed to you within three days. An ETS will cost £10 per applicant.
Will my child need an ETA as well?
Yes, unless the child is a British citizen, has another valid UK visa, or is an Irish citizen.
When is the ETA scheme going live?
The scheme first opens to nationals from Qatar, and they can apply from 25 October 2023 and will need an ETA to visit the UK from 15 November 2023.
The following Gulf Nations will be able to apply for an ETA from 1 February 2024 and will need an ETA to visit the UK from 22 February 2024:
Bahrain
Jordan
Kuwait
Oman
Saudi Arabia
United Arab Emirates
The UK aims to open the ETA scheme worldwide by the end of 2024.
Do EU Nationals need the ETA to visit?
Yes, they will eventually. The ETA scheme should apply to them from December 2024 and it seems that the EU is in the process of introducing such a scheme themselves with the EU Entry/Exit System (EES) and the European Travel Information and Authorisation System (ETIAS).
---
Our consultants stay up to date on all the changes to UK immigration rules. If you have any questions about obtaining a UK visa, switching to a different visa or applying for indefinite leave to remain, get in touch with us on +27 (0) 21 657 2180 or at immigration@sableinternational.com
We are a professional services company that specialises in cross-border financial and immigration advice and solutions.

Our teams in the UK, South Africa and Australia can ensure that when you decide to move overseas, invest offshore or expand your business internationally, you'll do so with the backing of experienced local experts.

;