When it comes to business immigration, and gaining a sponsor licence, there is a lot to know. We receive many queries around the specifics of applying for work visas, the deadlines related to EU settled status and how to get a sponsor licence. That's why our experts answered some of the most frequently asked and often unanswered questions about business immigration.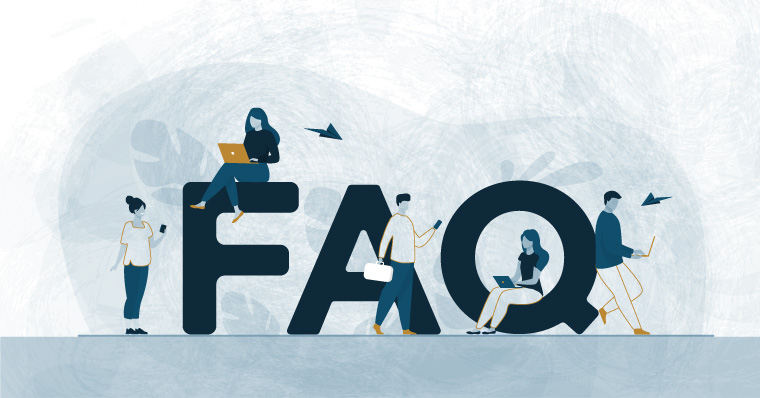 Q: For an employee employed by our European entity, travelling to a UK office and retail stores to attend training and/or provide training to retail staff in-store, what visa would they need?
A: If the employee would normally require a visa for travel to the UK, they would require a Standard Visitor visa as long as they are not paid for the training in the UK, other than for normal travel, accommodation and allowance expenses. Certain nationalities are able to travel to the UK visa free, although they will need to satisfy the Immigration Officer that they qualify for entry as a Visitor, at UK Border Control.
Q: Do EU nationals have to apply for settled or pre-settled status even if they have permanent residency?
A: Yes, they will be required to apply for settled status under UK law in order to preserve and protect their ability to live and work in the UK beyond 30 June 2021.
Q: As of 1 July 2021, can you ask for evidence of EU settled status?
Correct. From 1 July 2021, you will be able to insist upon seeing evidence of EU settled status as part of your right to work checks. Until this time, there is no legal obligation to do so.
Q: Can recruitment agencies apply for a sponsor licence? As previously they were unable to do so.
A: Yes, a recruitment agency can apply for a sponsor licence to employ their own staff members, but not for the purposes of sponsoring workers to work for other employers.
Q: Does a worker need an offer letter (or similar) to apply for EU settled status?
A: An offer letter is not a requirement, as the scheme is based on physical residency in the UK, not economic activity.
Q: Does a worker need an offer letter to apply for a Skilled Worker visa?
A: An offer letter is not a requirement. The employer will be required to issue a Certificate of Sponsorship (CoS), using the Sponsor Management System. The worker will then use the CoS to apply for their Skilled Worker visa.
Q: Although there is no Resident Labour Market Test, is there still a need to prove the role cannot be filled with a settled worker?
A: Whilst there is no longer a mandatory requirement to conduct a Resident Labour Market Test, it remains a requirement that any role filled by a migrant worker is for a genuine vacancy. We would therefore recommend advertising for certain occupations to ensure this requirement is met.
Q: Is the Immigration Health Surcharge paid by the employee or employer?
A: It can be paid for by either.
Q: How can we encourage employees to evidence EU settled status?
A: Employees should be reminded that the deadline for securing their status under the EU Settlement Scheme (EUSS) is 30 June 2021. Any person who is unable to provide evidence of their status by this date will unfortunately not be able to demonstrate an ongoing valid right to work in the UK. New Home Office guidance will shortly be issued detailing the amended Right to Work requirements. EU nationals should also be reminded that they will now encounter immigration scrutiny when travelling and entering the UK in the same way as any other foreign national seeking entry. Should an Immigration Officer not be satisfied that the EU national was already normally resident in the UK prior to 31 December 2020, a Visitor endorsement may be applied, thus removing any ability to engage in UK employment. The status provided under the EUSS will remove this risk.
Q: What is the minimum length of time an employee can be sponsored for?
A: There is no minimum length on how long the Certificate of Sponsorship (CoS) may be valid.
Q: Can we ask current staff to evidence their EU settled status?
A: You are not required to ask to see their settled status until 1 July 2021 and there is no current legal ability to insist upon it.
Q: When do the follow-up right to work checks need to be done if someone was hired during Covid-19?
A: The Home Office has recently updated their guidance and confirmed that a follow up check for employees hired during Covid will not be required.
Q: Can someone on a current Tier 2 visa (non-EU) join our company on a Skilled Worker visa later this year if we sponsor them? Do they transfer mid-way or on a new licence?
A: Yes, this is called a "Change of Employment". The new sponsor will need to issue a CoS and the worker will need to apply for a variation to their visa in line with the newly issued CoS. Time spent on their previous Tier 2 visa will count towards their five-year residency in the UK.
Q: Does the Graduate visa route apply to candidates who are studying with a UK institution but aren't physically living in the UK?
A: No, this category only applies to those students who have graduated in the UK.
Q: What is the procedure to transfer an Intra-company Transfer (ICT) visa to a Skilled Worker Visa. Can the costs paid to the ICT visa be transferred to a Skilled Worker visa?
A: No, the cost cannot be transferred. However, you may be able to recover some of the Immigration Skills Charge fee paid towards your previous CoS by informing the Home Office that you no longer sponsor the worker under the ICT route. You will need to issue a new CoS and pay the appropriate Immigration Skills Charge fee under the Skilled Worker visa category. The worker will then need to make an application to the Home Office in line with their newly issued CoS.
Q: Have right to work checks been relaxed during the periods of lockdown where face-to-face interaction has not been possible?
A: Yes, you are now able to accept electronic documents and carry out the ID checks via video call, but normal rules will resume from 21 June 2021.
Q: Can a person enter the UK on a Standard Visitor visa to look for work?
A: Seeking employment isn't prohibited. However, an Immigration Officer can refuse entry to a person where there is suspicion that the passenger may not be a genuine visitor and intends to engage in employment.
Q: If you have already advertised for a role and been unsuccessful to recruit, will this be enough for the Resident Labour Market Test?
A: This is no longer a requirement of the visa, but any evidence of unsuccessful recruitment for the role should be retained as part of the employee's HR file.
Q: The company from abroad established a sister company in the UK and the director is the same person. How can you bring the director from abroad to the UK? Can the UK company sponsor the director as a Skilled Worker?
A: Yes, this would be managed in the same way as any other sponsored migrant into the business.
Q: If the workers are contractors without a permanent contract or annual salary, what is the best route for them?
A: If there is no confirmed contract or salary, then the individual's personal circumstances would need to be considered to see if they may qualify for some other unsponsored migration route into the UK. If there is a service contract in place, or if the employment is for a fixed term, then the Skilled Worker category may apply.
Q: Do we have any idea of the salary level for the new Skilled Worker visa?
A: The minimum salary threshold is £25,600 per year, or the minimum as defined by their Standard Occupational Classification code, whichever is the higher.
Q: Can an employer offer a permanent role to an individual on the Graduate route?
A: Yes, they can and the student is able to switch into the Skilled Worker visa should this be appropriate. It is important to note that any time spent on the Graduate route does not count towards the five-year qualification period for residency.
Q: Given the current circumstances, what if an employee with either pre-settled status or settled status decides to move abroad – after having permission to work remotely from the employer?
A: A person with settled status may spend a period of up to five years outside of the UK without jeopardising their rights in the UK. Those with pre-settled status may spend up to six months per year outside of the UK, unless there are exceptional circumstances. An absence of two years or more will automatically result in a lapse of status and a Skilled Worker visa would be required if intending to return to the UK for employment.
Q: How will EU locum workers who come in only for short periods of work be affected?
A: A short-term CoS would be required for each period of employment in the UK. If the locum was working for the same organisation, but only sporadically, a longer-term CoS could be issued and the locum would be able to travel freely for work during the validity of that certificate.
Consult with the experts
The importance of remaining compliant under UK immigration law as an employer is not only important to avoid heavy fines that may be levied against you, but the reputational risk of non-compliance could also result in negative publicity which could have a far wider reaching impact to the business. The Home Office has a policy of "naming and shaming" employers who fall foul of the legislation. We can help your business navigate all aspects of these new amendments and can assist with your ongoing immigration compliance.
---
We are highly experienced in assisting employers in all areas of business immigration. We deliver strategic global mobility advice as well as immigration service management. Get touch with us at workpermits@sableinternational.com or on +44 (0) 20 7759 5307.
We are a professional services company that specialises in cross-border financial and immigration advice and solutions.

Our teams in the UK, South Africa and Australia can ensure that when you decide to move overseas, invest offshore or expand your business internationally, you'll do so with the backing of experienced local experts.

;