Falling prices, increased bargaining power and competitive mortgage rates make now the perfect time to buy your first UK property. Learn why it's a buyer's market and what you can do to prepare for your purchase.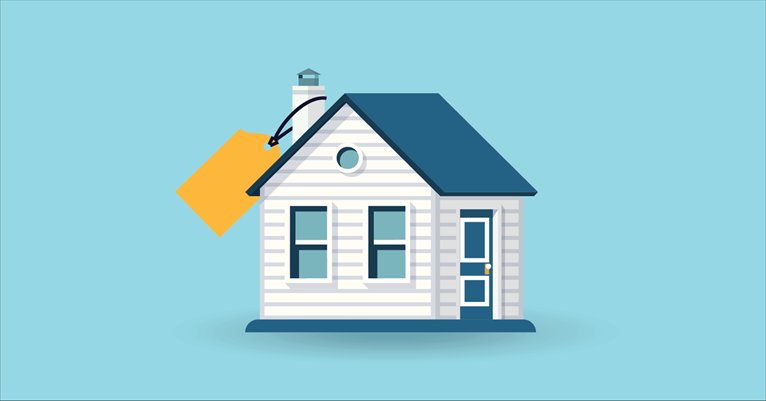 *This blog was first published in June 2019 and has since been revamped and information updated.
Since the Sterling has plummeted and many businesses have closed, buyers are re-evaluating property purchases. Many potential homeowners are waiting to see if there are any knock-on effects on the economy. This has led to cooling London house prices and properties on the market taking longer to sell. It's not all doom and gloom though, there are good opportunities for first-time buyers to get their foot in the door and on the property ladder.
Whether you were planning to buy your first home or sell your current one, while we are living in these uncertain times you don't have to sit and wait. Right now is the best time to start the buying process – here's why:
First things first, be honest about your finances
You may find that you are able to purchase your dream home at a great price now, but what does your job security look like for the coming months? If you are a business owner, it's critical that you stay on top of your finances. Otherwise, your bargain dream home could end up costing you too much in monthly mortgage repayments.
Increased bargaining power
Many buyers may delay purchasing property because of financial hardship, which could mean a fall in demand over the coming months – giving you increased bargaining power. Even with emergency rate cuts, house pricing will not stay at its current value. If you're searching for a home during an economic downturn the following may apply:
A homeowner will be willing to lower their asking price
A homeowner will do a short sale to get out from their mortgage
Foreclosed properties will be sold by banks
Take advantage of variable interest rates
The Bank of England has slashed the base rate for the second time in response to The Coronavirus pandemic, reducing it from 0.25% to 0.1%. Rates will eventually start increasing again, but while they're low, first-time buyers are able to take advantage of the affordable finance available.
Speak to a consultant about mortgage options
The main barrier for first-time buyers entering the market has always been the sizeable deposit. Over the last few weeks, most banks have withdrawn their low-deposit higher-risk mortgages that only required a 10% deposit. However, there are still some mortgage options available. Banks will also allow the deposit to be a gift from family members however, the plunging stock market may have hit the wealth of your family members too. We recommend speaking to a consultant who can help you navigate the options that are currently available.
What to do before you buy
Before you make the purchase there are a few things to keep in mind.
Save for your deposit
It's not just about affording the mortgage repayments; you'll need to have enough for a deposit on the house. Thankfully, deposits aren't as large as they once were, but it still pays to save. If you can put down a larger deposit, you can get a better rate on your mortgage.
Consider other costs
It's not only the cost of mortgage repayments. There are other charges such as Stamp Duty, survey and solicitor fees, insurance and redecorating costs to consider. You need to make sure you're prepared for the extra fees.
Do your mortgage research
There are many types of mortgages, such as buy-to-let, commercial, residential and non-resident mortgages. Read up on them so you can approach your mortgage application with the knowledge you need to make the right decisions.
Prepare your mortgage paperwork
Lenders will want some documentation to calculate how much you can afford to pay each month. They'll look at things like proof of identity and address, bank statements, payslips and evidence of your deposit. If you're working freelance or as a contractor, they can work out your affordability using your day rate or current contract.
See also: Contractor mortgages: What you need to know for a successful application
Compare your options online
Sometimes, due to factors out of your control, you may not be able to physically go and view properties. Many estate agencies are now offering virtual viewings for buyers and renters, using video and 3D cameras to create a 360-degree walk-through.

While doing your virtual tour, think about things like why the house is on the market, how the price compares to others in the same area, and if it satisfies your needs.
When you've decided on a home and you're looking for a mortgage, don't just jump at the first offer. Compare mortgages using an online calculator to see which one works for you.
Get advice
Buying a home is a stressful process under the perfect circumstances, so it's natural that purchasing a home during a recession can feel overwhelming. Don't go at it alone, rather chat to one of our trusted mortgage advisors who will give you whole-of-market mortgage advice and assistance while securing you the right deal. By starting the process now, you will be in a good position once the market is moving again.
---
We provide UK mortgage advice and assistance that guides you through the process from start to finish. Get in touch with us at mortgages@sableinternational.com or call +44 (0) 20 7759 7519 to speak to a consultant.
We are a professional services company that specialises in cross-border financial and immigration advice and solutions.

Our teams in the UK, South Africa and Australia can ensure that when you decide to move overseas, invest offshore or expand your business internationally, you'll do so with the backing of experienced local experts.

;