Here's everything you need to know about this offshore property investment hotspot, which boasts picturesque beaches and a wealth of historical and cultural treasures.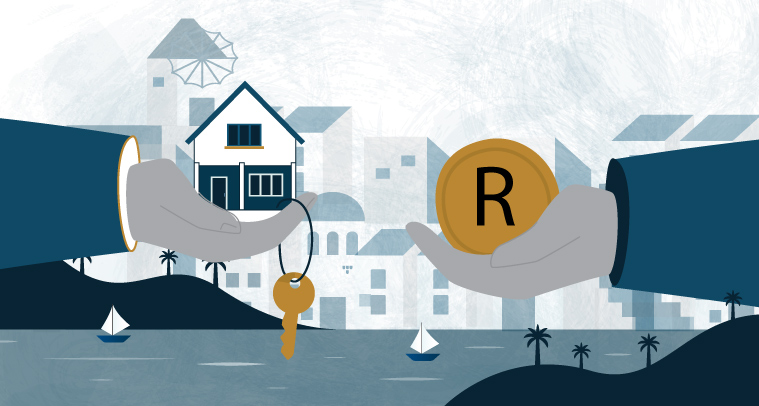 Over 75% of Greek residents own their homes, due to a strong culture of inheritance and family. The good news is that there are still plenty of Greek properties for sale that allow you to own a piece of paradise.
The Greek property market
Greece has a long history and a rich cultural heritage, which makes it a popular tourist destination and boosts the demand for investment property in certain areas such as Athens and Thessaloniki.
In recent years, the Greek property market has shown signs of expansion. In the last five years specifically, house prices have boomed, owing to strong economic growth and low interest rates. With the country's growing economy, improved stability and attractive location, the Greek property market is set to continue to improve and offer good investment opportunities. Investing in historic properties in prime locations can yield both rental income and capital appreciation.
Benefits of investing in Greece
There are several reasons to consider investing in property in Greece, including its:
Market infancy
Low property prices
Lack of restrictions on foreign investment
Good rental returns in Euros in a growing property market
High demand for rental accommodation in prime cities year-round
8-10% rental income, which brings in rental demand
Residency-by-investment programme that offers Schengen visa eligibility
See also: A guide to the offshore real estate terms you need to know before investing
Athens: The ideal place to buy real estate in Greece
Those who enjoy the hustle and bustle of city life will appreciate the year-round entertainment and facilities on offer in Greece's cosmopolitan and culturally significant historic capital. This well-connected city has frequent direct flights to the UK, making travel convenient for nomad workers.
Athens offers a range of modern amenities and a growing tech industry that increasingly attracts tech-savvy professionals seeking new opportunities. The city's growing expat community supports working nomads, easing their transition and integration into their new environment. This city is ideal if you are seeking a lower cost of living while still maintaining a good quality of life.
Can foreigners purchase offshore real estate in Greece?
Yes, there are no restrictions on foreigners owning property in Greece. Buying Greek property can be a way to obtain a residence permit and build wealth in Europe.
It's always a good idea to contact an expert familiar with the local market and tax implications of purchasing property in Greece for both residents and non-residents. This way you can ensure that the process runs smoothly and that all the necessary legal requirements are met.
Speak to an international real estate investment specialist today
Can I purchase property in Greece and obtain residency?
With the purchase of a property worth €250,000* or more, you are entitled to a five (5) year residence permit and contrary to other countries' legislations, actual residence in Greece after granting the Golden Visa is optional. Golden Visa does not require the main applicant and his/her family members to reside permanently in Greece whereas periods of absence shall not hinder the renewal of the residence permit if you continue to maintain ownership of the property.
In addition, you are eligible to apply for a long-term residence permit. More specifically, the period of legal residence in Greece due to Golden Visa can be taken into consideration for the calculation of the required period for the issuance of the Long-Term Resident Residence Permit. Should Golden Visa holders fulfill all the preconditions of the Greek Citizenship Code, they can pursue the acquisition of Greek citizenship by naturalization.
*Please note that in effect from May 1st 2023, the threshold of the Golden Visa will reach the amount of €500.000 based on geographic criteria and will apply exclusively to the following areas: Northern Athens (Agia Paraskevi, Amarousio, Vrilissia, Irakleio, Kifisia, Likovrysi-Pefki, Metamorfosi, Nea Ionia, Papagos-Cholargos, Penteli, Filothei-Psichiko, Chalandri), Central Athens (Athens, Vyronas, Galatsi, Dafni-Imittos, Zografou, Ilioupoli, Kesariani, Nea Filadelphia-Chalkidona), Southern Athens (Agios Dimitrios, Alimos, Glyfada, Elliniko-Argiroupoli, Kallithea, Moschato-Tavros, Nea Smirni, Palaio Faliro, Vari-Voula-Vouliagmeni), Municipality of Thessaloniki, islands of Mykonos and Santorini.
What is the price of real estate in Greece?
The cost of property in Greece is largely dependent on the type of property and where you're looking to buy. Greece's property market has shown steady growth in the last few years, particularly in popular tourist destinations such as Athens, the Greek islands, and coastal areas. Despite this, prices on existing properties have remained low due to the fact that it is a cash market, with property passed down through generations. New builds, on the other hand, are generally more expensive. Here is a breakdown of costs in Athens and Thessaloniki.
| Area | Cost of apartment | Cost of detached house |
| --- | --- | --- |
| Athens | €200,000 – €400,000 | €1 million + |
| Thessaloniki | €70,000+ | €100,000+ |
How safe is it to buy property in Greece?
The property market in Greece has become a lucrative choice for investors. Buying property in Greece should be as safe as anywhere else, but as with any property purchase, there are risks. Therefore, it's important to consider your options carefully before making a purchase to avoid overextending yourself financially and to safeguard your wealth. Work with a trusted real estate agent who can help and advise you throughout the buying process.
What are the down payment and mortgage procedures in Greece?
The lack of available loans for property acquisition remains a barrier to entry. If this changes, as is the case in other European countries, we can expect a sharp rise in property values. Even though it is possible for foreigners to get a mortgage in Greece and the situation is improving, it may be better to approach your local bank for a loan.
As a rule, you have to pay 10% of the total value of the property as a down payment to "reserve" your investment.
Greek real estate taxes and additional fees
After you choose your investment property and fill out the necessary paperwork, you will have to pay a few more fees. Here's a breakdown of the costs that you are likely to encounter.
Type of tax
Rate
Corporate income tax
22%*
VAT
24%
Dividend WHT

Residents – 5%

Non-residents – 5%

Real estate transfer tax

Individuals – 3,09%

Corporate – 24%

TAP (Municipal Tax)
0,025% – 0,035%
ENFIA (Uniform Real Estate Property Tax)

0,0037 – €11.25/s.q.%

(approximate way of calculation)

Special tax
15%
*The corporate income tax rate is 22% for the income earned as from the tax year 2022 and applies to all forms of legal entities in Greece (except in exceptional circumstances, e.g. agricultural cooperatives where the tax rate is 13% etc.). However, Greek credit institutions and Greek branches of non-resident credit institutions remain subject to a 29% tax rate if they are subject to the special "deferred tax asset" recognition for all the relevant fiscal years.
---
Interested in property investment in the Grecian real estate market? Our offshore real estate investment team can guide you through the process and take care of all the facets including ownership structure, tax, foreign exchange, and property purchase advice.
Get in touch with our specialists at rei@sableinternational.com or give us a call on +27 (0) 21 657 2120 and we'll be happy to answer any of your questions around investing in Greece.
---
We are a professional services company that specialises in cross-border financial and immigration advice and solutions.
Our teams in the UK, South Africa and Australia can ensure that when you decide to move overseas, invest offshore or expand your business internationally, you'll do so with the backing of experienced local experts.