Being a contractor in the UK comes with significant advantages, such as a higher earning potential, flexibility and independence. Unfortunately, there are some challenges, too, particularly when it comes to purchasing a home in the UK. There's no need to be concerned though. There are ways and means of getting on the property ladder as a contractor in the UK. First, you'll need to understand how lenders will assess you and what you should be doing to improve your chances of getting a home loan.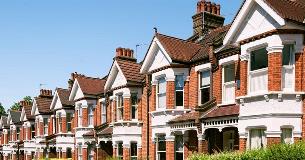 As a contractor, how much can you borrow?
When you apply for a mortgage, the mortgage lender will first need to establish whether you can afford to repay the loan repayments over the term of the loan. This is known as an affordability assessment. It looks at how much you generally earn, what your expenses are and how secure your income is.
Lenders roughly determine the loan amount as a multiple of your annual income. This can be anything from three and a half to five times your income. The amount you qualify for depends on the lender, your credit score and any credit commitments you have at the time of the mortgage application. Being a contractor adds an extra dimension to the amount you can borrow as your annual income can be assessed in several ways.
See also: Bank of England overhauls mortgage affordability rates: Here's what you need to know
The impact of the lender's approach to assessing your income
As a contractor, you are paid a set day rate and your income is paid through your own limited company. The approach lenders take in assessing your income can have a significant effect on the loan amount you receive – as I demonstrate in the scenarios below. Generally, lenders can assess your income in the following three ways:
The amount you draw from the company, which is generally just enough to sustain yourself and live comfortably, with the remaining income retained within the company.
Your company's profit figures (either pre- or post-tax), which is generally higher than what is drawn from the company.
Your day rate. Some lenders will ignore your limited company and assess your underlying contract and base the loan on your day rate. This will generally result in the highest loan amount being achieved.
How would the three different approaches work in practice? Consider the following scenarios.
You earn £500 per day, which is paid into your limited company. For tax-efficiency reasons, you only draw £45,000 per annum of this amount from your company with the remaining funds retained within your company.
Scenario 1
You apply for a mortgage with bank A. The bank assesses your income based on what you draw from your company. Using an average income multiple of four, it results in you achieving a £180,000 loan amount. Most banks would use this approach, which in many cases will leave you with less than what you need to purchase your home.
Scenario 2
You apply with bank B. They determine your loan amount by looking at your company profit figures. Let's assume your company's profit figure is £80,000 per annum on average. This will result in you achieving a £320,000 loan amount.
Scenario 3
You apply with bank C. They ignore your limited company and base the loan on your day rate. Using an average of 46 weeks per annum, your annual income used for loan assessment is £115,000, resulting in a loan amount of £460,000 being achieved.
As you can see, the loan amount you qualify for is very much dependent on which bank you apply with and how they assess your income. Making a wrong decision at the beginning of the mortgage application process by applying to the wrong bank can have serious consequences.
It's generally only weeks later after a bank has assessed all documentation and a decision is made, and a lower loan amount is offered, that the error comes to light. You can avoid falling into this predicament by seeking advice early on in the process.
Need advice on applying for a UK mortgage?
Applying for a mortgage as a foreign contractor
If you're a foreign contractor working in the UK, it's important that you seek specialist advice as soon as possible. Most UK banks require you to have a British or EU passport or have permanent residency to make a mortgage application and generally don't accept applications from visa holders. In addition to this, some banks require that you have lived in the UK for at least three years prior to making your application.
However, there are a handful of banks who may accept applications from individuals on a visa. However, finding the right lender combination fit for you as a contractor on a visa requires specialist knowledge of the mortgage market. Under these circumstances, it's important that you seek expert advice before you begin the application process.
How to strengthen your mortgage application
One way of improving your chances is to offer a larger deposit and borrow a smaller amount. The less risk you pose, the more favourably lenders are likely to view your application.
It's also important to monitor your credit report before starting the mortgage process. Make sure nothing untoward appears on your report and check if you need to work on improving it before submitting a mortgage application. Registering on the electoral roll is also a good way to boost your credit score.
While having breaks between jobs may have been one of the perks that attracted you to contracting, some lenders can have certain strict criteria around the length of contracts and the gaps between contracts. So, it's important to seek advice quite early on to find out what lenders will and will not accept.
See also: In the UK, mortgage inaction is pickpocketing thousands of homeowners
Get the right advice
Contractors require specialised mortgage advice due to different lenders being able to assess your income differently. Being a contractor can offer significant advantages over normal employment, but in order to benefit from this, you need to seek advice from a specialist contractor mortgage broker. More importantly, you want to receive this advice quite early on in the mortgage application process to avoid applying to a lender that doesn't assess your income correctly.
---
If you have any questions about applying for a UK mortgage, speak to one of our expert advisors by emailing mortgages@sableinternational.com or giving us a call on +44 (0) 20 7759 7519.
We are a professional services company that specialises in cross-border financial and immigration advice and solutions.

Our teams in the UK, South Africa and Australia can ensure that when you decide to move overseas, invest offshore or expand your business internationally, you'll do so with the backing of experienced local experts.

;