Over lockdown, much was made of our increased passion for alcohol – think Zoom happy hours and homemade "quarantinis" – all in an effort to fill the pub-sized gaps in our social lives. The UK wine sector, despite global challenges, managed to find stability amid immense uncertainty.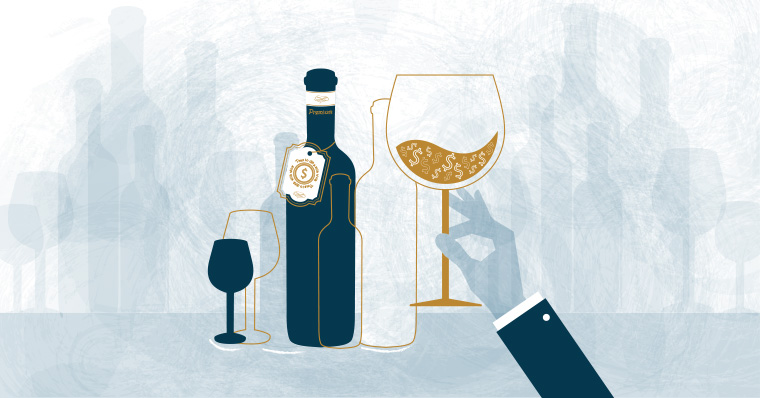 Wine permeates so much of our lives. From a glass with friends, to pairing with food at a favourite restaurant, or sinking into the couch with a tipple after a long day of work. With so many of our social options removed during this time, it's wine that's managed to stay top of mind.
Tilted behaviours
As restaurants shut down and tourism was put on hold, many thought COVID-19 would hit the English wine industry hard. However, in March the UK government designated food and drink manufacturers as "essential", allowing English wineries to continue to operate.
Online sales have since boomed. Providing much-needed cash injections for companies that lost a chunk of their annual income. A recent study reveals that drinking in the UK was up 61% during the height of lockdown, and Naked Wines reported a 73% increase in sales. Proving that we'll always find ways to remain convivial, no matter how bleak things get.
An industry, upended
However, while in-home drinking in the UK did rise during the darkest days of the pandemic, alcohol sales declined overall for that period – understandable, as the bottom dropped out of the restaurant and hospitality sector.
Britain's lockdown was catastrophic for brick and mortar retail. When Boris Johnson pulled down the shutters towards the end of March, total retail sales dropped 5.1%; in April, they dived a record 18.1%.
Wine, though, has been something of an oasis. Off-licences reported a surge in sales of more than 30% in March and another 2.3% in April.
And the booze bonanza shows no sign of slowing. Market monitor IRI reported that total British wine sales in the last week of May were 20% higher year-on-year. A record spell of sunny weather presumably prompted drinkers to stock up on white.
Cross-border support
Wine trends haven't been the same globally. In South Africa the wine industry has been left reeling by the severity of the lockdown measures taken by the South African government. The sale of alcohol was banned from March until June, and again from mid-July to mid-August.
For a five-week period starting in March, the wine industry also had to grapple with an export ban, which had the potential to financially ruin a number of producers. As a result of these stringent bans, Wines of South Africa has estimated that a sixth of the country's 500+ producers could be forced to close before 2021 rolls around.
Conversely, the detrimental impact of the virus on the global liquor industry has allowed for a strong sense of solidarity to emerge among players. As such, the #SaveSAWine campaign was born – A last-ditch effort to appeal to wine drinkers outside South Africa to support the industry by buying and drinking South African wines. The initiative has taken hold with Waitrose, who started offering specially curated cases of South African wines at 25% off in a bid to support beleaguered wineries.
The complex exchange of wine
In 2019, wine totalling an approximate GBP 1.1 billion was imported into the UK from non-EU regions and a further GBP 2.2 billion from countries within the European Union.
However, despite these significant cashflows, wine merchants – both big and small – often have to engage in complex exchange solutions, which tends to carry a unique set of risks and challenges. Currency shifts can also have both negative and positive impacts, and market volatility often makes risks difficult to manage. Furthermore, sending and receiving foreign payments affects almost every subset of the wine industry. From importing, exporting, equipment purchases and even vineyard acquisitions.
We specialise in international money transfers anywhere in the world. And seeing as South Africa's export ban is safely in the rearview, now's the perfect time to start making your purchases.
Use a specialist who can do it all
UK-based wine merchants and wholesalers make for some of our best clients (and not just because we love wine). With offices in the UK, Europe, South Africa and Australia, we are perfectly positioned in world-class wine-making destinations. We also have local regulation and banking infrastructure in all these jurisdictions which ensures faster transaction times, no international bank charges and much better exchange rates.
Furthermore, wine merchants can choose to engage on our easy, secure online portal or speak to one of our friendly consultants, who are always readily available. Whether you're a smaller, start-up wine merchant who needs to settle many small invoices, or a larger international distributor, we are able to assist in a way that is tailored to you.
We have debit card facilities and same-day settlement options for more urgent transfers and can help advise on a range of hedging tools for longer-term foreign exchange strategies. We are also able to help businesses that invest in big-ticket wine purchases and can book currency forward for up to two years. The ability to hedge some of your exchange rates can make a fundamental difference to the bottom line for all firms. Forward rates can also be booked in as an order is received, ensuring that your profit margins remain secure.
In the age of Covid, Brexit and increased market volatility, at least the wine industry seems to be faring well and we would be delighted to talk about tailoring your foreign exchange wine requirements – perhaps even over a glass of Malbec.
---
Contact one of our consultants at forex@sableinternational.com or give us a call on +44 (0) 20 7759 7554 and we'll help you manage all your foreign exchange effectively.
We are a professional services company that specialises in cross-border financial and immigration advice and solutions.

Our teams in the UK, South Africa and Australia can ensure that when you decide to move overseas, invest offshore or expand your business internationally, you'll do so with the backing of experienced local experts.

;