After years of large-scale emigration out of South Africa by those in search of greener pastures, global economic volatility has begun to influence the exodus, with the trend showing signs of slowing and even reversing.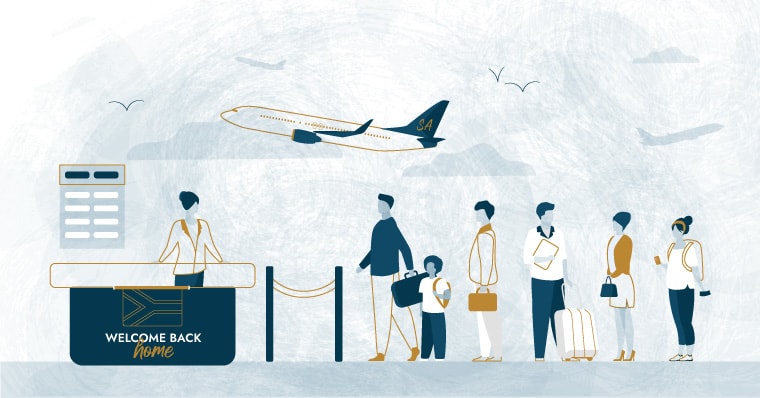 The financial crisis' impact on expats
Several major economic events have come to define the last quarter of a century of expat life. The 1997 Asian financial crisis and 9/11, specifically, led to volatile conditions for expats to navigate abroad. However, it was in the immediate aftermath of the 2008 global financial crisis, and its subsequent monetary squeeze, that large-scale repatriation began to spark globally.
At the time, deteriorating conditions turned comfortable expat postings into nightmares as jobs were lost and local alternatives became hard to come by. For many highly-paid professionals and "economic migrants" alike, there was no choice but to return home.
This is represented by data from CNBC Africa, who estimate that over 350,000 highly-skilled South Africans have returned home since 2008, when the financial crisis first began, and have been absorbed back into the labour force since.
This change in mobility is a surprising occurrence, considering the departure of skilled people – often referred to as brain drain – has been an upward battle for the country over the last 30-odd years. On the back-end of the Covid-19 pandemic, however, the decrease in expat numbers has become notable with skilled professionals looking to flock back home, and fewer choosing to emigrate.
How the pandemic redefined life abroad
The pandemic has caused tremendous economic downturn as countries try to deal with the threat to national health. While the end result may be a recession, the underlying cause today is very different from the aforementioned crisis of 1997, the 9/11 attack on the World Trade Centre or the credit crunch of 2008.
Today, there are social and health-related considerations that will affect global mobility over the long-term. Time in lockdown has also underlined the importance of family for many and focused their minds on the type of lifestyle they want to lead. For expats with older parents back home or children heading to boarding school abroad – and the prospect of a potential eight to 12-hour flight to reach them – the Covid-19 pandemic has led to a rethinking of long-term plans, with many wanting to return back home (for good).
Home is where the heart is
Homecoming Revolution, a South African body which aims to bring home African diaspora professionals, says that many are returning, not just because of the state of the economy abroad, but for the opportunities awaiting back home. South African companies are currently prepared to offer excellent packages to skilled expats who will work in the country.
Whereas 10 years ago these South Africans would have slotted into larger corporations, today it is medium-sized firms that are offering incentives to expats. A growing proportion of South African firms are also roping in expats for projects across the African continent, particularly in the construction and engineering sectors. Coincidentally, new flexibility around remote work has allowed others to bring their work back to South Africa with them for the first time. Opportunity, on this scale, is becoming a scarce commodity in many parts of the world, especially on the back of the pandemic's negative effects on employment.
Apart from the potential career opportunities, however, this going-back-home phenomenon is also being driven by family reasons, lifestyle factors and an overarching sense of belonging. For many, there are aspects of South African life that are very often taken for granted, and only valued in hindsight, once they've left.
Finding a personalised going-back-home solution
One major issue that South Africans face when returning home is moving their money back into the country with them. Political, economic and social developments all impact the value of a currency like the Rand and exchange rates can greatly affect how much you will receive in the end. We have also seen how the results of an election can influence emerging markets and in turn directly affect the funds in your bank account.
Working with exchange control regulations and knowing which amounts you can safely transfer requires expert knowledge and understanding. A forward contract, specifically, is a tool that allows you to secure an exchange rate for up to two years in advance. This is crucial if there is a strong exchange rate around the time of the exchange and you want to protect yourself from unfavourable rate movements. Property transactions, for example, can be drawn out and are frequently hit with unforeseen delays, so the ability to lock in a good rate while the sale completes can save you a small fortune.
A forex specialist will be able to convert funds ahead of time and avoid a lot of the risk that accompanies the process. Using a dedicated forex specialist also means that you'll be able to access a money transfer solution, whenever you want to, that is perfectly tailored to your exact needs.
---
Moving back home can be stressful, let us take one thing off your plate. We specialise in foreign exchange. Contact one of our consultants on forex@sableinternational.com, or call us at +44 (0) 20 7759 7554.
We are a professional services company that specialises in cross-border financial and immigration advice and solutions.
Our teams in the UK, South Africa and Australia can ensure that when you decide to move overseas, invest offshore or expand your business internationally, you'll do so with the backing of experienced local experts.