Greater job satisfaction, productivity and access to a broader talent pool have resulted in the growth of remote work. Companies and managers need to adapt as it's becoming standard practice rather than a highly prized perk. Learn how remote teams work and how to make yours succeed.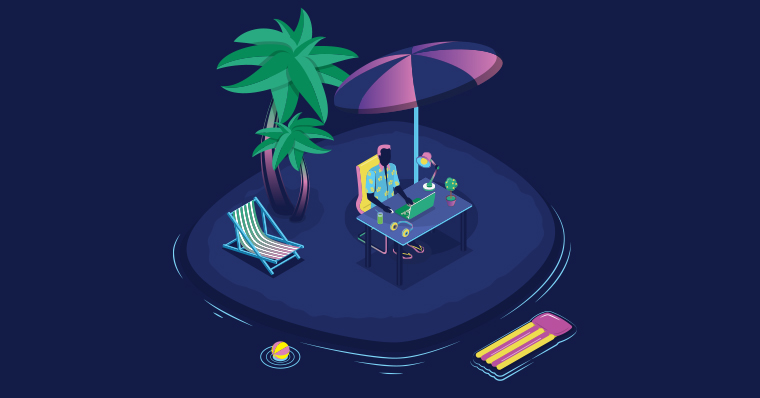 In this article
What is a remote team?
A remote team structure is like an ordinary one, in that members report to a manager, except for one key difference – location. Team members can be located all over the world. A global team can lead to better productivity, as diverse viewpoints from different backgrounds can result in new insights and faster progress.
As the world becomes digitally connected, remote teams are becoming more and more popular. Access to myriad communication options makes sharing a physical work location unnecessary. Messaging applications can be used for quick catchups and it's easy to video conference with multiple team members to discuss work.
What are virtual teams?
The difference between a remote team and a virtual team lies in the management structure. While a remote team would generally all work for the same organisation and report to the same person, a virtual team could consist of several different people with their own managers all working on a single project but coming from different backgrounds and/or companies.
Remote teams vs traditional teams
The main difference between remote teams and traditional teams is the proximity of the team members. Traditional teams generally operate from a single location, with all the members being present in the office and near each other. Remote team members could be anywhere, often on opposite sides of the globe.
Another difference is in the method of communication. In-person communication in an office environment is easy, but that doesn't mean it's not easy to call a meeting or have a quick chat with a remote colleague.
While in an office you can hold a team meeting in a boardroom or meeting room, remote teams often rely on conference calls. Instead of face-to-face chats in an office, remote workers can quickly video call each other or simply chat with a messaging app.
Remote team advantages
A remote team not only benefits employees, but also businesses.
Increased job satisfaction
The flexibility of remote working contributes to greater job satisfaction for employees. Remote work provides choice of location, decreased commute times as well as the freedom to run errands. You may even be able to choose your working hours. These all contribute to greater happiness at work.
Increased productivity
Remote employees are more productive working from home. While the reasons for this can vary, a few factors may include increased job satisfaction, less distraction and being able to set working hours.
Lower costs
There are many costs associated with hosting employees in an office, ranging from electricity and water usage to drinks and snacks, not to mention office space. There are even companies that work entirely remotely, so if you're looking to start up your business, it's easy to source remote team members without needing a physical location.
Remote team disadvantages
Less social time
When you're working in an office it's easy to interact socially with your colleagues. Working remotely can be more isolated, but there are still ways to chat casually and get to know each other, such as messaging apps or yearly get-togethers.
Communication can be tricky
Office environments are often conducive to communication. Regular meetings and quick chats help everyone understand what's going on. This is a challenge when working remotely and can be an issue if you don't develop a strong culture of communication.
Lack of company culture
Developing a company culture is important to many employers. When everyone is together, the environment can more easily reflect the business's values. Remote team company culture will always be different, but it's still possible to create an excellent environment through the people you hire and the way you approach your work.
Why use a remote team?
Employers choose to use remote teams for various reasons, from saving on costs to providing employees with the flexibility they need to do great work.
Global access to potential employees means you can find the right person for the job and take advantage of unique insights and diversity in work styles.
You can also increase loyalty by offering your employees remote options that fit with their preferred schedules. The flexibility of a remote position is highly prized and appreciated.
You'll need to weigh up the pros and cons to decide if you're ready to work with a remote team; there are certain challenges you'll need to prepare for to manage them effectively.
Challenges of remote team management
There are some challenges that come with managing remote employees. Here are the main obstacles and how to overcome them:
Communication
This is always a primary challenge when running a remote team. Sending lots of emails isn't going to be the most effective, as people can get left out the loop and it's quite a slow way to correspond.
The best way to ensure quick communication is with a team chat application. You can create chat rooms for certain projects and quickly message colleagues with any questions you may have. It's also useful to schedule some one-on-one video chats to check in periodically with your team.
Project management
There are various project management tools to help you stay on top of who's working on what and how they are progressing. Many are based online, so it's easy for anyone in the team to login, update a task, comment or create new tasks. Everyone can see the whole team's progress and exactly where they're at with the work.
Remote team payments
When you're working with people from across the globe, paying everyone on time and in their currency could seem like a nightmare. There are generally two ways of paying staff abroad. The first method would be to agree to pay in a fixed amount in your local currency, but their settlement amount varies depending on the currency fluctuations. This is often not ideal for remote workers, who prefer to invoice in their own currency and receive a fixed amount each payroll.
The second option is to run payroll in your remote team members own currency. There are intuitive online platforms that enable you to settle salaries in multiple local currencies without bank charges and with access to excellent exchange rates.
Employee growth
When managers and employees aren't sharing the same space, discussing motivations and career goals isn't as simple as having a quick chat. It's often difficult to schedule time between work engagements for one-on-one chats with team members in the same office, let alone people that work at different times in different countries.
The solution is to make a time and stick to it. Remote team managers mustn't forget that employees are still part of the team and desire new challenges and growth. Set up video calls for one-on-one chats, and don't put them off in favour of other work – they're just as important.
What makes a great remote team?
Talk to each other
Creating authentic connections is the first step to a successful remote team. Something as simple as chatting about your weekend online or getting to know each other through a video call can go a long way to making someone feel part of the team even if they're far away.
Building a rapport with colleagues should be a priority in creating a great remote team culture. Open communication can solve any potential conflicts or misunderstandings quickly.
Hire smartly
When hiring for your remote team, don't underestimate how finding the right people can make a world of difference. Assess how your new hires will fit into your current team – you can't change people to fit into your team's culture, you've got to decide whether they will complement your team or not.
Trust your team
Getting to know your team members goes a long way to build trust in a team, but it's about more than just that. It can cause anxiety for managers not knowing what their team is getting up to, but constantly checking up on them will decrease trust and create distance in your relationships.
The best way to manage how your team works is to set goals according to business requirements and leave them to achieve their goals. Everyone works differently, and you'll soon discover that remote working leads to greater productivity.
Remote work tools
Team collaboration tools are essential to managing a remote team effectively. Here's what you'll need to get started:
Communication software
Your team will need a way to stay in touch through video, chat and email. Two popular chat applications for remote teams include Slack and Microsoft Teams. They both allow file sharing and chatrooms for projects. If you're already using Microsoft products, Teams can integrate nicely into Microsoft's other services.
Another alternative is Google's suite of products. This can provide you with email, shared folders, video calling and chat applications.
Project management tools
Keeping track of who's working on what is essential, so you'll need some type of project management tool that fits with the type of work you'll be doing. Some popular options include Trello, Basecamp, Asana, Wrike and Jira. Each has its own pros and cons, so you'll need to research and decide which one works best for your team.
Remote team payment platform
You could simply use your bank, but this introduces costly transfer fees and unfavourable exchange rates. It's better to use a multi-currency payroll solution that lets you pay your team in their local currency on time.
There are a few options available, and we'd always advise you to consider your options, but our Currency Solved service may work well for your remote team. If you'd like to speak to one of our brokers about it, don't hesitate to get in touch.
Productivity helper
There are a host of apps that can help you focus on work, and it's a great topic to discuss with your remote team. Find out what works for them and share what you use to keep focused.
While working in an office can be distracting, working remotely also offers a lot of temptations to distract yourself from work, so find what will help you to keep on track.
Remote team building
You'll need to customise any remote team building activities to fit with your team. If you're all in the same city, it's easy to get together occasionally for a meetup. If you're all working far away from each other, you'll have to get creative, but it's an important part of building trust and working well together.
Many larger companies bring the whole team together once a year for a "company retreat", but if you don't have the finances needed for something that big, there are other things you can do.
You'll need to check what your team enjoys, but you could hold a team photography competition or start a book/movie club.
Another idea for remote teams working across the world is to send each other small boxes with unique items from your country or culture.
Whatever you decide, discuss it with your team first before doing it to see if it's a right fit.
What's your number one tip to create a great remote team?
---
Our forex brokers can assist with any remote team payment queries and international transfers. Speak to us about global money transfers – perfect for remote teams. Email forex@sableinternational.co.za or call +44 (0) 20 7759 7554.
We are a professional services company that specialises in cross-border financial and immigration advice and solutions.
Our teams in the UK, South Africa and Australia can ensure that when you decide to move overseas, invest offshore or expand your business internationally, you'll do so with the backing of experienced local experts.