Securing Maltese residency through investment is simple and more cost effective than other European residency-by-investment options. We look at the requirements and benefits of this visa below.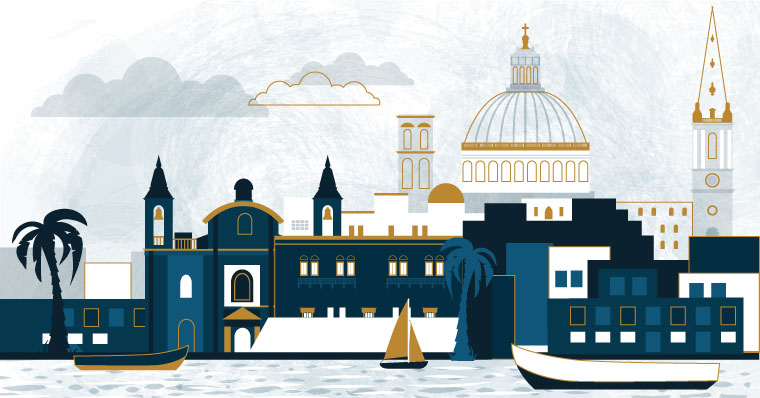 Malta as an investment option
Malta is a small European island nation in the central Mediterranean Sea, situated between Sicily and the North African coast. It is the largest of the three main islands of the Maltese archipelago and is known for its historical sites.
The country is not only one of the safest destinations in the EU, but also a popular destination for well-connected individuals, top-notch educational institutions, postgraduate studies and remote work. It is home to many high-level educational institutions and renowned English schools. Securing Maltese residency is seen by many as an investment into their own future and that of their children.
With many industries open to telecommuting and the number of remote jobs on the rise, Malta offers an ideal environment for all potential expatriates.
Benefits of obtaining a second residency in Malta
Its workforce is multilingual (English, Italian, French and German) and is both highly-skilled and educated
All Maltese official documents, as well as street signs and other important information, are produced in English, making the move to the country easier
It is a safe and stable country with low crime rates
It offers an attractive tax regime with a vast network of double taxation treaties
Residency card holders enjoy visa-free travel within the Schengen area
The warm Mediterranean climate and culturally enriching lifestyle, among other factors, make Malta an attractive investment opportunity for South Africans.
Malta Permanent Residence Programme
The Malta Permanent Residence Programme (MPRP), formerly known as the Malta Residency and Visa Programme (MRVP), is the most flexible solution for high-net-worth individuals and their families who wish to settle in an English-speaking country in Europe. The programme offers a stable, low-risk investment route to obtaining a residence visa in an EU Schengen country. There is also no minimum length of stay for the residence permit. What makes this programme so attractive to many is that it requires much less capital than other programmes.
The MPRP is a four-to-six-month process that grants permanent residency rights to international investors who:
Can demonstrate that they have capital/assets of not less than €500,000, of which €150,000 must be held in financial investments.
Make a contribution of €98,000 to the Maltese government
Make a mandatory charitable donation of €2,000 to a Maltese registered organisation
Hold a qualifying property in Malta for five years from the date of issue of the certificate of residence, either by:

Purchasing a property (minimum €350,000 for properties in Malta or €300,000 for properties in Gozo and the South of Malta).
OR
Entering a property rental agreement for a minimum of €10,000 p.a for five years.
To be eligible for the MPRP, the main applicant must be at least 18 years old and meet the programme's net wealth requirements. Investors and their dependants are granted working rights in Malta, but they must be able to sustain themselves and their dependants without relying on the Maltese social assistance system. All included applicants must be third-country nationals, non-EEA citizens, non-Swiss, have no criminal record, be in good health and have full EU health insurance.
See also: Does the EU want to end all Golden Visas?
MPRP investment path benefits
Residency status can be maintained without a minimum annual stay requirement
All family members can live, work, study or retire in Malta
Grants the rights to establish a business in a pro-business environment
Investors can apply for residence for up to four generations of family members, including spouses, children under 18, unmarried and unemployed adult children under 29, parents and grandparents over 55 who are not working and primarily dependent on the main applicant.
Visa-free travel within the Schengen area
Relocating to Malta is not a requirement, but it is possible
The current program is very competitive and affordable compared to other European residency programmes
How much does the MPRP cost?
Including all administrative and professional fees, the total cost of the MPRP is approximately €100,000 per family plus the required five-year property lease or property purchase.
The Maltese Residence Certificate is reviewed annually for the first five years from the date of issue and every five years thereafter.
Why South Africans are choosing Malta
Malta provides South Africans with the option to not only relocate to a sunny and safe English-speaking country inside Europe, but also to work in a tech-savvy culture. Malta has:
Companies that love to employ talented and qualified English speakers
A thriving economy with many job opportunities within the financial services, tourism, real estate and manufacturing/electronics industries
Friendly and hospitable people and already the home of many South African expats
Beautiful Mediterranean climate and great year-round weather
A politically stable and neutral parliament
Our key partners on the ground in Malta are South Africans. We have first-hand experience of what it is like to take the leap and relocate to the island. We understand what it is like to make these types of decisions and we can guide you through the complexities of relocation to Malta.
Sable International is also proud to have two company representatives as first officers of the Executive Committee to the South African Association of Malta. This association fosters unity amongst the members and Malta and ensures friendly relations, integration and cooperation, and long-lasting relations between South Africans and Maltese citizens.
During our initial discussions, we will assist you in selecting the right programme for your specific needs and will help you identify an investment solution that meets your requirements.
Our service is all-encompassing, and we'll provide you with the following:
A dedicated caseworker to hold your hand throughout the process; to guide you in terms of the documentation required, to prepare your application for you, to work with a qualified legal team to submit your application on your behalf and to give you peace of mind at all times along the way
Assistance to open a forex account to move your funds offshore at competitive rates
Assistance with South African tax clearance certificates
Guidance to find the right property for you, putting you in touch with licensed agents and specialists to explore sound investment or leasing opportunities
Financial planning, cross-border structuring, and South African tax services
The property options we recommend can all be fully managed, so you can enjoy hassle-free ownership.
---
Interested in Malta's permanent residency programme? Get in touch with our investment migration team at +27 (0) 21 657 1584 or send an email to im@sableinternational.com for more information on the requirements and benefits.
We are a professional services company that specialises in cross-border financial and immigration advice and solutions.

Our teams in the UK, South Africa and Australia can ensure that when you decide to move overseas, invest offshore or expand your business internationally, you'll do so with the backing of experienced local experts.

;