The EU Parliament has voted in favour of proposed changes showcasing restrictions on Golden visas. These changes will radically impact the global CBI industry. Here's a list of the proposals set to be implemented by the EU Parliament.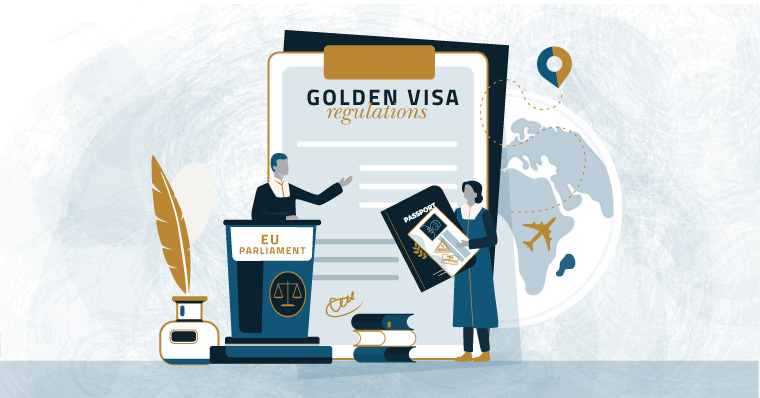 On 9 March 2022, the European Parliament formally voted in favour of a legislative report requesting that the European Commission take action to end citizenship-by-investment in both Europe and third country states.
It is, however, important to understand that there is a clear distinction between residency-by-investment (RBI) programmes and citizenship-by-investment (CBI) programmes and so here's what you need to know about the proposed industry and regulatory changes, especially if you are looking to invest.
The proposed changes to the EU's citizenship-by-investment programmes are important for those looking to invest. The changes proposed are important because they are focused on preventing people that are involved in money laundering, tax evasion, and other crimes, from benefiting from such visas.
Proposal 1: A Union-wide gradual phasing out of citizenship-by-investment schemes by 2025
The introduction of a Union-wide quota system that caps the number of citizenships that can be acquired under CBI programmes across EU member states. The number should be gradually lowered each year, reaching zero in 2025, thereby leading to the complete phasing out of CBI schemes. The gradual phasing out would allow for state members that have CBI programmes to find alternative means to attract investments and sustain their public finances.
Proposal 2: A comprehensive regulation covering all residency-by-investment schemes in the Union
A common industry critique is that, if misused, RBI and CBI programmes may facilitate and enable financial and economic crimes, such as bribery, corruption, and tax evasion. The EU Parliament is, however, not seeking to abolish RBI offerings but is rather seeking to implement a harmonised regulation at the EU level for all programmes. Currently, the responsibility falls on the individual member states to carry out thorough and rigorous due diligence on RBI investors and there is no regulated standard. Formalising comprehensive regulations therefore will enhance transparency and governance across the industry.
See also: Seeking residency by investment? The advantages of Ireland's programme
Proposal 3: A new category of the Union's resources, consisting of a residency- and citizenship-by-investment adjustment mechanism
All individual EU member states offering CBI/RBI programmes should pay a duty/tariff to the Union. Effectively the EU wants to benefit from the revenue generated by these programmes, with a portion of this levy being used to counter negative effects that are identified in the CBI/RBI programmes.
The RBI and CBI programmes of certain member states are associated with higher risks and costs, and it is necessary to cushion these negative effects on the Union. In addition, selling member state citizenship or residency visas is intrinsically linked to the Union's rights and freedom of movement.
Proposal 4: A targeted revision of legal acts in anti-money laundering and countering the financing of terrorism
The EU Commission has already considered RBI schemes when proposing new legislation around anti-money laundering and the financing of terrorism last July.
Essentially, Proposal 4 asserts that even stricter measures should now be implemented to meet enhanced due diligence standards within the industry. Global legislation in the area of anti-money laundering and countering the financing of terror should be adhered to.
Proposal 5: A targeted revision of the Long-Term Residence Directive
In the European Union, long-term residency is a status afforded to a third-country national who has lived in its territory legally and continuously for five years with a means of support (i.e., without becoming a burden on the country of residence) and who meets additional requirements.
The EU Commission is now expected to review this Long-Term Residence Directive to limit third-country nationals who have obtained residency under an RBI programme from benefiting from more favourable treatment under the directive. In essence, the Long-Term Directive should not be circumvented through RBI schemes and there can be no shortcuts to long-term residency status.
Proposal 6: Ensuring that third countries do not administer harmful residency- and citizenship-by-investment schemes
There is a need to ensure that third countries will not implement and/or operate harmful CBI programmes and that they agree to phase them out.
For EU candidate countries, and future EU candidate countries, the complete phase-out of CBI schemes and the strict regulation of RBI schemes should be a prominent and integral part of the accession criteria.
See also: Montenegro's citizenship through investment
CBI rules for countries that are not members of the EU should be included in the legislation and their CBI offerings must be considered by the EU when deciding on the inclusion of a third country in the annexes to these regulations, i.e., visa-free exemptions for third-country nationals to the EU and Schengen areas.
See also: EB-5 news – Regional Center investment path re-authorised for five years
Proposal 6 stands to have a huge impact on the Caribbean CBI offerings, as many of these smaller island states generate a large portion of their GDP thanks to their CBI programmes and to phase them out could have serious socio-economic consequences for these nations.
Prime Minister Browne from Antigua & Barbuda has already written to the EU to outline the extensive Due Diligence processes undertaken when vetting potential CBI investors and to confirm that their CBI programme should not be considered harmful. To date, there is also no evidence that any of the Organisation of Eastern Caribbean States (OECS) CBI programmes have resulted in any terrorist acts.
The OECS has confirmed that they are committed to implementing harmonised standards between programmes and to greater transparency and accountability, but they counter that a one-size-fits-all approach will not work and that the EU needs to be more understanding.
See also: Reasons to choose Grenada's citizenship-by-investment programme
Does the EU really want to end all Golden Visas?
The answer is a resounding no. Although they are in discussions to bring an end to all CBI programmes and the ability to fast-track the citizenship process, they also see the continued demand and need for residency-by-investment programmes. We have therefore reached an important crossroad and the investment migration landscape is undoubtedly about to change.
Now is the time for the industry to embrace a regulated and harmonised environment and to maximise the security of the programmes. The industry is now able to mature and grow responsibly. For this reason, we welcome these changes.
The full 16-page report which includes all the proposals listed can be found here:
List of EU proposals regulating CBI/RBI programs
---
Changes are coming and programme parameters will shift. If you have been thinking about embarking on a CBI or RBI journey, we would recommend starting it sooner rather than later as, at the end of the day, no programme is guaranteed to last forever. Get in touch with us at im@sableinternational.com or call +27 (0) 21 657 1584.
We are a professional services company that specialises in cross-border financial and immigration advice and solutions.
Our teams in the UK, South Africa and Australia can ensure that when you decide to move overseas, invest offshore or expand your business internationally, you'll do so with the backing of experienced local experts.