Comparing migration- and citizenship-by-investment options can be overwhelming. We break down the benefits and qualifying criteria of the Irish golden visa equivalent: The Irish Immigrant Investor Programme.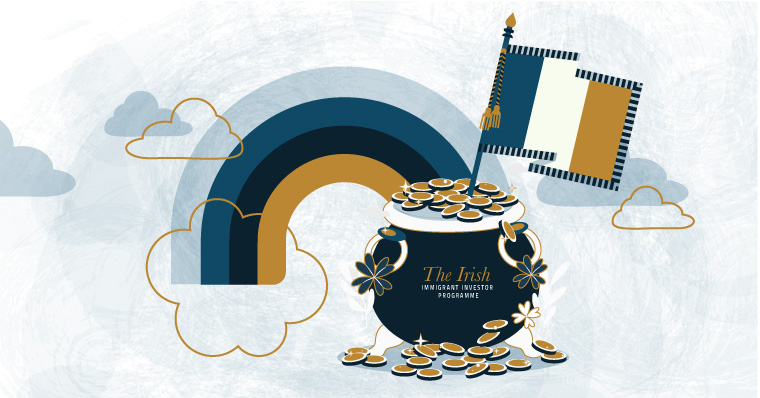 The Irish Immigrant Investor Programme (IIP) offers Irish residency in exchange for an approved investment in the country. While the investor and their family may relocate to Ireland through this programme, your residency can be maintained indefinitely with just a single visit to Ireland per year.
Can Ireland's investor visa lead to citizenship?
A "golden visa" is an increasingly popular term for a route to citizenship by investment. However, not all such programmes offer citizenship directly and many simply provide a way to live and work in the chosen country (residency-by-investment).
The Irish Immigrant Investor Programme is a residency-by-investment programme. However, if you live in Ireland for five consecutive years, and meet the requirements, you can then apply for citizenship. This also applies to your dependant family members on the visa.
For example, if one of your children wishes to study in Ireland, they may use their Irish residency to attend university and then work in Ireland. After five years of physical residency, they would qualify for citizenship. Meanwhile, you could maintain your residency with a single visit to see them every year.
Ireland has no restrictions on dual citizenship.
How much do you need to invest in Ireland to get residency?
There are four possible tracks and you can choose the one that suits your situation best. The most popular by far is the investment fund track because it's low-risk, hands-off and provides for a return of capital at the end of the investment term.
Investment fund – €1 million into a government-approved fund for at least three years (in practice, most funds require a five-year investment commitment).


Enterprise investment – €1 million into one or more qualifying enterprises for at least three years. This can be an established business or one you start yourself. It must be registered, and headquartered, in Ireland. Currently, the Irish government is only approving enterprise investments in certain categories and areas of the economy.


Real estate investment trust (REIT) – €2 million into one or more qualifying REITs. The REIT must be listed on the Irish Stock Exchange or have applied for a listing. This is the least popular option because of a requirement that stipulates a slow divestment of shares over the course of five years. This option is likely going to be retired soon.
The final option is more affordable and simple. However, it offers no return on investment.
Philanthropic donation – €500,000 endowment to an approved health, education, sport, art or culture public-benefit project. You may also club together with five or more other applicants and donate £400,000 each.
Ireland is not the cheapest country to buy citizenship in, especially considering the required residency period prior to qualifying for citizenship, but it offers multiple benefits that put it ahead of other investor visa options.
The advantages of the Irish Immigrant Investor Visa programme
1. The only passport that gives you rights in both the UK and EU
Ireland is part of the EU and it has a Common Travel Area agreement with the UK. That makes the Irish passport the only one that lets you work, study and travel in both the UK and EU. Once you obtain Irish citizenship, you're even able to access social welfare and health benefits in the UK should you wish to.
2. Include adult children on your application
Many other residency-by-investment options cap the age of dependent children at the age of majority. However, Ireland's investor visa allows you to include children up to the age of 24, as long as you can show they're still financially dependent on you, enrolled in full-time education and unmarried without a long-term partner.
3. Quick route to residency
You'll generally receive your residency within six months following a successful application. There are no requirements regarding age, business training, management skills, education, experience or language.
4. Fast-growing economy
Ireland was the fastest growing economy in the EU in 2020 and the only one not to see negative GDP during the first year of the pandemic. This is hardly surprising considering it is home to some of the world's most successful technology companies, including Facebook, Google, Apple, Microsoft and Intel.
5. High standard of living
The UN ranked Ireland second highest in the world for quality of life in 2020 in its annual Human Development Index. The report takes account of indicators like health, education, income, equality and home security. The only country to beat Ireland was Norway.
6. Education
Irish universities are globally renowned and are ranked in the top 1% of research-producing institutions in the world. Investors whose children have a confirmed place university in Ireland receive a €50,000 discount on their qualifying IIP investment.
Who should apply for the Irish Immigrant Investor Visa?
Given the residency requirement for achieving full citizenship, we generally recommend the Irish Immigrant Investor Programme to families who want to move overseas, rather than those seeking a second citizenship or "plan B".
Many of our clients who don't wish to relocate still find the IIP attractive because of the options that it gives their children for both education and citizenship in the future.
The IIP is also a great option for anyone with business interests in both the UK and the EU. Ireland is perfectly situated for quick travel in and out of the UK and EU and has its own booming economy. It's an ideal home base for starting your own business and taking advantage of the networking opportunities that result from the country being home to some of the world's biggest companies.
---
Interested in Ireland's investment visa? We can help answer your questions and choose the best investment option for you and your family. Get in touch with an investment migration consultant at im@sableinternational.com or call us on +27 (0) 21 657 1584.
We are a professional services company that specialises in cross-border financial and immigration advice and solutions.

Our teams in the UK, South Africa and Australia can ensure that when you decide to move overseas, invest offshore or expand your business internationally, you'll do so with the backing of experienced local experts.

;