The US EB-5 Regional Center investor visa programme was put on hold in June 2021, but after many months of uncertainty, the programme has now been revised, reformed and signed into law by President Biden. We take a closer look at the changes to this residency-by-investment programme, including the new minimum investment amounts.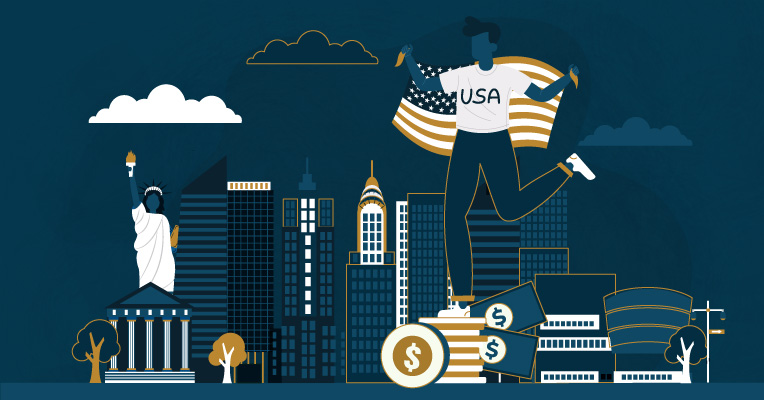 What is the EB-5 investment visa?
The EB-5 visa, the US's residency-by-investment programme, was introduced in 1990 to stimulate the US economy through job creation and capital investment by foreign investors. The US government may issue a maximum of 10,000 EB-5 visas to investors and their dependants per year.
There are two ways to invest in the programme: The active investment route and the passive investment route. With the active investment route, investors can set up a company and employ at least 10 people. But the more popular way, which accounts for nearly all EB-5 applications, is to invest in state-approved regional centers – the passive investment route. The latter route lapsed in June 2021, leaving potential applicants in limbo.
While the active investment route was never paused, it remained, and still remains, less appealing. If the business fails or does not meet the job creation requirements, the investor risks being denied a green card. Passive investment is a safer bet.
Changes to the US EB-5 Regional Center Program
Congress has announced the reauthorisation of the programme for five years through September 2027, with the EB-5 Reform and Integrity Act of 2022. The Act introduces several changes to the passive investment route, officially known as the Regional Center Program. The new legislation not only revives the Regional Center Program, but introduces other integrity measures to be applied to all parts of the new EB-5 programme.
The EB-5 programme reauthorisation was formally signed into law by President Biden on 15 March 2022. Although the changes to the minimum investment amount and targeted employment area (TEA) regulations have taken immediate effect, the Regional Center Program will not officially be operational and accepting new applications until 60 days after the bill passes.
See also: Seeking US residency by investment? The benefits of a US EB-5 visa
Increase to the minimum EB-5 investment amounts
The minimum investment amount has now been raised from $1 million to $1,050,000, which is reduced to $800,000 if the EB-5 project is located in a TEA or is an infrastructure project. Previously, the minimum investment amount for a project in a TEA was $900,000 (with a short window for investments at $500,000 in an EB-5 direct project).
(TEA – Targeted Employment Area: Rural areas or areas with unemployment of at least 150% of the national average).
EB-5 grandfathering
EB-5 petitioners will be grandfathered and protected against a programme lapse in the future. Essentially, this means that if the Regional Center Program were to lapse again, investors who filed their I-526 immigrant petitions prior to September 30, 2026, would remain eligible to continue with the EB-5 immigration process.
Special EB-5 visa quotas
32% of the 10,000 annual visas allocated to the EB-5 programme are now reserved for investors that invest in certain categories:
20% will go to those who invested in projects in rural areas
10% for high unemployment areas as defined by the US Citizenship and Immigration Services (USCIS)
2% are reserved for investors in a new category for qualifying infrastructure projects
Integrity and compliance requirements for EB-5 regional centers
Regional centers are now subject to regular audits and enhanced recordkeeping obligations. They are also obligated to pay an annual fee of $20,000 (or $10,000 for regional centers with 20 or fewer investors) that is allocated to an EB-5 integrity fund. The fund will allow the USCIS to investigate and monitor all the parties within the EB-5 industry to ensure compliance.
A petition fee of $1,000 for classification of a regional center is now also payable.
EB-5 processing time
The EB-5 visa is undoubtedly the quickest route to permanent residency in the US. After two years, the US authorities will review your investment to make sure that it remains compliant with the programme. Following this, your legal team will file for the removal of conditions to your process, thereby completing the legalities. Five years after the issue of your Green Card, you will be able to apply for US citizenship. This means that the time from initial investment to being issued with a permanent Green Card is approximately 60 months.
The EB-5 costs
The cost of the actual EB-5 visa application is $3,675 for yourself and any applicants. Naturally, in addition to the investment amount and there are administrative fees, such as:
Form DS-260 processing fee
Medical examination fees
Fees to obtain supporting documents
Any translation fees from foreign language to English
Legal fees and professional fees for assistance with the process
See also: Top 10 countries where people can buy citizenship and residency
Benefits of the US EB-5 visa
The EB-5 is a green card
With an EB-5 visa, you and your dependants will be allowed to live, work and study anywhere in the US, including Texas and Florida where there is no state income tax. Once you are approved, all family members included on the application will be granted a green card and therefore full access and permanent residency rights in the US.
The US's investment visa does not have a sponsorship requirement
Unlike other US visas, the EB-5 visa doesn't require a sponsor. There are also no limitations on age, business training, management skills, education, experience or language skills, and no point system.
The EB-5 visa can be paid with many sources of funds
Unlike many other countries, the US also allows you to invest funds that you have not directly earned. The source of funds could be a gift from a relative or an inheritance. However, the money does have to come from a legal source and should be traceable. The USCIS thoroughly scrutinises the investor source of funds in accordance with global AML regulations.
Enjoy the benefits of permanent residency in the USA
Permanent green card holders enjoy almost all the benefits of US citizens including access to Social Security and US health programmes. The only rights you won't share with US citizens are that you won't be able to run for office, vote or serve on a jury. The US recognises dual citizenship, so you won't have to give up citizenship of your original country.
See also: Moving abroad? Let the experts help you plan for it.
How Sable International can help
We have over 20 years of experience helping global citizens with relocation, investment and moving funds around the world. Our services work in harmony to be able to offer investors an all-encompassing solution, including:
Guidance on the right investment option
Putting you in touch with key project specialists
An introduction to our recommended US attorneys partners, legal experts and advisers
South African tax clearance certificates
Transferring funds out of South Africa through our fully regulated forex division
Full transparency about all costs and risks
We only work with the most respected and successful developers that have passed our own extensive due diligence, and which have a 100% success rate. Our client's exit strategy is of the utmost importance to us right from the start.
---
Interested in the EB-5 visa? We can help answer your questions and choose the best investment option for you and your family. Get in touch with an investment migration consultant at im@sableinternational.com or call us on +27 (0) 21 657 1584.
We are a professional services company that specialises in cross-border financial and immigration advice and solutions.
Our teams in the UK, South Africa and Australia can ensure that when you decide to move overseas, invest offshore or expand your business internationally, you'll do so with the backing of experienced local experts.