Wealthy South Africans interested in emigrating overseas have more options today than ever thanks to a boom in investment migration programmes. These offer dual citizenship, greater global mobility, economic opportunities, investment diversification, a better quality of life and improved personal security.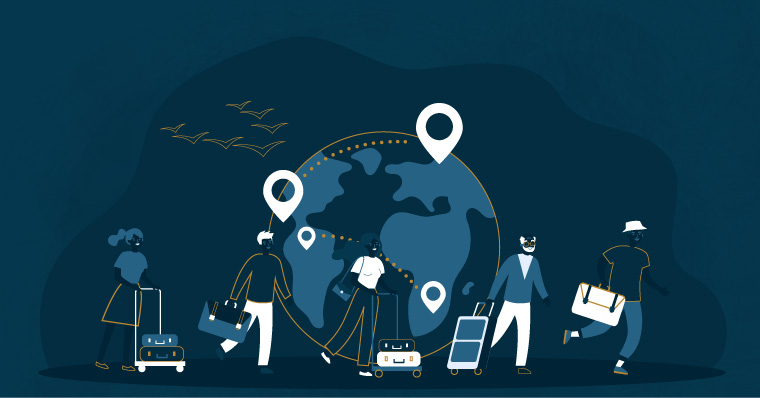 South Africa has recorded a substantial outflow of wealth over the past decade, as the affluent look towards greater economic security and personal safety. According to New World Wealth, around 4,000 high-net-worth individuals (HNWIs) have left the country – roughly 400 a year. This follows a global trend of those who can afford to choose their citizenship aiming for distant, greener pastures, and the newly released numbers reveal exactly which countries are magnets for the world's wealthy elite.
1. Australia
For the past few years, Australia has repeatedly held the Global Wealth Migration Review's top spot as a wealth migration destination. The beautiful scenery and easy-going lifestyle have obvious pulling power, but the country's real appeal is more than skin deep. High levels of safety, education and healthcare, as well as a wealth-friendly tax system, are primary reasons why the wealthy find it so attractive. Australia's points-based immigration system also heavily favours business owners and those with select professional qualifications..
Today, HNWIs move to Australia on a variety of visa classes, but a growing number are taking advantage of the Provisional Business Innovation and Investment visa (subclass 188). This visa provides a path to permanent residency for entrepreneurs, investors and business owners who are willing to invest a significant amount of money in the Australian economy.
2. The United States
Despite shifts in global movement, one constant remains: The US has the world's largest number of international migrants. The country has remained a top destination for the wealthy because of its status as an economic leader and its technology, financial services, media, and entertainment sectors. Migration to the country was substantial throughout 2019 and continued well into the first half of 2020, with Houston, San Francisco, Silicon Valley, Seattle, Los Angeles, Miami, New York City and Boston pulling in the majority of new residents.
The huge business opportunities, personal freedoms and power of the Dollar make America's foreign-born elite one of the planet's most diverse. Currently, the United States' EB-5 investment visa is a quick and simple route to permanent residency – it's also the fastest way to a green card.
3. Switzerland
Switzerland has always maintained political neutrality, which has resulted in a highly stable socio-economic environment. The combination of the country's rich culture and liberal heritage has also given rise to one of the most independent and well-organised societies in the world.
Switzerland gained a large number of HNWIs throughout 2019-20, due to its safe-haven status, being a large wealth management hub within Europe and its excellent standard of living. The Swiss recently voted to continue the free movement of people accord with the EU, further emphasising its attractiveness as a destination for Europe's wealthy.
4. Canada
Canada often tops the list for millionaire migrants because of its level of safety and sustained growth. Despite scrapping one of its main investor-visa programmes in 2014, the country's alternative investment options remain popular among wealthy foreigners.
Although Canada is well-known for its natural resources, the country's economy (which is the world's 10th-largest) is actually heavily service-oriented – a testament to its resilience in the global market. This, combined with its strong legal system and sunny skies, make it particularly appealing – seeing an overall net inflow of roughly 2,200 HNWIs throughout 2019-20.
5. Singapore
Singapore is today the country with the largest foreign currency reserve per capita in the world. Due to the wealth-friendly tax system and lack of Capital Gains Tax (CGT), individuals and businesses in Singapore hold on to most of the money they make from investments and dividends. More than the attractive taxes, Singapore possesses many qualities that make it a smart choice to relocate to, including beautiful weather and a welcoming approach to foreigners.
6. Israel
As one of the safest countries in the Middle East – alongside the UAE – Israel has one of the best-performing wealth markets on the planet. While the world in general is becoming more affluent, the trend is vastly accelerated in Israel. According to a report by Afrasia Bank, wealth in Israel has gone up by 45% in the last decade. Immigrating HNWI numbers clocked in at around 1,400 during 2019-20.
7. New Zealand
New Zealand is a prosperous country with a powerful passport and multiple immigration options open to investors and entrepreneurs. With appealing geographical isolation, political stability and some of the lowest corruption levels in the world, the rich tend to consider the country a safe haven. New Zealand saw an inflow of roughly 1,400 HNWIs in the last year.
8. United Arab Emirates
Dubai is the top financial centre of the Middle East, boasting robust foreign trade and international connectivity. It is considered by many to be a leading lifestyle and business destination. It is also one of the safest cities in the region and a popular destination for the migrating mega-rich. The city alone has pulled in more millionaires recently than many western hubs. Over 2019, the UAE attracted 1,300 HNWIs.
9. Portugal
Brimming with European "capitals of culture", Portugal continues to see a steady influx of the world's wealthy, fuelled by its ever-popular investor visa programme. Despite the country's high quality of life and stable economy, real estate in Portugal is far more affordable than in most other countries in Western Europe. Another attraction is the compelling Non-Habitual Residence (NHR) programme for wealthy foreigners who want to relocate their tax residency and take advantage of a 10-year tax break on most of their foreign sourced income.
10. Greece
Situated at the junction between Europe, Asia and Africa, Greece is considered the cradle of democracy and the birthplace of western civilisation. As a member state of the EU, Greece offers its residents and citizens a number of reassuring benefits, including excellent education opportunities, top-tier healthcare options and a dependable rule of law. The country has started to attract more and more HNWIs over the last few years via its investor visa programme, adding 3% more throughout the last year.
Other investment migration destinations
Alternatively, the following investment migration destinations offer more boutique programmes worth considering:
Antigua and Barbuda
With hundreds of beaches and year-round sunshine, the twin-island nation of Antigua and Barbuda has grown into a world-class destination over the last decade. The country's citizenship-by-investment programme provides an opportunity for qualifying investors to gain dual citizenship on the island paradise and enjoy visa-free travel as a citizen to 150 countries.
Grenada
Popularly known as the Spice Island for its locally grown spices, Grenada offers one of the most picturesque waterfronts in all the Caribbean. The country has gained widespread acclaim as the preferred destination of many HNWIs. Grenada passport holders can currently travel visa-free or by visa-on-arrival to over 140 countries. On top of that, it is the only Caribbean citizenship-by-investment programme that holds an E-2 Treaty Investor visa with the USA.
Ireland
Ireland distinguishes itself as being one of the most open economies in the world. It is highly ranked as one of the top countries for doing business in Europe and for its liberal tax regime. As a means to encourage growth, the country's Immigrant Investor programme is available to HNWIs and their families outside the EEA and offers a pathway to citizenship in exchange for an approved investment in the country's rapidly-growing economy.
Malta
Malta is one of the big success stories of the past few years. It's two different investor programmes (citizenship by investor programme) have brought a large amount of new wealth onto the island and have been credited with fuelling Malta's growth in several key sectors, including financial services, IT and real estate. Unlike the majority of competing programmes, the Malta ProgrammeIndividual Investor permits the investor to move straight to citizenship and the Malta Residency and Visa programme, which requires a much lower capital layout and which can also be partially financed, allows for the granting of indefinite residency to individuals and their families.
Mauritius
Mauritius has been attracting a steady number of HNWIs due to the ease of doing business in the country. Notably, Mauritius ranked 1st in Africa and 13th worldwide in the World Bank's 2020 Doing Business Report. The country is also known for its safety and fast-growing financial services sector. Today, it is home to around 4,000 HNWIs, compared to 2,500 HNWIs a decade ago – all thanks to its popular residency-by-investment programme.
Montenegro
Montenegro's natural beauty and sophistication aren't the only reasons why the nation offers a multitude of opportunities to investors. Its recent independence and strategic position have been a tremendous influence on the country's continued growth, with a citizenship-by-investment programme that enables swift settlement in Europe, bringing with it global mobility, increased security and improved quality of life.
United Kingdom
Long a powerful political, financial and cultural influence around the world, the UK has been one of the largest recipients of migrating HNWIs over the past three decades. To this day, the country remains a lucrative business destination for international investors. Living in the UK also offers a unique combination of bustling cities, quaint villages, beautiful countryside and many historical landmarks.
The country's popular Tier 1 Immigration programme provides the rare opportunity to enter the world's top economy and most prominent finance and commerce centre.
---
If you're interested in investment migration opportunities, our consultants can help you choose the right programme and be with you every step of the way. Give us a call on +27 (0) 21 657 1526 or send an email to im@sableinternational.com.

We are a professional services company that specialises in cross-border financial and immigration advice and solutions.

Our teams in the UK, South Africa and Australia can ensure that when you decide to move overseas, invest offshore or expand your business internationally, you'll do so with the backing of experienced local experts.

;