If immigrating to the US is something you are considering, the US EB-5 visa could be right for you. It is a residency by investment programme aimed at foreign investors who are looking to gain permanent residency status in the United States. We take a look at the requirements and benefits of this visa.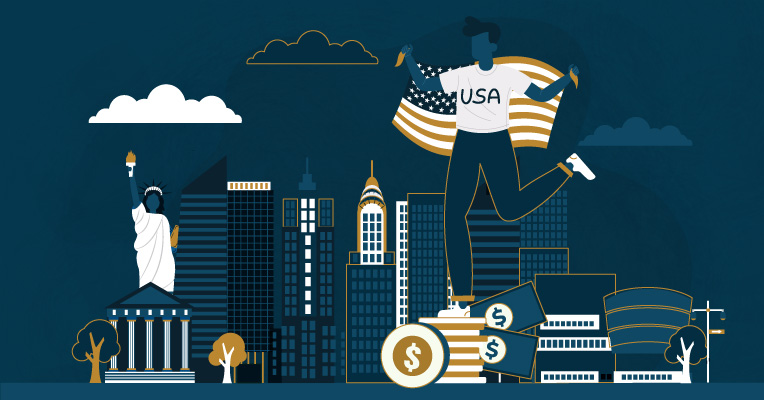 What is the US EB-5 visa?
The EB-5 visa allows you to immigrate to the US through an active investment in a new or existing commercial enterprise or via a passive investment into a qualifying American project. Under this programme, an applicant must be willing to make a significant investment in the US, as the fundamental purpose of the EB-5 visa is to stimulate the US economy through job creation and capital investment. In return, foreign immigrant investors are granted all the benefits of US permanent residency – known as a green card.
Benefits of a US EB-5 visa
No sponsor required
Unlike other US visas, the EB-5 visa doesn't require a sponsor. There are also no limitations on age, business training, management skills, education, experience or language skills, and no point system.
Lawful status in the US
With an EB-5 visa, you and your dependants will be allowed to live, work and study anywhere in the US, including Texas and Florida where there is no state income tax. Upon approval, all family members included on the application will be granted a green card and therefore full access and permanent residency rights to the US.
Fast track to permanent residency and a road to citizenship
The EB-5 visa is undoubtedly the quickest route to permanent residency in the US. After two-years, the US authorities will review your investment to make sure that it remains compliant with the programme. Following this your legal team will file for the removal of conditions to your process thereby completing the legalities. Five years after the issue of your green card, you will be able to apply for US citizenship. This means that the time from initial investment to being issued with a permanent green card is approximately 60 months.
Enjoy rights and freedoms
Permanent green card holders enjoy almost all the benefits of US citizens including access to Social Security and US health programmes. The only rights you won't share with US citizens is that you won't be able to run for office, vote or serve on a jury. The US recognises dual citizenship so you won't have to give up citizenship of your original country.
The investing of funds
Unlike many other countries, the US also allows you to invest funds that you have not directly earned. You could show the source of funds as a gift from a relative or an inheritance. However, the money does have to come from a legal source and should be traceable. The US Citizenship and Immigration Services (USCIS) thoroughly verifies the investor source of funds to combat money laundering practices.
How much does the EB- 5 visa cost?
There are two EB-5 visa investment paths, each with its own set of requirements. It is widely anticipated that the investment thresholds will be amended in early December 2021 and it is expected that the minimum investment threshold on both investment paths will be raised from the current $500,000 to $750,000 but this is still to be formally confirmed and legislated.
Active investment
This path requires:
A minimum investment of $1 million in a new or existing business in the US, or $500,000 if investing in a Targeted Employment Area (TEA) i.e. rural areas or areas with unemployment of at least 150% of the national average
Create or preserve at least 10 full-time jobs for qualifying US workers, excluding the investor and their immediate family, within two years
The investor must actively manage the day-to-day activities or policy formation of the enterprise.
Only direct employment is permitted
Passive investment
The passive investment route is the more popular route. In June 2021, the minimum investment was lowered from $900,000 to $500,000 but as indicated above, it is expected that the threshold will be raised in early December 2021. If you wish to proceed at the reduced amount of $500,000 you will need to act quickly and now is the perfect time to embark on this journey.
Your investment will be handled by a third party. This requires a lot of due diligence of the business before you choose to invest in it, because whether or not you will be able to generate the requisite jobs or even get your money back will depend largely on the effectiveness of the business.
This path requires:
A minimum investment of $500,000 into a qualifying EB-5 Direct project in a TEA, that is pre-approved by the USCIS
The investment must create full-time employment for at least 10 qualified US workers.
Currently only the EB-5 Direct programme is accepting applications and so only direct employment is permitted.
Since this is an investment into a business, your capital is not secured, and there is a degree of risk involved. This is why it is so important you select the right project to invest your funds in.
See also: Seeking residency by investment? The advantages of Ireland's programme
How Sable International can help
We have over 20 years of experience helping global citizens with relocation, investment and moving funds around the world. Our services work in harmony to be able to offer investors an all-encompassing solution, including:
Guidance on the right investment option
Putting you in touch with key project specialists
An introduction to our US attorney's partners, legal experts and advisers
South African tax clearance certificates
Transferring funds out of South Africa through our fully regulated forex division
Full transparency about all costs and risks
We only work with the most respected and successful developers that have passed our own extensive due diligence, and which have a 100% success rate. Our client's exit strategy is of the utmost importance to us right from the start.
---
Interested in the EB-5 visa? We can help answer your questions and choose the best investment option for you and your family. Get in touch with an investment migration consultant at im@sableinternational.com or call us on +27 (0) 21 657 1584.
We are a professional services company that specialises in cross-border financial and immigration advice and solutions.

Our teams in the UK, South Africa and Australia can ensure that when you decide to move overseas, invest offshore or expand your business internationally, you'll do so with the backing of experienced local experts.

;