Looking for a plan B for you and your family? Our experts guide you through several citizenship by investment options.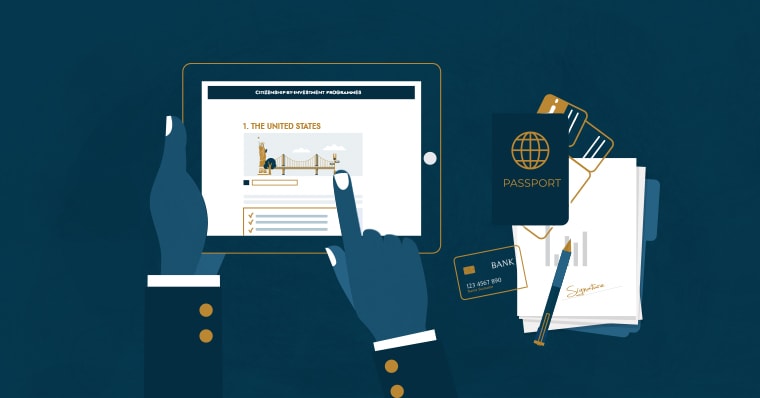 Quick navigation
In this article we cover the ways you can gain citizenship in these countries:
---
An introduction to citizenship by investment
There are many benefits to having dual citizenship, including greater global mobility, economic opportunities, better quality of life and improved personal security.
However, acquiring second citizenship can be a lengthy process as residence in the country is usually a requirement. Business owners and private investors looking to gain an alternative nationality often turn to investment migration because it is quick and generally hassle-free.
These citizenship-by-investment programmes are offered by many countries across the world and they grant practically instant nationality in return for major contributions to society, culture and/or the economy.
We constantly monitor the various citizenship by investment programmes. Here is a guide to the seven different programmes our team of experts can assist you with.
1. The United States
The EB-5 investment visa is the oldest and most established programme and it's currently the fastest way to a US green card for you and your family. It enables permanent US residency through investment in government-approved projects across the USA.
Secure US residency for you and your family
The United States green card gives you the right to live, work, build a business or retire anywhere in the USA. It also gives you access to the USA's world-class education system and medical facilities. Through the EB-5, you, your spouse and all dependants under 21 will be granted a green card in around 18 months.
Investing in US residency
There are two ways to qualify for an EB-5 visa. The first is an Active investment which requires a minimum investment of USD 1.8 million. This must be made into a new or existing business that was established after November 1990. Or you can make a minimum investment of USD 900,000 into regional centre in a targeted employment area (TEA).
Benefits of the EB-5 investment visa
1. Qualify for a green card
Being afforded a green card allows you to live, study, work and build a business anywhere in the USA.
Excellent education
You and your children can benefit from the excellent schools the US has to offer, such as the eight Ivy League schools which are considered the most sought-after institutions of higher learning in the world.
Excellent medical facilities
By investing in the EB-5 visa, you and your family will gain access to the US medical facilities at the same cost as a US citizen.
Access to a large economy
The United States economy is highly developed and diverse as well as the largest by nominal GDP and net wealth in the world.
High standard of Living
America has one of the highest standards of living in the world.
Few requirements
To apply for the EB-5 visa, there are very few investor requirements. You do not need any specific training, skills, education, experience or language skills.
Globally there are only 10,000 EB-5 visas issued per annum. The application is complex, so it's important to consult an expert to assist you with every step of the process.
2. How to gain Cypriot citizenship through investment
In the heart of the Mediterranean, at a crossroads of Europe, Africa and Asia, is Cyprus. This is the ideal home for those who work and travel frequently within the European Union.
Cypriot investment options
Applicants under the Cyprus Investment Programme may apply as an individual or through one or more companies. All applicants for economic citizenship must purchase a residential real estate valued at minimum EUR 500, 000 to be held indefinitely. Then you must choose from the below four investment options:
1. Purchasing or establishing a Cypriot company from EUR 2 million. This must result in you creating five jobs for citizens of Cyprus or the European Union.
2. Investing EUR 2 million in alternative investment funds (AIFs).
3. Purchasing buildings, land that's under development, or infrastructure valued at EUR 2 million. This can be either residential property or commercial. Applicants who select this option do not need to invest an additional EUR 500,000 in residential property, however a minimum of EUR 500,000 within this EUR 2m property portfolio has to be held in residential property
4. You can also do a combination of the above options as long as they amount to EUR 2 million, of which EUR 500,000 can be in government bonds.
In addition to the above investment options, all CIS investors are required to make a non-refundable donation of EUR 200,000to the Cyprus Government that will go towards the Research and Innovation Foundation and the Cyprus Land Development Corporation.
A few key benefits of the Cyprus citizenship-by-investment programme
Freedom of movement
Once afforded Cypriot citizenship, you and your family can reside, work and study anywhere in the EU, and enjoy visa-free travel to more than 170 countries. Cyprus doesn't impose any restrictions on dual citizenship.
Diverse economy
Cyprus has large growth rates in the tourism, real estate and technology sectors. It has a well-developed business infrastructure and Cyprus spends a notable percentage of its GDP on education, so the workforce is well-educated.
No residence requirements
Cyprus does not require any tests or formal interviews in order to gain citizenship. There are also no minimum residency requirements, which makes the process easy, low stress and quick.A family will travel to Cyprus twice during the application process.
Access to Cyprus and EU education
The education system in Cyprus is well known for its quality and high standards. There are numerous English-speaking private schools and Universities in Cyprus and a citizen also gains access to European Universities and the option to apply for EU grants. Take advantage of excellent education opportunities for you and your children.
3. How to gain Portuguese citizenship through investment
Launched by the Portuguese government in 2012 to encourage investment into Portugal, the Golden Visa Permit Programme offers a real estate investment route to gain residency and potentially citizenship. It allows the holder to live and work in Portugal and also affords you the right to visa-free travel throughout the European Schengen Area.
Portuguese Golden Visa holders receive a temporary residence permit for two years. Visa renewals last for two-year periods and, after five years, you can apply for permanent residence and citizenship. The Portugal Golden Visa Programme offers a fast, simple path to establishing a foothold in Europe.
Investment options for Portuguese residency
There are five investment options that qualify you for Golden Visa residency.
The first is a capital investment of EUR 1 million. This can be a fund deposit into a Portuguese bank account, purchase of Portuguese stocks or bonds, or an investment into a company.
The second (and to date the most popular option with investors) is an investment of EUR 500,000 into real estate in Portugal. The property can be either residential or commercial and can be rented for income. Any number of properties can combine to make up the EUR 500,000 minimum investment amount. Joint buyers can combine investments into one property.
With the third option, you can also make an investment in property for a lesser amount of EUR 350,000, but this property must be at least 30 years old and located in an urban regeneration area.
The fourth is a capital investment of EUR 350,000 into a private equity fund that capitalises small business and creates jobs in Portugal.
The fifth, and least popular to date, is through setting up a business that creates 10 jobs for Portuguese citizens. The requirements for this route are that you employ a minimum of 10 employees at minimum wage and all of those employees need to pay social security.
You will need to maintain your investment alongside your visa for five years.
Residency requirements of Portugal's Golden Visa
Another benefit of the Golden Visa is the low residency requirements. You only need to be present in Portugal for 14 days in each two-year period.
Year one and two: 14 days
Year three and four: 14 days
Year five and six : 14 days
Key benefits of Portuguese citizenship
Stable economy
Portugal's economic growth is higher than the European average, which encourages the development of new markets and the creation of successful companies.
High rental income
By doubling the number of tourists in less than 10 years, Portugal has become the fastest growing destination in Europe. The increase in tourism has led to a scarcity of rental properties and an increase in rental prices – a boon forinvestors.
Safety
Portugal is the third safest country in the world according to the Global Peace Index 2019.
Tax benefits
Investors will only be taxed on their worldwide income if they are resident in Portugal for over 183 days in any year. If you're a non-resident, tax is charged at 28% on income derived in the country and this can be reduced with expenses for rental income
4. How to gain Grenadian citizenship through investment
At the southern end of the Caribbean Windward Islands lies Grenada. With an idyllic climate and picturesque waterfront, Grenada is an ideal tourist destination and a preferred destination for many investors.
Grenada's citizenship by investment programme, which was introduced in 2013, grants citizenship in less than 6 months and offers a strong passport with UK and EU travel access.
Grenadian citizenship investment options
There are two investment options for you to obtain Grenadian citizenship.
1. A property investment
A property purchase from a government-approved real estate project to the amount of USD 220,000. There is a government fee of USD 50,000 for the main applicant and up to three dependants. Any additional dependants will be USD 25,000. You're required to own the property for a minimum of five years before you're allowed to sell.
2. A donation
Another option to consider is a one-time donation of a minimum amount of USD 150,000 for a single applicant, to the National Transformation Fund (NTF). This is a government fund created to develop Grenada's economy.
Key benefits of Grenadian citizenship
Freedom of movement
Having a second passport from Grenada allows you to travel visa-free to over 140 countries. These include the UK, EU Schengen countries and China.
Access to US residency
A major draw is that Grenada offers access to the USA E2 treaty investor visa for its citizens.
Family benefits
When looking for a plan B, family is a major consideration. With the Grenada programme, children and dependants up to 30 years of age can be included as well as dependent parents over the age of 55.Single siblings with no children may also be included.
5. How to gain Montenegrin citizenship through investment
Montenegro is a key destination for investors seeking mobility, security and increased quality of life.
The country's natural beauty isn't the only reason why the nation has increased opportunity for growth and development. Its recent independence and strategic position have led to Montenegro becoming central to some of the most important industries in the world and have one of the fastest growing economies in the Balkans.
The Montenegro Citizenship Investment Programme is one of the most affordable in Europe.
Your investment options
You are required to make a contribution of EUR 100,000 in the form of a government fund donation. In addition to this donation, you must invest in government-approved real estate projects in the country. There are two different investment levels that depend on where the selected projects are. You can either invest EUR 250,000 into an undeveloped region, which is north of the country, or you can invest EUR 450,000 into a developed region to the south of the country or in Podgorica.
Montenegrin citizenship and EU citizenship rights
Although Montenegro is geographically located in Europe, it is not currently part of the EU. However, it is at the top of the EU admissions list and, while it is in no way guaranteed, there is a high probability that Montenegro will enter the EU in 2025.
Currently, Montenegrin passport holders can enjoy visa-free travel to over 125 countries worldwide, including the Schengen zone.
Access to US residency
A major draw is that Montenegro offers access to the USA E2 treaty investor visa for its citizens.
6. How to gain Antiguan and Barbudan citizenship through investment
Year-round sunshine and hundreds of beaches to choose from make Antigua and Barbuda the ideal holiday and retirement destination. Make an economic donation or a property purchase and gain citizenship for life in this Caribbean paradise.
The four investment options
There are four routes to gain citizenship in Antigua and Barbuda:
1. You can make a charitable investment to the non-profit National Development Fund. For a family of four members, a donation amount of USD 100,000 must be made, and a donation amount of USD 125,000 for a family of five or more.
2. You can invest in real estate for a minimum of USD 200,00. A real estate investment must be held for at least five years.
3. You can invest in a business. The business must be pre-approved by The Cabinet of Antigua and Barbuda and the minimum amount required for an individual investing in a business is USD 1.5 million.
4. You can invest in the University of the West Indies Fund. This investment option is only available to families of at least six members and it entitles one member of the family to one year tuition at the university. To be eligible for this, the minimum investment amount must be USD 150,000.
Some benefits of Antigua and Barbuda nationality
Low risk
The Antigua and Barbuda programme protects investors as your investment is only required once you receive your citizenship application approval.
Freedom of movement
You can enjoy visa-free travel to over 140 countries including the EU, UK and Hong Kong.
Fast processing time
With this investment programme, you can receive your new passport in as little as three to four months.
Attractive tax regime
There is no tax on income, wealth or inheritance.
No residence requirements
Achieving citizenship is incredibly hassle-free. There is no physical residence required.
7. How to gain Maltese citizenship through investment
The Malta Individual Investor Programme (MIIP) is one of the most exclusive citizenship by investment options available worldwide. This programme offers investors the opportunity to become a citizen of a country with one of the EU and Eurozone's most stable economies.
How to invest in Maltese citizenship
The new MIIP, to be launched in the near future, has a few changes that include requiring an individual investor to make a minimum contribution of EUR 750,000 (for the main applicant) to the National Development Fund in order to obtain citizenship after 12 months.
Dependent family members, including a spouse and minor children, must also contribute EUR 25,000 to the Development Fund. Dependent adult children to the age of 26 and dependent parents above 55 may also be included and will each require an additional EUR 50,000 contribution.
You must also commit to a residence in Malta. You can show this by renting or purchasing property for a minimum of five years. If you invest through the purchasing of property, the value for purchased real estate needs to be a minimum of EUR 700,000. For rental it is a commitment of EUR 18,000 annually.
A philanthropic donation of EUR 10,000 will be compulsory under the new programme.
Clients have to pass a due diligence assessment before proceeding to applying for citizenship.
Some benefits of the Malta Individual Investor Programme
Freedom of movement
Maltese citizens may reside, work and study anywhere in the EU and enjoy visa-free travel to over 180 countries, including the USA.
Descent
Maltese citizenship is granted through Certificate of Naturalisation, and once you obtain EU citizenship via the MIIP, you'll have it forever. You can also pass it on to future generations.
Quick
If you have met the programme requirements of the Individual Investor programme, you can get citizenship in Malta after as little as 12 months.
---
If you're interested and want to invest in a citizenship by investment programme let us help. Get in touch with us on im@sableinternational.com or +27 (0) 21 657 1584 to discuss your options in more detail.
We are a professional services company that specialises in cross-border financial and immigration advice and solutions.
Our teams in the UK, South Africa and Australia can ensure that when you decide to move overseas, invest offshore or expand your business internationally, you'll do so with the backing of experienced local experts.