Portugal has become a popular destination for South Africans looking to emigrate thanks to its excellent climate, stable economy and safe society. With some time at home, I've been reflecting on my own journey to Portugal. I also reached out to some fellow South African expats to share some of their insights and experiences.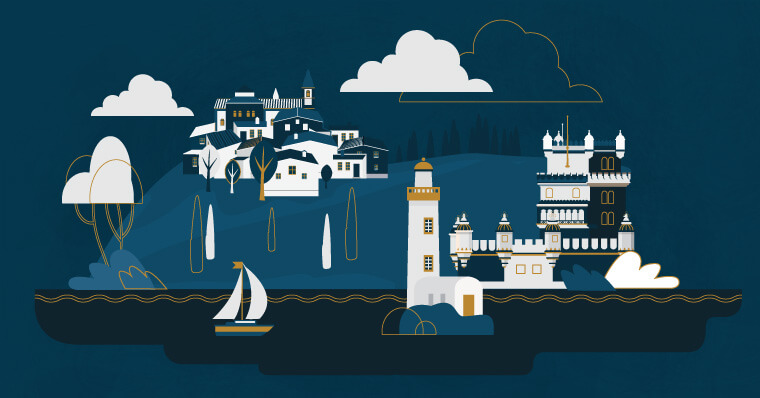 Making the move to Portugal
Settling in a new country can always be challenging but having dual citizenship (South African and Portuguese) has been a great help. It's meant that I have had to deal with slightly less admin to get set up by already having a Portuguese tax number and bank account from a young age.
Portugal is starting to feel like home now that I have been here for over a year – I love living here. Transitioning still takes time, though, and until I am fluent in Portuguese, I think I will still feel like I'm in the process.
Other South Africans I have chatted to generally agree that mastering the language is a huge advantage to comfortably settling and living in Portugal, but it's very possible to get by speaking English. Portuguese people are some of the friendliest in the world. As an expat put it, "don't be surprised if your neighbours bring you vegetables, eggs, wine, or even just a friendly hug".
The excellent climate also plays a big factor in why South Africans choose Portugal. Hot, sunny summers make going to the beach a delight and will appease anyone afraid of missing South African weather.
Choosing where to settle
I have chosen to live in a small, predominately local "suburb", near Cascais. Being near the coast was a must for me and there were friends who also lived nearby which supported my chosen location for residence.
Cascais is a delightful beachside town with classical Portuguese architecture and sights complemented by modern infrastructure. It's also a short journey from Lisbon if you need to get to a big city.
Cascais, the Silver coast and the Algarve seem to be the more popular locations for South Africans and other expats – offering active local communities.
A lot of people also look north to Porto to settle in. It has a cooler climate than Lisbon and is also slightly quieter, however it's very up-and-coming offering great value. It's a beautiful old city with a fascinating history and a lot of sites to see. Porto is a little more affordable than the Lisbon region, helping those Rands go a little further when you move across.
The South African community in Portugal
There's a solid South African community growing in Portugal. The combination of historical family ties with a welcoming immigration system has helped the growth of SA expats in various spots around the country.
Wherever you go, South Africans are friendly, warm and welcoming. Sooner or later you'll be invited over for a braai or talk will emerge of where one can get their hands on some biltong or boerewors.
The various Facebook groups of SA expats in Portugal are also a useful source of advice and guidance for newcomers.
The Portuguese lifestyle
The lifestyle here is fantastic. Not having to look over your shoulder and the sense of safety has been incredible and cannot be compared to or exchanged for anything. It makes for a much more carefree lifestyle.
Here are some quotes from other South Africans about their experience of the Portuguese lifestyle:
"The thing that's most apparent is the friendliness of the Portuguese people, the security it brings and the weather that is very close to South Africa in many ways."
"Much more laidback and more quality time with family."
"We had more income in SA, but the lifestyle here means you don't need as much. I prefer the lifestyle we have now, we are comfortable financially... There is more freedom here and we are able to do more travelling and outdoor activities."
"My lifestyle has changed in that I feel a lot safer; I get to walk and take public transport. I get to walk to a nearby local supermarket. I can walk down to the beach after work for a stroll along the promenade. Portugal provides the peace of mind I yearned for."
"The lifestyle on offer in terms of things to do, places to go, cultural and physical activities is fantastic. My son laments that not enough Portuguese children make the effort to speak Portuguese, learning the language is slow going."
Personal finances
Moving countries, and continents, can place strain on any budget. An unfavourable exchange rate and Rand volatility doesn't help things either. The best piece of advice I can give here is to start planning as soon as possible and speak to a financial planner.
If you're fortunate enough to already have some wealth and assets offshore, this can make things a lot easier. Setting up life, no matter where you are, takes a lot of funds and you need to ensure you have enough to be comfortable.
While the lifestyle is fantastic, salaries can be relatively lower in Portugal. If you're planning on finding employment and earning in the country, you need to consider what your annual income will cover.
Most South African expats also still have financial ties in South Africa. This makes it even more essential to consult with someone who has cross-border financial planning experience to ensure you're making the right decisions for your future. Tax and wealth planning is a must and could save you a large amount of money with the correct advice. Seek out reputable institutions and don't take short cuts.
Lessons and tips for South Africans looking to relocate to Portugal
I spoke to other South Africans who've been through relocation to get their advice and lessons learned. Here's what they had to say:
"Do your research before moving, and learn Portuguese, especially if you are hoping to find employment here. Be prepared for a bit of a culture shock (especially if you don't have any Portuguese family like me)."
"The best tip is to just come to Portugal and enjoy the people, the diverse country, the food, the weather and most of all, the excellent security."
"Try to get a job before arriving if you are needing one. Come on holiday to get to know the country a little and a feel for where you would like to move to. Start learning or becoming familiar with the language, culture and food."
"Do a lot of research on the country. Connect with fellow SA expats, but also take advice with a pinch of salt as everyone has different needs and standards. What worked for them might not work for you. It's just a good thing to have different opinions in order to form your own."
"Get your ducks in a row and start making your plans. You will not regret it!"
"Learn to be patient, there are so many new things to understand, and the amount of admin and bureaucracy is exhausting. But we would do it all over again, just a bit smarter the second time around."
"Don't buy a huge car, the side roads are challenging!"
---
We can help you move to Portugal using the Golden Visa programme as well as the Non-Habitual Residence programme. Don't hesitate to get in touch if you have any questions or would like to discuss cross-border wealth planning solutions by emailing wealth@sableinternational.com or calling us on +44 (0) 20 7759 7519.
We are a professional services company that specialises in cross-border financial and immigration advice and solutions.

Our teams in the UK, South Africa and Australia can ensure that when you decide to move overseas, invest offshore or expand your business internationally, you'll do so with the backing of experienced local experts.

;