The Silver Coast isn't as well-known as some other destinations when it comes to expats settling in Portugal. But, with its captivating coastline, delectable cuisine and affordable living costs, it should be at the top of every list. Find out why Portugal's Silver coast is a dream destination for expats.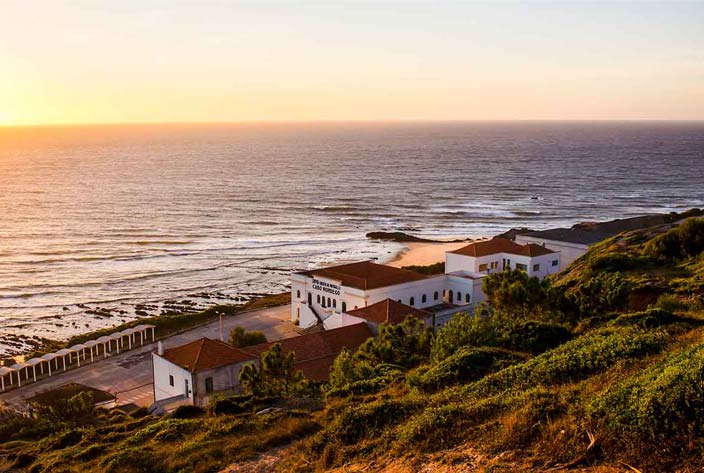 In this guide to Portugal's Silver Coast (Costa de Prata), we'll cover the following:
Where is the Silver Coast?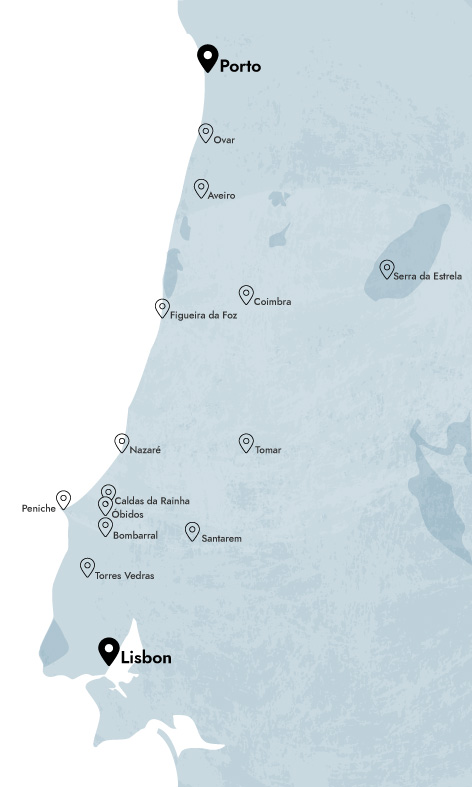 The Silver Coast stretches across the western shoreline of Portugal from Porto to Lisbon. It's home to over 150km of exquisite beaches, mountains and cities.
Along with coastal towns such as Nazaré and Peniche, it also boasts inland locations such as Torres Vedras, Óbidos and Coimbra. Despite its name, the Silver Coast offers mountainous country regions like Serra da Estrela.
It's near big cities
The Silver Coast region is perfectly located between two main cities of Portugal – Porto and Lisbon. Easy access to airports ensures excellent travel opportunities across Europe.
What is the Silver Coast weather like?
The Silver Coast has a temperate climate with warm summers and mild, rainy winters. If you're closer to the coast, expect more humidity and the further north you find yourself, the cooler the climate becomes.
Using Coimbra as an example, typical temperatures of around 25-30℃ can be expected in summer during August, with the colder months of December to February dipping to 10-15℃.
Things to do on the Silver Coast
The shimmering waters of the Atlantic give the Silver Coast its name and beach and sea activities are high up the list of things to do. Whether you're after great waves, a day out on the open waters sailing or sunbathing on the shore, there's a place for you. The towns of Nazaré and Peniche are renowned for their fantastic beaches and resorts.
Here are some exquisite beaches along the Silver Coast:
Baleal beach – great for surfing, beginners welcome
Foz do Arelho – quintessential Silver Coast beach with a protected lagoon for families
São Martinho do Porto – calm waters make it great for swimming
Nazaré main beach – sunbathing and excellent dining on an iconic coastline
But beaches aren't all that's on offer. There's also excellent golf courses, the wine region of Torres Vedras and many historical villages such as Tomar and Òbidos.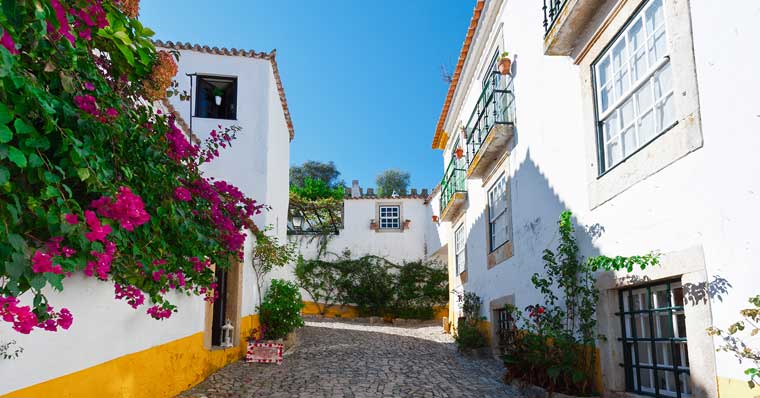 A few excellent activities along the Silver Coast include:
Praia D'El Rey and Royal Óbidos offer some stellar golfing experiences
Go wine tasting in the various wine-producing regions
Explore the streets of Caldas da Rainha, Coimbra or Bombarral
Go for a long walk from the beach to the hills and take in the varied landscape
What is the Silver Coast food like?
The proximity to the ocean means you'll never be in short supply of fresh seafood on the Silver Coast. Add some world-class olive oil, and you've already got a recipe for success no matter where you decide to dine.
With countless authentic family restaurants, fine dining establishments, cafes and bars, great food is never far away.
Some delicious Silver Coast specialties include:
Polvo à Lagareiro – roasted octopus served with a liberal amount of olive oil, garlic and potatoes
Favada à Portuguesa – fava (broad) beans and pork
Sardinhas Grelhadas – grilled or barbecued sardines
Caldo Verde – potato and kale soup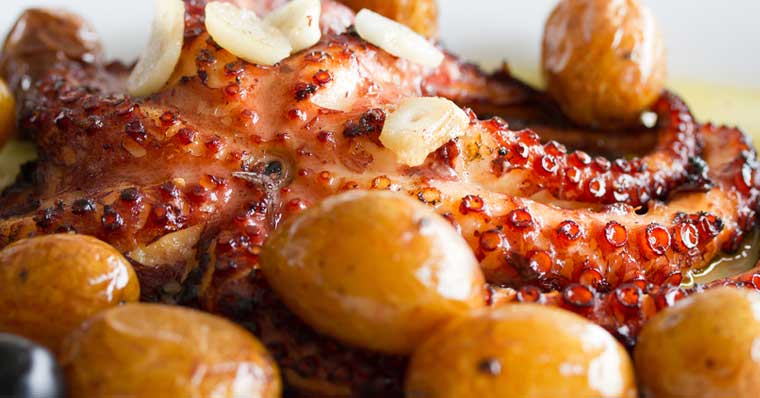 If you're after something sweet, look no further than the ubiquitous pastel de nata, the Portuguese custard tart. This egg tart encased in pastry is known worldwide as a simple and delicious treat.
Why live on the Silver Coast?
When people think of living in Portugal, the first places that usually come to mind are Lisbon, Porto and the Algarve. These are all great options, but the Silver Coast offers a relaxed pace, affordable cost of living and a friendly, authentically Portuguese community, all with easy access to larger cities when you need it.
This, combined with stunning views no matter where you choose to settle down, makes Portugal's Silver Coast a fantastic option for expat life.
See also: Moving to Portugal, Advice from other South Africans
Learning Portuguese
Although English is spoken in a lot of Portugal, especially around popular expat communities and the larger cities, learning some Portuguese will stand you in great stead.
Living in the Silver Coast will give you a lot of opportunity to practice your Portuguese, and before you know it, you'll be ordering food, asking for directions and making new friends.
Where is the best place to live in the Silver Coast?
The best location is highly subjective. Many expats take a trip along the area to visit the various towns and decide on their dream destination.
If you like having easy access to a big city such as Lisbon, places such as Peniche, Torres Vedras or Santarem are only around an hour or so away. In the north, areas close to Porto include Ovar and Aveiro.
Coimbra is a great, centralised location situated more inland, but if you prefer the beach life, move a little closer to the coast to Figuera da Foz.


There are many smaller cities and towns all along the Silver Coast, all offering variations on life in Portugal. Here are some considerations when deciding where to live:
Weather – northern areas are generally cooler, and living inland will be warmer than the coast
Distance to large cities – if big-city comfort close to home is what you're after, make sure you're living near Lisbon or Porto
Distance from facilities – consider hospital locations and access to required amenities
Terrain – perhaps you prefer seaside living, or you're after a more country feel
Pace of life – smaller towns generally have a slower, more relaxed feel
What property is best to buy on the Silver Coast?
Investors looking to purchase property in Portugal often opt for the Golden Visa Permit Programme – a property investment that also grants permanent residency and eventually Portuguese citizenship.
There are numerous options wherever you look; from free-standing villas to modern apartments, there's something to suit your tastes and budget.
Anything we've missed that you'd like to know about the Silver Coast? Let us know in the comments.
---
Speak to our Golden Visa experts about starting your journey to Portugal and making the right property investment decision. Email us today at goldenvisa@sableinternational.com or call +27 (0) 21 657 1584.
We are a professional services company that specialises in cross-border financial and immigration advice and solutions.

Our teams in the UK, South Africa and Australia can ensure that when you decide to move overseas, invest offshore or expand your business internationally, you'll do so with the backing of experienced local experts.

;