Buying your first property is a big investment and all the jargon can be intimidating. We define the common terms you'll encounter throughout the offshore real estate investment purchase.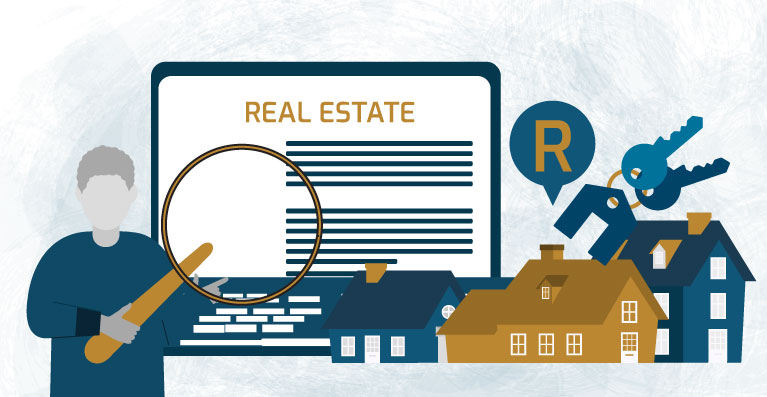 Selecting a property to invest in
Whether you're working through a professional or starting your research journey, these are some terms you'll come across when you want to buy property abroad.
Net asset value (NAV)
An asset's total value less any outstanding debt and any fixed or planned capital expenses.


Capital appreciation
The difference between the purchase price and selling price of an asset at the time of disposal. It refers to an increase in the market price and is, simply put, the sale price minus the purchase price.
For example, if you own an investment property that was purchased for R2,800,000 and is sold for R3,000,000, the capital appreciation would be R200,000.
Due diligence
Reasonable measures that every individual should adopt before entering into a contract in relation to real estate and immovable assets. Due diligence helps you avoid making a big financial mistake by learning as much as you can about the property you are purchasing before you buy it. A good way to think of it is conducting appropriate research both before you make an offer and after your contract has been accepted.
Equity
In a real estate context, equity means the difference between the market value of your home and the amount you still owe your mortgage lender. For example, if the market value of your home is R3,500,00 and you still owe R3,000,000, if you sell the house for a fair market value your equity will be R500,000.
See also: 9 things to consider when purchasing an offshore property investment
Return on investment (ROI)
This is the overall return you have been on your money, in this case in property. Often expressed as a percentage, this is the overall growth of the property combined with rental income and cost of debt. Calculate this by comparing the amount you put into a property, including the initial purchase price and other costs, with how much it is now worth.


Yield
The annual income from your property investment. This is expressed as a percentage of the property's total cost. There are two types of rental yield – gross and net. Higher rental yields will provide steady cashflow.


Understanding your mortgage
A knowledgeable mortgage broker will help you understand exactly what your options are and help you understand just what you're signing up for before you commit. However, knowing the basics can help you feel more confident.
Annual percentage rate (APR)
The interest that a sum earns each year and is charged to borrowers or given to investors. Simply put, APR represents the annual rate a person will be charged for borrowing money and is shown as a percentage.
Mortgage broker
An intermediary who brings borrowers and lenders together but does not use their own funds for mortgage lending. This broker seeks the best solution for the borrower's financial situation and interest needs and is responsible for providing paperwork between the parties and generally facilitating the process of making a mortgage.
Fixed-rate mortgage
A home loan with a fixed interest rate for an agreed time, not always the full length of the loan term. Once locked in, the interest rate does not fluctuate with market conditions. These loans offer predictability and stability for long-term investors.
Lender
A financial institution or organisation that lends money to a person or business to help them buy real estate. Repayments can take the form of a monthly mortgage payment or a lump sum payment that includes any interest or fees.
Mortgage
Otherwise known as a bond, this is a type of loan that is used to buy or refinance a home or other type of real estate. The borrower agrees to repay the lender over time, usually in the form of a series of regular payments divided into principal and interest or just interest. The property is then used as collateral for the loan.
Interest-only mortgage
A mortgage in which the borrower is only required to pay the interest on the loan for a set period of time. The principal is repaid in either a lump sum at a specified date or in instalments. In other words, because you are only paying interest, you will always owe the same amount regardless of how many payments you make.
Repayment mortgage
A financial term used in the UK to describe when your monthly payments are used to repay the amount borrowed as well as some of the interest. Ensures that all funds are paid up by the end of the mortgage term, assuming that regular payments are made on time.
Mortgage valuation
A type of valuation performed by an individual appointed by the mortgage lender to assist them in confirming the value of a property. It is obtained as part of the mortgage application process and is used to determine whether the property is a suitable security for the loan you have requested. In essence, it aids in determining whether a property has fair market value.
Purchasing your investment property
You've found your ideal investment and secured your mortgage, now the paperwork truly begins. If that paperwork looks like gibberish, here are a few common terms that will help make sense of it.
See also: Why you should invest in property in Portugal
Builder warranty
Builders provide new home buyers with a limited time warranty against defects. Typically, effective for a period of time, up to 10 years. Most newly built homes include a builder warranty that covers new construction or a builder's remodel.
Closing costs
The fees and expenses paid when purchasing a property. These fees are typically 3 to 8% of the purchase price and may include title insurance, attorney fees, taxes, mortgage expenses and valuation.
Complete the purchase
A purchase is the act of taking possession of a specific asset, property, item, or right by paying a predetermined amount of money in order for the transaction to be successful. This is a term used to describe the property purchase in its finality and represents the day the keys are to be handed over to you as the new owner.
Contingencies
A provision in a formal real estate contract that specifies certain conditions that must be met by either the buyer or the seller for the contract to be binding. They exist to protect both buyers and sellers. A contract breach could lead to a failed transaction.
Deed
A legally binding document that transfers ownership of real estate or other assets to a new owner. Simply put, it establishes property ownership and identifies both buyer and seller.
Down payment
The non-refundable initial payment made by a buyer in a real estate transaction to help fund the purchase of a property. This amount is typically a percentage of the total purchase price of the home. Since the customer pays a portion of the purchase price up front, the lending institution is provided with a sense of security.
Escrow
A neutral third party, usually a law firm, hired to handle a real estate transaction, money exchange, and any related documents. This party holds funds during a transaction to protect both the buyer and seller during the home-buying process. Escrow is used after both parties have reached an agreement or made an offer.
Exchange contract
A contract between two parties in which each party agrees to exchange specific assets, this is once the legal work has completed and before the completions of the sale. It legally binds the two parties to the agreement. It is also known as an exchange agreement which facilitates the transfer of ownership.
Offer
A conditional proposal made by a buyer or seller to purchase property or an asset. There are numerous types of offers, each with its own set of characteristics.
Stamp duty
Government imposed tax on legal documents involving the sale of property/property ownership. These taxes are levied by governments all over the world on a variety of legally recorded documents. Stamp duty is calculated at the time of registration based on the value of the house/property. It also depends on whether the property is new or old and where it is located.
Title
A legal document that grants a person the right to or ownership of real estate property. When a title is defective, resale becomes more difficult, and your property rights may be jeopardised. The physical component is the most significant distinction between a deed and title. In contrast to the title, which describes who is the ultimate holder of the property, a deed is the legal document that transfers title from one person to another.
Transfer of ownership
A contract that transfers ownership of something sold by one person to another who purchases the property. When a property is sold or when the owner dies and leaves it to someone else, it is transferred.
---
Thinking of buying or getting into offshore property investment? We can guide you through the process and take care of all facets. Get in touch with us at rei@sableinternational.com or call+27 (0) 21 657 1570 (SA) or +44 (0) 78 438 00079 (UK).
---
We are a professional services company that specialises in cross-border financial and immigration advice and solutions.
Our teams in the UK, South Africa and Australia can ensure that when you decide to move overseas, invest offshore or expand your business internationally, you'll do so with the backing of experienced local experts.