We highlight some of the best places for Zambians to study medicine abroad. We cover a range of options to suit your academic and personal goals, from the University of Southampton to prestigious institutions in Grenada and Ireland.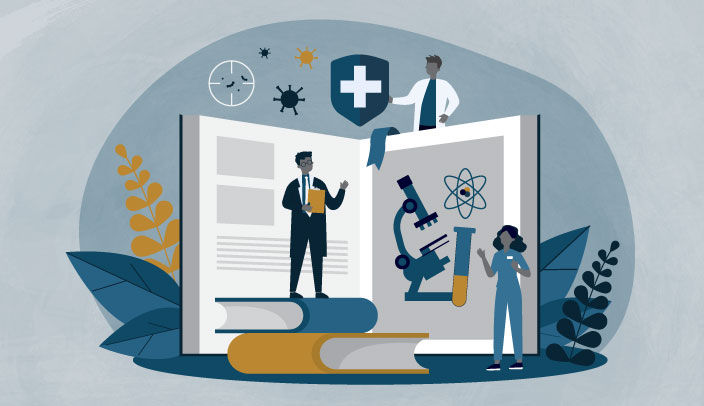 A study abroad experience can provide you with numerous advantages, ranging from international exposure and high-quality education to networking opportunities and personal growth. Overseas medical programmes offer specialised training in specific areas of medicine and allow you to gain expertise in your chosen field.
The three most popular countries for Zambians interested in studying medicine abroad are England, Grenada and Ireland, each having its own appeal.
1. Studying medicine in England
England has a long history of renowned educational institutions that provide cutting-edge technology and innovative teaching methods.

England is home to four of the global top 10 UK universities.* The many benefits you can look forward to when choosing to study medicine in England include:
World-class teaching and unrivaled placements at local hospitals
Experiencing some of the world's leading medical research centres
Practising medicine in the UK and many countries around the globe (upon completion of the MBBS programme)
Access to one of the most employable qualifications in the world
*The QS World University Rankings 2022
If you are interested in a career in medicine, an MBBS degree from a UK university is a great option.
The University of Southampton
With a focus on research-oriented techniques and the blending of technology, the University of Southampton Auditory Implant Service (USAIS) is one of 19 cochlear implant (CI) centers in the UK and offers assistance to approximately 8% of the present population in the UK who have CI's. This showcases their dedication and commitment to being at the forefront of public research universities in the UK.
Similarly, the Southampton General Hospital is one of the UK's leading teaching hospitals.
Visa and stay back options in England
International students who want to study medicine in the UK can apply for a Student visa. After completing their studies, they can apply for a Graduate visa.
Student visa
To be eligible for a Student visa, you must:
Be accepted by a British university
Have a valid passport
In addition, you will need to show that you can financially support yourself while you are studying in the UK. You will need:
£1,334 for up to nine months (£12,006) in London
£1,023 for up to nine months (£9,207) outside of London
See also: Studying abroad on a UK Student visa as a route to British citizenship
Graduate visa
You can apply for a Graduate visa if you:
Are residing in the UK
Are a current holder of a Student visa
Studied a UK bachelor's, postgraduate, or master's degree
Made sure that your university has informed the Home Office following graduation
By switching to a Graduate visa, you can extend your stay in the UK for a period of two years upon completing your degree or for three years if you have obtained a PhD or another doctoral degree in the UK.
The graduate route
Under the graduate route, international students who have completed an eligible course at a UK higher education provider can stay in the UK to work or look for work for up to two years (three years for doctoral students). This route is unsponsored, meaning that there is no job offer or minimum salary requirement. This provides graduates with the flexibility to switch jobs and develop their careers.
See also: Studying medicine abroad - a guide for international students
2. Studying medicine in Grenada
Benefits of studying in Grenada include access to:

Accredited medical programmes – evaluated and approved by accredited bodies
Internationally recognised qualifications
Clinical training opportunities
Cultural diversity
A tropical environment and lifestyle
St. George's University
Grenada is home to St. George's University (SGU), a prestigious medical school that prepares students for careers in medicine. SGU is committed to creating skilled healthcare professionals, and its comprehensive medical curriculum spans six years and leads to a Doctor of Medicine (MD). Their diverse and supportive learning environment provides students with personal attention from an experienced faculty.
Affiliated healthcare institutions and medical centers
SGU has long-standing relationships with hospitals and clinical centers in the US, UK and Canada. If you make full use of all the clinical opportunities at SGU, you will have experienced medicine as it is practiced and taught in the United States, Canada, Grenada and the UK. With such trusted connections, you can take advantage of a beneficial international experience.
Grenada Study Permit

International medical students studying in Grenada will receive a six month permit upon arrival, which typically authorises you to stay in Grenada and thereafter can be extended as requested from the Immigration and Passport Office. This allows students to reside in Grenada throughout their medicine programme. It's also possible to work under certain conditions.
3. Studying medicine in Ireland
If you are seeking academic enrichment with world-class medical education, consider what Ireland has to offer.

Study an integrated medicine course – early clinical exposure
An emphasis on small group and problem-based learning
Universities partner with the leading specialist hospitals in Ireland for clinical placements – you will spend most of the final two and a half years of your course on clinical rotations
School of Medicine – Trinity College Dublin
Trinity College Dublin's School of Medicine is renowned for its exceptional medical education and research. Founded in 1711, it is one of the oldest medical schools in Ireland and is consistently ranked among the best in the world. Their rigorous programmes equip students with the knowledge, skills and experience required to face the world.
Visa and stay back options in Ireland
Upon graduation, international students in Ireland, including Zambians, may have the opportunity to extend their stay through post-study work options.
Stamp 2 visa
A Stamp 2 visa is a type of visa that allows international students to study in Ireland for a full-time course that is included on the Interim List of Eligible Programmes (ILEP). This long-term visa allows students to stay in Ireland for the duration of their studies.
Doctorate Permission Scheme
Medical graduates who have completed their studies in Ireland may be eligible for the Doctorate Permission Scheme, which allows them to remain in the country and work as doctors for up to 24 months while seeking further training or research.
England, Grenada, and Ireland each have distinct advantages for Zambian students interested in studying medicine abroad.
---
Are you interested in pursuing a degree in medicine? We offer free support throughout the application process, no matter where you want to study. Whether you're interested in England, Grenada or Ireland, our team can help you find the right programme. Contact us at +27 (0) 21 657 1543 or study@sableinternational.com.
We are a professional services company that specialises in cross-border financial and immigration advice and solutions.

Our teams in the UK, South Africa and Australia can ensure that when you decide to move overseas, invest offshore or expand your business internationally, you'll do so with the backing of experienced local experts.

;