Getting accepted into medical school in South Africa is highly competitive. This has made studying abroad an increasingly popular option for international students. We highlight important information to consider when embarking on the application process.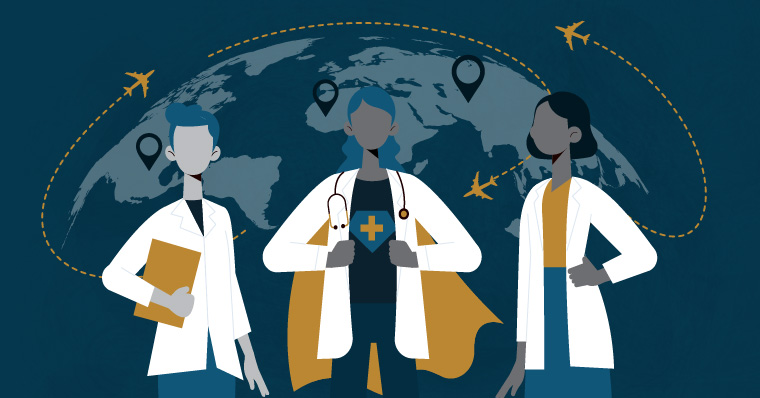 Studying abroad offers the opportunity to discover new countries, cultures and languages while receiving an international education. Studying medicine in another country is a fantastic opportunity to build an impressive network for your career. The UK, EU and USA are among the best locations to pursue medicine.
Studying medicine in the UK
International students wishing to study medicine in the UK benefit from an excellent academic environment and a wide range of opportunities in the medical field. A variety of degree programmes are available at some of the best institutions for medical study in the world.
Medical school courses in the UK usually last five years, or four years with a graduate entry programme. You will spend the first two years studying basic medical sciences, followed by three years of clinical training that includes practical work experience.
If you wish to remain in the UK to practice medicine, you will need to continue your training with a two-year Foundation Programme (internship) with the NHS. Your medical school will nominate you for this application and you will need to pass an exam called the Situational Judgement Test (SJT) to qualify. As an international student, you will also need to apply for a Health and Care visa, which Health Education England (HEE) will act as sponsor for.
UK-trained doctors are in high demand around the world and can operate in a large number of countries, although you may be required to sit an additional exam or work under supervision when you first relocate.
During your Foundation Training, the NHS will place you at a broad range of workplaces to gain a variety of experience and you will earn a basic salary during this time. Generally, you will be switched to a different workplace every three months (although sometimes you might stay at a particular placement for up to six months).
Once your Foundation Training is complete, you may choose a specialty and continue on to Core Training, which generally lasts three years. Doctors in the UK are considered "junior doctors" up until they have completed two years of Foundation Training and at least three years of Core Training. The amount of training depends on your chosen specialty. GPs (General Practitioners), for example, only need to complete three years of training after Foundation Training (two in hospital and one in practice). However, in a specialty such as emergency medicine or surgery, you will need to complete further Specialty Training after completing your basic training. Depending on the specialty you choose, you may have to apply for placement at each stage of your training.
Breakdown of training
| Title | Years |
| --- | --- |
| Medical student | 1-6 (depending on course of study) |
| Foundation Training | 2 |
| Core Training | 3 |
| Specialty Training | 1-2 |
| Higher Speciality Training | 1-7 |
UK-trained doctors are in high demand around the world and can operate in a large number of countries, although you may be required to sit an additional exam or work under supervision when you first relocate.
Foundation programmes for medicine in the UK
These are programmes designed to provide international students with the necessary skills, knowledge and qualifications to enter a bachelor's or master's degree programme. A foundation programme usually lasts one academic year. Admission to medical school is not guaranteed upon completion of a foundation programme; students who achieve high grades in the programme are shortlisted. Several universities in the UK offer foundation programmes in medicine and biomedical sciences.
Foundation programmes for medical degrees include nursing, pharmaceutical and dental studies.
| Education provider | Institution | Pathway | Programme pathway will lead to: |
| --- | --- | --- | --- |
| Navitas | University of Northampton | Science pathway | Biomedical science and pharmacology |
| Navitas | University of Portsmouth International College | Science pathway | Biomedical science, dental hygiene, pharmacology and pharmacy |
| Navitas | Hertfordshire International College | Life and medical sciences pathway | Biomedical sciences |
| Navitas | Brunel University London Pathway College | Life sciences pathway | Biomedical sciences |
| Oxford international | University of Dundee International College | Nursing pathway | Nursing |
| Study Group | Aberdeen International Study Centre | Medicine pathway | Medicine undergraduate |
Entry requirements
Admission requirements may vary from university to university. It is best to find out about the exact admission requirements on the websites of the respective university before applying. To apply for medicine, students need good grades and an IELTS score of at least 6.5 in all four categories, with most UK universities requiring an overall score of 7.0.
Studying medicine in the EU
Many of the world's top universities are located in Europe, making it a strong international academic community and home to some of the world's most popular study abroad destinations. The continent offers unrivalled opportunities for language learning and international travel.
Since all of Europe's higher education institutions are coordinated, students studying in the EU benefit from the fact that degrees obtained in one country are equivalent to degrees obtained in another.
Breakdown of training
| Title | Length of study (in years) |
| --- | --- |
| Medical school | 4-6 |
| Internship | 1 |
| Basic specialist training | 2-3 |
| Higher specialist training | 4-6 |
The system will vary country by country so it's best to check the relevant country's breakdown for specific details.
The University of Pécs
The University of Pécs is a medical school in Hungary with 700 accredited partner institutions abroad, offering a six-year pre-clinical and clinical programme. The programme is accredited in all European Union countries and other countries such as Norway, USA, Canada, Israel, etc.
See also: Sending your kids to study abroad? Here's what you need to know.
Studying medicine in the USA
Studying medicine in the US isn't as easy as in the UK. You cannot apply directly for a Bachelor of Medicine, as medicine is considered a second degree in the US. You must first have a bachelor's degree in a related science subject such as biology or chemistry. Students have the option of completing a degree in biomedical sciences and then applying to medical school.
Medical studies last four years and conclude with three to seven years of supervised training in your chosen area of specialisation. The four-year medical school programme is divided into two components:
Pre-clinical (which includes didactic courses in basic sciences) and,
Clinical (training involving rotations of different wards in a teaching hospital)
The medical school programme leads to a Doctor of Osteopathy (D.O.) or a Doctor of Medicine (M.D.). In either case, the holder may practice medicine upon completion of an accredited residency programme.
Students can stay in the US for up to 12 to 24 months after graduation to work in their chosen field through the Optional Practical Training (OPT) programme. If you wish to stay in the USA to work as a doctor, you will need to apply for an H1-B visa. To qualify for this type of visa, you must have a full-time job offer from a US employer such as a hospital, university, clinic, doctor's office or assisted living community.
Breakdown of training
Title
Length of study (in years)
Medical school
1-4
Residency
3-7
Fellowship
1-2
To practise medicine in the USA, you must take the United States Medical Licencing Examination after graduating from medical school. With an American degree, you can practise medicine anywhere in the world, you just need to take the board exam to be licensed in that country.
Entry Requirements
To study medicine in the USA, international students need a bachelor's degree in a relevant field, a good score on the MCAT (Medical University Admission Test) and a letter of recommendation. In addition, students should have participated in extracurricular activities and showcase a record of volunteer work in the healthcare sector, have strong personal qualities and demonstrate a commitment to medicine.
Similarly to the UK, applicants need good grades and IELTS/TOEFL scores that meet the minimum requirements of the respective university. There are very few opportunities for foreign students to obtain an M.D. degree in the United States so here's a little gem.
St. George's University
St George's University (SGU), an accredited medical school in the Caribbean founded in 1976, has become a centre of international medicine, attracting students from over 150 countries to Grenada. For the past eight years, the university has been the largest provider of first-year medical residents in the US. SGU's MD programme is accredited and approved by many external regulatory and accreditation bodies.
A traditional four-year MD programme is offered to students entering with an undergraduate degree, as well as pre-clinical programmes leading to the four-year medical degree. Each year, SGU places most graduates into a residency programme. Students have the opportunity to learn medicine in some of the best and most well-known hospitals in the world.
Branches of medicine available to study
Globally, the healthcare industry is growing at a rapid rate. There are a number of career opportunities in healthcare as the study of medicine consists of more than just a medical degree. Students can go in different directions, such as:
Nursing
Dentistry
Pharmacy
Biotechnology
See also: Everything you need to know about studying abroad (with the IELTS Podcast)
Medical school application tips
If you are an international student applying to study abroad, it is important that your application stands out. Remember to present:
An early application - medical courses are extremely competitive and spots fill up quickly. We try to encourage students to apply as soon as applications open, which is usually a year before the start date.
Any work or voluntary experience in the field of medicine or health-related fields
A broad awareness of the field of medicine. This will come up in the interview when applying.
We will help you put together everything you need to make a compelling application to the university or universities of your choice. Our team will take care of every detail.
How our study abroad consultants can help you
Our dedicated team of professional educational consultants will guide you through the entire study abroad process, from application to enrolment at your chosen educational institution. We have direct access to university admissions teams and make it easy for you to apply and receive your enrolment letter.
---
Are you interested in studying medicine abroad? Our study advisers are qualified to help you with applying to various programmes and will assist you along the journey. Get in touch with us at study@sableinternational.com.
---
We are a professional services company that specialises in cross-border financial and immigration advice and solutions.

Our teams in the UK, South Africa and Australia can ensure that when you decide to move overseas, invest offshore or expand your business internationally, you'll do so with the backing of experienced local experts.

;