Foundation and pathway programmes offer a way for students to up their skills and get them ready for university life in a foreign country. We take a look at the other advantages and requirements of studying via a bridging course.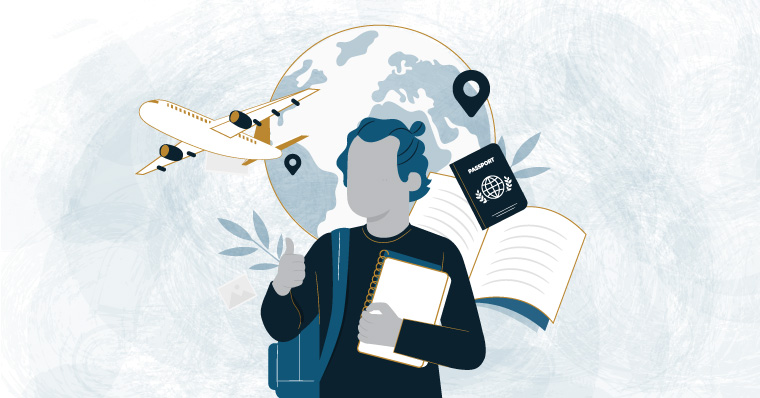 What are foundation and pathway programmes?
One of the many appeals of getting a degree from an international university is that you will be receiving an education of the highest calibre. And while top universities can be notoriously hard to get into, pathway and foundation programmes offer an alternate and easier way to bridge any gaps in your language and education levels. This way you're still able to fulfil your dream of studying abroad.
Pathway and foundation programmes are preparation courses that can last up to one year, specifically designed for international students to boost their academic knowledge and language skills in order to start a bachelor's or master's degree programme. They are especially great for students whose education system is not the same as the country they are going to. The discrepancy in education often means that they won't qualify for entry to a degree programme and a foundation programme can bridge this gap.
These programmes do not end in a certificate or degree, but usually guarantee you entry to the first year of the course you wish to study. Essentially, pathway and foundation programmes are the same thing. The difference between the two is that a pathway programme is run by a third party while a foundation programme is run directly by the university.
See also: Here's how to study abroad as a South African
Types of foundation programmes
Each type of foundation programme is designed for students of different academic levels, who have different goals. But the concept for all of them is the same: to prepare you for degree-level study and give you a pathway for you to qualify for entry to university.
Bachelor's preparation
If you don't yet qualify to start an undergraduate degree, then a bachelor's or foundation year would be your best course of action. An undergraduate preparation course — sometimes also known as a foundation or pre-bachelor's course — can help you prepare and qualify for entry to your degree.
Accelerated bachelor's preparation
Also known as an International Year One (IYO), this course is for students whose academic level makes them too advanced for the foundation course, but they are not yet ready to enter into a bachelor's degree course. An IYO is a great way to save time and money as it combines the academic preparation of the foundation course with first-year subjects, allowing you to go straight to second year and finish your degree in its allotted time.
Master's preparation
A master's preparation course is for students who don't meet the entry requirements to enter a master's degree programme. It's especially useful if you've graduated with an undergraduate degree without an honours. For example, in the US they don't have honour degree programmes and instead graduate their degree with honours. All this means is that they are an exemplary student with a very high GPA. Master's preparation courses will prepare these kinds of students for the level of academia that a master's programme requires of its students.
See also: Our list of scholarships available to international students
Why choose to do a pathway or foundation programme?
There are many reasons to choose a pathway programme that goes beyond preparing for a university course's heavy workload. Here are some other benefits of taking this route:
Build academic skills, language skills and confidence
Pathway and foundation programmes help students level up their English skills specifically for the language used in an academic setting. This helps you to adapt to a university-style of teaching. You will also do courses to prepare you for the type of degree that you wish to pursue when you start your first year. This gives you a level of confidence to help you cope with your first year.
Guaranteed place in first year
Most colleges and universities offer placement in the first year of your chosen course should you pass the foundation programme with the required grades and good attendance. It is advised that you check the admissions policy of the university you're attending as not all of them offer automatic acceptance. Some offer personal admissions advice instead.
A chance to adjust to a new country and culture
Moving to a new country to start a new life by studying abroad can be a big culture shock. A pathway programme is less strenuous than going straight into a university-level degree. This gives you the time and space to adjust to your new surroundings. Since many of these pathway programmes are conducted on the campus of the university you'd like to attend, they also give you a peek at what university life will be like.
See also: How to study abroad in Australia and the UK as a South African
Foundation programme requirements
There are certain criteria that need to be met in order to be accepted into a foundation programme. The entry requirements differ in detail from programme to programme but there are basic requirements that are standard to all of them:
High school certificate from your home country. Due to differences in education systems, institutions will list the minimum scores accepted for each country on its website.
Bachelor's degree from your home country for master's degree programmes
Proof of English proficiency (TOEFL, IELTS or equivalent)
---
When exploring your options to study abroad it is useful to have someone guiding you through the process of your application. Our study advisers are qualified to help you with applying for foundation programmes and will assist you at every step of your journey.

We have direct access to the university admissions teams making it easy for you to apply and get your enrolment letter. Get in touch with us at sastudy@sableinternational.com or call us on +27 21 657 1543.
We are a professional services company that specialises in cross-border financial and immigration advice and solutions.
Our teams in the UK, South Africa and Australia can ensure that when you decide to move overseas, invest offshore or expand your business internationally, you'll do so with the backing of experienced local experts.