Studying abroad is an opportunity to learn about different cultures, meet new people and further your career. While the road to an international degree can be complex for South Africans, it's by no means impossible. We focus on two of the most popular destinations – the UK and Australia – and explain the application process.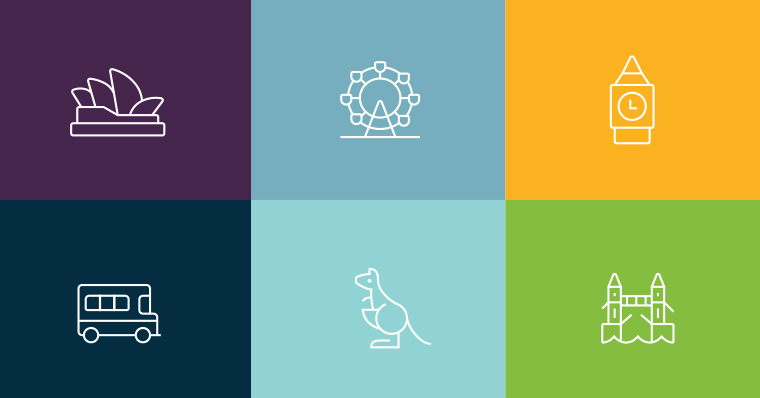 Benefits of studying abroad
Studying abroad allows you to explore new places and gain a better understanding of how the world works. One of the key advantages is the positive impact it can have on your career.
A study by Hostelworld revealed that 25% of employers believe studying abroad makes students better at adapting to their environments and understanding global business, 41% would consider offering a higher salary to students who have studied abroad and 23% would choose the candidate who studied abroad when deciding between two potential hires.
Where is the best place for South Africans to study abroad?
When choosing where to study, there are a few factors to consider: cost, culture, climate and most importantly language. Language barriers can make it harder to adjust and connect with people and could potentially affect your academic performance.
Australia and the UK are among the most popular study abroad destinations for many English-speaking students. For South Africans, there's no language barrier, which makes it easier to meet people, make friends and excel at university.
How to study in the UK as a South African
Getting into a UK university as an international student
University applications open from 1 September to 30 June in the year preceding the academic year that studies begin. It's best to apply early to ensure there are still places available and you have time to make immigration, travel and accommodation arrangements.
All university applications must be done online through the Universities and Colleges Admissions Service (UCAS). You'll need to register on the site and choose the course you want to study and university you want to attend. You can either apply to five different universities or for five different courses at the same university.
The UCAS application fee is £20 for a single choice or £25 for multiple courses and applications submitted after 30 June.
You'll need to include a personal statement with your application. Your personal statement is your chance to demonstrate what makes you a good choice and why you want to study your chosen course and attend a particular university.
If your application is successful you will receive a Confirmation of Acceptance (CAS) form. Make sure to keep this document in a safe place as you'll need it when applying for your visa. You can apply no less than three months before your course begins, but no more than six months after receiving your CAS.
Applying for a UK visa
To study in the UK, you'll need to apply for Tier 4 visa. The Tier 4 (General) visa is a points-based visa and you'll need at least 40 points to be eligible to apply. Points are awarded if you:
Have been offered a place on a course
Have enough funds to pay for the course and support yourself
Can speak, read, write and understand English
Meet all the other eligibility requirements
South Africans have to prove their knowledge of English by passing an English language test. You will also need to take a TB test and submit the results with your application.
Your visa will only allow you to stay for the duration of your course and you can work part-time while you study.
See also: UK visa applications for South Africans: Step-by-step guide
Live and work in the UK after graduation
Post-study visa
From 2021, foreign students who enrol in undergraduate, postgraduate or PHD courses in the UK can stay in the country for two years after they graduate. The new post-study visa will give graduates the opportunity to work and/or find work, and eventually switch to a work visa, should they qualify. Currently, international students are only allowed to stay for up to four months after graduating.
The visa will only be available to genuine, credible students who graduate after the summer of 2021.
Switch to a Tier 2 (General) visa
Once you've completed your degree, you can apply to switch to a Tier 2 visa. This visa is valid for five years and can eventually lead to indefinite leave to remain and British citizenship. You must apply before your Tier 4 visa expires.
To get this visa you must have a job offer for a skilled job from a licensed employer in the UK.
See also: How South Africans stand to benefit from Britain's new points-based immigration system
How to study in Australia as a South African
Getting into an Australian university as an international student
There are two ways you can apply to an Australian university. You can either apply directly to the university or through an education agent. An agent can help you apply for a course and find accommodation in Australia. Be sure to choose one that is authorised.
Entry requirements
Entry requirements will vary based on your courses. Some courses may require proof of your English language capabilities to ensure you'll be able to understand the course content. The language skill level required by universities may vary depending on the level of course you want to study.
You may also need to take additional courses to meet the requirements of an Australian high school qualification. These foundation courses, also known as bridging study, can be intensive and are usually one-year long.
Overseas Student Health Cover
Before you arrive in Australia, you will need to purchase the Overseas Student Health Cover (OSHC). You must have it for the duration of your student visa. This helps you pay for any medical or hospital care you may need while you're studying in the country. It will also help pay for most prescription medicines and provide you with ambulance cover in emergencies.
Scholarships to study in Australia
Generally, international students are expected to pay the full tuition fee for their studies. However, it is possible for non-Australian citizens to get a scholarship, which can cover the full cost or a portion of your tuition fee.
You can search for a scholarship on the Australian government website. The major scholarships available to international students are:
Australia Awards
Every year, the Department of Foreign Affairs and Trade (DFAT) offers Australia Awards scholarships and short courses to individuals from developing countries.
Destination Australia
Over 1,000 scholarships will be available each year to support both domestic and international students studying at regional campus locations in qualifications from a Certification IV level and above. Australian tertiary institutions will be able to apply for scholarships of up to AU $15,000 per student, per year.
Australian Government Research Training Program
This scholarship is aimed at students who are studying towards Research Doctorate and Research Master's degrees.
Australia APEC Women in Research Fellowship
The Australia APEC Women in Research Fellowships are open to high-achieving female researchers from APEC economies for research opportunities in partnership with Australian education and research institutions.
Provider scholarships
These are scholarships offered by education providers and are based on academic merit.
See also: High demand for skilled workers in regional Australia

Applying for an Australian visa
To study in Australia, you need to apply for a Student visa (subclass 500). With this visa you can travel in and out of the country and work up to 40 hours every two-week period.
To apply, you must:
Have a Confirmation of Enrolment (CoE) for each course of study
Meet the English requirements
Prove you have enough money for your stay
Meet the good character requirement
Meet the health requirement
Live and work in Australia after graduation
If you want to stay longer in Australia, you can apply for one of the following visas:
Temporary Graduate visa (subclass 485) – Graduate Work stream
You can apply for this visa if you've graduated from an Australian education institution within the past six months. You can apply for this visa if your qualification is below that of a bachelor's degree, such as a diploma or trade-level certificate.
Temporary Graduate visa (subclass 485) – Post-Study Work stream
To be eligible for this visa you must have graduated from an Australian education institution within the past six months and have either a bachelor's degree, master's degree or doctorate.
Skilled Independent visa (subclass 189)
The Skilled Independent visa is a permanent resident visa that allows you to live and work anywhere in Australia. This is a points-based visa, and to be eligible, you need to score 65 points and have an occupation on the Medium and Long-term Strategic Skills List (MLTSSL).
Skilled Recognised Graduate visa (subclass 476)
The subclass 476 visa is specifically aimed at engineering graduates, under the age of 31, who wish to gain up to 18 months of skilled work experience in Australia. You must have majored in one of the following:
Civil engineering
Structural engineering
Chemical engineering
Environmental engineering
Electrical and electronics engineering
Mechanical, production and plant engineering
Mining and material engineering
Skilled Work Regional (Provisional) visa (subclass 491)
The Skilled Work Regional visa will allow you to live and work in specified regional areas in Australia for up to five years. To qualify, you'll need to either be sponsored by an eligible relative or be nominated to apply by a state or territory government agency.
Temporary Skilled Shortage visa (subclass 482 visa)
The Temporary Skilled Shortage visa (TSS) has a short-term stream and a medium-term stream. The stream you apply for is dependent on which list your occupation is on. If your occupation is on the Short-term Skilled Occupations List (STSOL), you could be eligible for a visa of up to two years on the short-term stream. If your occupation is on the Medium and Long-term Strategic Skills List (MLTSSL), you could be eligible for a visa of up to four years on the medium-term stream, and may apply for permanent residency after three years.
If you're thinking of making the move to the UK or Australia, our experienced immigration consultants can help you get the right visa and obtain permanent residency and citizenship.
We are a professional services company that specialises in cross-border financial and immigration advice and solutions.
Our teams in the UK, South Africa and Australia can ensure that when you decide to move overseas, invest offshore or expand your business internationally, you'll do so with the backing of experienced local experts.