As international borders open in Australia, the education sector is looking to bring back its international student body. Here is a breakdown of when each state will allow foreign students to return to Australia and what you will have to do to return to study.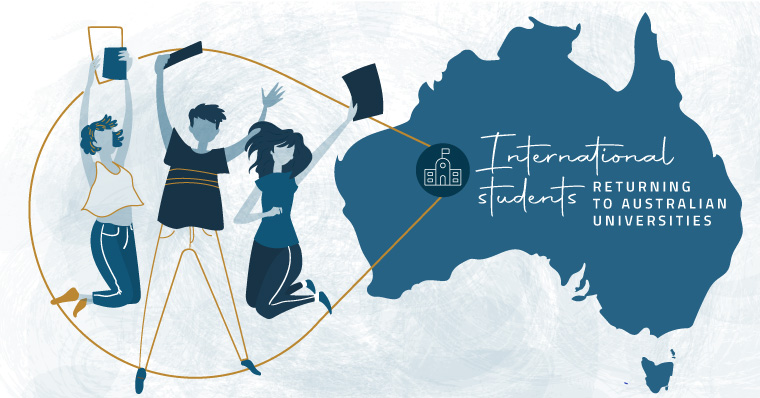 Australia's International Student Arrival Plan
From 1 December 2021, all fully vaccinated student visa holders can enter Australia without needing to apply for a travel exemption. Many who are looking to resume their studies, however, are wondering just when and under what circumstances they will be allowed back into the state where they are studying.
Each Australian state has its own International Student Arrival Plan (ISAP) in place that details their specific allowances and requirements. For example, in some states, priority will be given to health and medical students in their final year of study who need to return to complete practical work. Education providers will reach out to students who qualify and communicate the process with them.
See also: How to study abroad as a South African
Vaccination requirements for studying in Australia
Eligibility for participation in an ISAP requires that you are fully vaccinated with a Therapeutic Goods Administration (TGA) recognised COVID-19 vaccine. The Australian government considers you to be fully vaccinated if you have received one dose of the Johnson & Johnson/Janssen-Cilag Covid vaccine or two doses of:
AstraZeneca Vaxzevria
AstraZeneca Covishield
Pfizer/Biontech Comirnaty
Moderna Spikevax
Sinovac Coronavac
Sinopharm BBIBP-CorV (for people aged 18-60)
Bharat Biotech Covaxin.
Seven days must have passed since the final dose of vaccine in a course of immunisation for you to be considered fully vaccinated.
If the vaccine you received in your home country is not on the approved list, you will have to get vaccinated with one of the Australian-approved vaccines. In addition you must:
Be over 18 and enrolled to study in 2022
Hold a valid Australian Student visa and overseas student health care cover
Return a negative COVID-19 test prior to departure
Agree to adhere to all Australian government COVID-19 regulations
In most cases, costs associated with travel and quarantine will be borne by the participating education providers and returning students.
See also: Applying for your Australian visa: How to get it right the first time
New South Wales (NSW)
Number of returning students: NSW will allow 250 international students back every two weeks from 6 December 2021.
Quarantine requirements: Fully vaccinated students will not need to quarantine.
Priority students: Priority will be given to students who have to complete physical components of their studies, including internship placements, to progress or graduate.
See also: Emigrate to Australia: How I moved during the pandemic
Victoria
Number of students: Victoria's recent proposal will at first allow 120 currently enrolled students nominated by universities to enter the state each week from December 2021.
Quarantine requirements: Fully vaccinated international students entering Victoria will not need to quarantine if the Australian Government can verify they have received a TGA recognised vaccine. They will also be required to test negative to COVID-19 within 72 hours before their departure and undertake testing within 24 hours of arrival in Victoria.
Priority students: These places will be prioritised for university students who urgently need to return to Victoria to do practical work, such as health and medical students, and postgraduate research students.
Queensland
Number of students: Under phase one of their plan, Queensland will allow 250 international students to enter every two weeks from January 2022
Quarantine requirements: They will quarantine for two weeks at the state's facility at Wellcamp, near Toowoomba.
Priority students: Students studying medical research and allied health.
South Australia
Number of students: South Australia will reportedly welcome back 160 international students, every two weeks from 1 December 2021.
Quarantine required: Currently, all fully vaccinated international arrivals into South Australia are required to quarantine for 7 days using the HealthCheckSA app. This quarantine requirement will remain until 90% of South Australians (aged 12+) are fully vaccinated, which is expected to occur in late December or early January.
Priority students: None
Australian Capital Territory (ACT)
Number of students: The number of students that ACT will be allowing back is still to be confirmed, however, they will be doing this before the start of the new school year in 2022.
Quarantine: Students who have been vaccinated will not be required to quarantine, but will have to follow all Australian government vaccination and testing requirements when arriving.
Priority students: None.
Northern Territory
Number of students: The Northern Territory has announced all fully vaccinated arrivals into the Territory will be required to undergo rapid antigen testing from 20 December 2021.
Quarantine: No. Fully vaccinated arrivals will not be required to quarantine from 20 December 2021 but an ongoing testing requirement will continue.
Priority students: None
Western Territory
Travel restrictions for those wishing to return to Western Australia will not ease until late January or early February 2022. The state's borders will be open to all fully vaccinated international arrivals without the need to quarantine once 90% of Western Australians are fully vaccinated.
Tasmania
For students looking to return to Tasmania in order to resume or commence study, Tasmania's travel restrictions will relax from 15 December. Those arriving prior to 15 December (and arriving via a connecting flight from the Australian mainland) will need to undergo hotel quarantine for 14 days. From 15 December onwards, there will be no quarantine requirement for fully vaccinated arrivals who have a negative COVID-19 test 72 hours before flying into Tasmania.
See also: Renting in Australia – what you can do in advance
Why students are being allowed back into Australia to study
Victoria University's Mitchell Institute projected that Australia's university sector would lose between $10 billion and $19 billion between 2020 and 2023, depending on how quickly the nation's borders were reopened to students. The return of international students to Australian universities brings with it hope that the economy will recover sooner rather than later.
The Northern Territory's International Education Minister, Nicole Manison, reiterated this sentiment, saying that "by facilitating a pathway for international students to return to the Territory and to Australia, we are helping to diversify the economy, grow our population and support local jobs."
---
We provide a free service to anyone ready to get their degree abroad. We have direct access to the university admissions teams making it easy for you to apply and get your enrolment letter. Get in touch with us at sastudy@sableinternational.com or call us on +27 21 657 1543
We are a professional services company that specialises in cross-border financial and immigration advice and solutions.
Our teams in the UK, South Africa and Australia can ensure that when you decide to move overseas, invest offshore or expand your business internationally, you'll do so with the backing of experienced local experts.