Robyn Vogels, Founder and Owner of Personnel Relocations, offers some expert tips to help you prepare for and have the upper hand in the Australian renting process.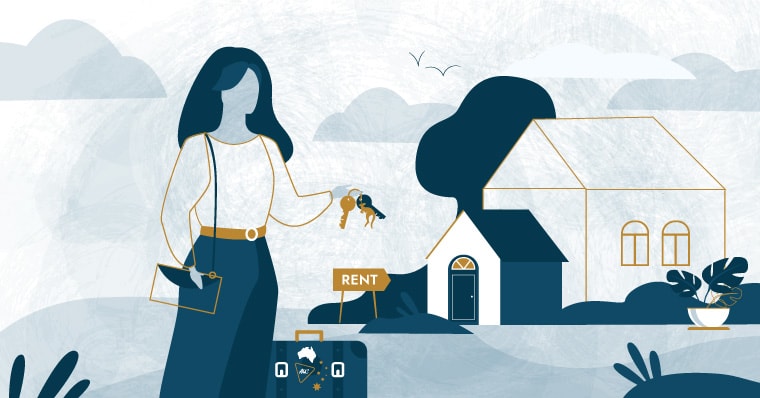 In many countries where rental properties are abundant, the agents offer a high standard of care and service to entice you to sign up. In England for example, you can even request to visit a home a few times before making a decision. Negotiations can be protracted and you can have a number of conversations to reach an agreement.
In Australia, it is most common to have just 15 minutes to inspect a home. The agent will advertise that the door will be open at a set time (no negotiating) and anyone interested in the home can attend at that time. Potentially, you could be inspecting the home with 30 other people in just a 15-minute time slot.
How can you prepare ahead?
Despite your best efforts, and no matter how hard you try, the estate agents probably won't help you until you arrive here, money in hand and ready to move in.
During the last decade that I have been helping international arrivals find their first Australian home, this process has lost more and more of the personal contact. It is now mostly an online exercise and you have to make sure your application stands out and is seen.
These would be my top three suggestions to make sure you are ready and efficient.
You need to understand the market and more importantly, you need to know what you can get for your budget.
Have funds available in an Australian bank account
Prepare your rental application
How do you determine your rental budget?
Too many new arrivals spend the first week trying to familiarise themselves or realising their budget is nowhere near enough to the standard of living they want.

Time is money and the more time you are in temporary accommodation, the more money you will be wasting. Understanding your needs, your budget and which suburbs offer you the most will help you get into a home quicker.
I would recommend that you start watching the rental market before you move. Familiarize yourself with how quickly properties might be moving in your targeted area, which agents are active, and start building a benchmark of what budget you will need to match your lifestyle. Websites such as RealEstate.com.au and Domain.com.au can be very helpful. When an estate agent uploads a property on to their agency website, the property will automatically feed into the Realestate and Domain websites. There are also other functions on these sites which are helpful such as suburb demographics, schools and local services. You can filter your home requirements and use the map function to navigate along a train line for example.
Finding and setting your rental budget is imperative but can also be a tricky task. There are several considerations you should be aware of that can influence the price of a rental.
Proximity to the city – the closer to the city, the higher the rent
Sea or city views
Highly ranked State schools attract people into that catchment zone
An abundance of public transport options
Should you seek rentals online?
Social media is inundated with people offering opinions which can send you on a wild goose chase as they don't understand your budget or situation. It is all very well asking others' opinions on where they live, but they might have a very different lifestyle to you and your family.
An internet search can also be risky. Australian Estate Agents sometimes enhance photos to encourage people to inspect. I have literally been to homes that appeared white and cream in the internet photos, only to arrive to find Salmon pink carpets with blue wallpaper. If a home is advertised for longer than three weeks, you can bet there is something wrong with it – even if the photos look amazing.
A good relocation consultant can take a holistic view of your budget, lifestyle and needs. They understand the local areas, traffic hotspots and have relationships with estate agents to get your application shortlisted. Not every relocation service needs to be high touch, many relocation companies can provide a simple rental inspection service. At the very least, it's a good idea to book an "orientation" when you arrive to understand the suburbs or a one-hour private consultation to discuss you needs and gain advice and insight. It will set you up with all the information you need to hit the ground running.
Preparing for the application process
Preparing the supporting documents for your rental application is a task you can do in advance. Many online resources explain the Australian 100-point checklist. For internationals, this can seem a little daunting because you do not have local identification yet, but here is what you can prepare.
A covering letter introducing you and your family. This should be about two paragraphs; anything longer will not be read. Include your reason for coming to Australia, a couple of photos of your current home and family to show you are house proud, and how you look forward to making memories in your first home here. If you are moving with a pet, I strongly recommend you prepare a separate covering letter about your pet, with a photo, description and the animal's temperament. Make a pet application with an emotional attachment and think of the estate agent trying to convince a landlord to accept your application – put words in their mouth that will comfort a landlord enough to approve your application.
Before you relocate, ask for written references, they are imperative. An estate agent who has many local applications is not going to work around time-zones and they are not going to phone international references. They will just slip your application into the "too hard" basket. Written references from your employer, church, accountants, previous landlords, will all help build the character and significantly help your application.
There are of course some official documents will you will also need to accompany your application:
Passports
Contract or letter of appointment in Australia. You will not have a payslip upon arrival, so you need to provide evidence that you have work and earn a salary sufficient to cover the rental payments.
Driving license – this can be your foreign license.
About Robyn Vogels
Robyn Vogels is the Founder and Owner of Personnel Relocations , who have been providing global mobility support to corporate and private clients who are relocating to Australia for over a decade. As the co-author of Your DIY Move Guide books, Robyn is well placed to offer advice to anyone moving to Australia. She regularly consults and offers her expert opinion to the media on matters relating to culture shock, rental trends and global mobility.
---
If you'd like assistance applying for your Australian visa or Australian citizenship, our team of experts is ready to make the whole process easier. Get in touch via email on migration@sableinternational.com or call +27 (0) 21 657 1526 (South Africa) or +44 (0) 20 7759 5307 (UK) to discuss your options in more detail.
We are a professional services company that specialises in cross-border financial and immigration advice and solutions.

Our teams in the UK, South Africa and Australia can ensure that when you decide to move overseas, invest offshore or expand your business internationally, you'll do so with the backing of experienced local experts.

;