The UK government has confirmed that a Graduate route will open for applications on 1 July 2021. This post-study work visa will allow international students to stay on in the UK for two to three years after successfully completing their studies. This will allow UK businesses to retain the best international students in support of the country's economy post-study.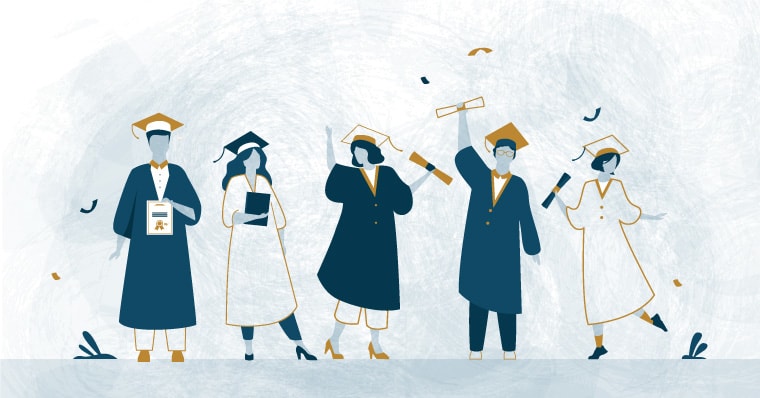 Interested students must have a track record of compliance with the government's immigration requirements to apply. Students on the post-study work visa will be able to work or look for work after their studies.
Key points
The route will be available to international students who have completed a degree at undergraduate level or above at a Higher Education Provider with a track record of compliance, and who have valid Student visa permission at the time of application.
Successful applicants at bachelor's or master's level will be able to stay in the UK and work, or look for work, at any skill level for two years. Doctoral students will be able to stay for three years.
Applicants are required to pay separate fees for the Graduate visa and apply before their student visa expires. The exact fee will be set in due course.
Applicants don't need to be in employment to stay on the Graduate Route and there's no restriction on the kind of work they can do. There will also be no minimum salary requirements nor caps on numbers. Applicants can spend as long as they like looking for work and are able to leave or switch jobs without any effect on their visa.
Graduates will be able to apply to the Skilled Worker route from within the UK, once they have found a suitable job.
Due to Covid-19, concessions have also been put in place for students who are unable to travel to the UK due to the pandemic, recognising the continued disruption many face in international travel. Applicants who began their studies in autumn 2020 have until 21 June 2021 to enter the UK with permission as a Student (updated from the previous date of 6 April 2021) in order to be eligible to apply to the Graduate route. Students who began their studies in January or February 2021 will need to be in the UK by 27 September 2021.
If an applicant started a one-year master's course in January 2021, they will need to arrive in the UK by 27 September 2021 and complete the final semester of their studies in the UK in order to be eligible to apply for the Graduate route.
The launch of the route demonstrates the government's support for the International Education Strategy, which aims to increase education exports to £35 billion and the number of international higher education students in the UK to 600,000 by 2030.
Individuals who already have permission as a dependant of a student who is applying on this route can also apply to extend their permission as a dependant – however, new dependants are not permitted on this route.
The route does not count towards settlement – however, graduates will be able to apply to other routes at the end of their two- to three-year stay, for example, the Skilled Worker route.
Those who graduate and whose Student visa leave expires before the route is introduced will not be eligible, however, most of these students will have had no expectation of benefitting from such a route when they applied to study in the UK.
Graduates on the route will be able to have flexible working hours, switch jobs as they please and develop their careers as required.
EU (and EEA and Swiss) students without settled or pre-settled status in the UK can also apply to the Graduate route in the same way as other international students. Applicants won't need a post-study work visa to remain in the UK if they have settled or pre-settled status.
Further changes to the immigration rules
The Graduate route comes as UK Chancellor Rishi Sunak, who in his Budget speech to the House of Commons on 3 March 2021, unveiled plans to launch another new immigration route to help start-ups and fast-growing firms recruit the talent they need to innovate and grow.
As part of the new route, highly skilled migrants with a job offer from a recognised high-growth firm will qualify for a visa without the need for sponsorship or third-party endorsement.
We are keeping an eye out for updates. Any new information will be clarified as it is made available.
---
We can help your business navigate all aspects of these new rule changes and can assist with ongoing employee immigration management. Contact us at +44 (0) 20 7759 7507 or workpermits@sableinternational.com.

We are a professional services company that specialises in cross-border financial and immigration advice and solutions.

Our teams in the UK, South Africa and Australia can ensure that when you decide to move overseas, invest offshore or expand your business internationally, you'll do so with the backing of experienced local experts.

;