Applying for British citizenship is desirable for many, but to eligible you must meet a specific set of requirements. One of these requirements is taking an English language test to show that you can communicate in English to a satisfactory degree. Here's what you need to know to prep for the test.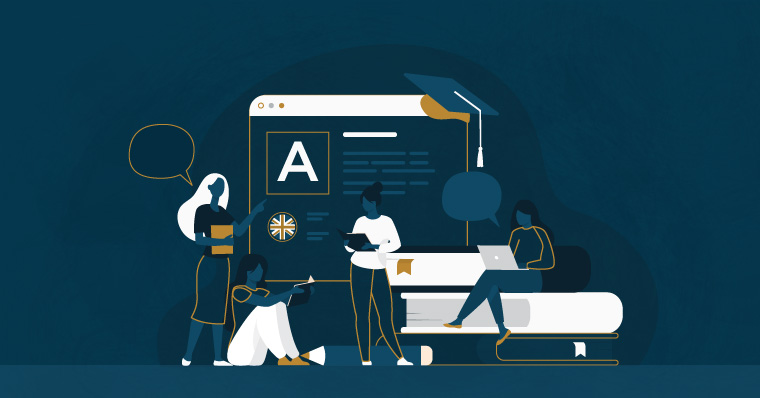 This blog was first published in July 2015 and has been revamped and updated for accuracy and new information.
What is the English language test?
British citizenship, indefinite leave to remain (ILR) and certain UK visas require you to prove your knowledge of the English language as apart of your application. With some exceptions, English speakers, native and non-native speakers alike, need to show that their English capabilities are to the required level through formal documentation.
The English language test assesses your speaking, listening, reading and writing skills. The International English Language Testing System (IELTS) is the most popular test for those migrating to the UK. The IELTS is jointly owned by the British council, IELTS Australia, and Cambridge Assessment English. The English language test is graded on a scale of one (the lowest) to nine (the highest).
The English language test results are valid for two years.
Understanding your CEFR level
You'll come across differing levels for the English language test and you might not know what they mean. They are called the the Common European Framework of Reference (CEFR) and signify the level of English being tested. The levels are as follows:
A1 - Introductory
A2 - Basic
B1 - Intermediate
B2 - Upper intermediate
C1 - Advanced
C2 - Proficient
What is the difference between the general and academic English reading and writing tests?
The reading and writing tests have two levels: general training and academic.
You will need to take the academic test to study for an undergraduate or postgraduate degree. The general training level is for migration purposes. The reading tests for both levels is a comprehension test. You must answer questions based on a passage you have read.
Who needs to take the English language test?
Members of the European Economic Area (EEA) are also required to take the English language test. The following people do not need to take the test:
Aged 65 or over
Under the age of 18
Unable to because of a long-term physical or mental condition
People living with disabilities can make special requests when booking their tests. They should email sensitivebookings@homeoffice.gov.uk before making a booking for more instructions.
Which UK visa and residency routes require an English language test?
For the following visas and residence routes, you will take an English test that assesses your speaking and listening abilities:
| Visa/residence routes | Common European Framework of Reference (CEFR) levels required |
| --- | --- |
| UK Citizenship | B1 |
| Indefinite leave to remain, also known as permanent residency | B1 |
| Sportsperson visa | A1 |
| Representative of an Overseas Business | A1 |
| Partner visa | A1 (A2 for visa extensions) |
| Parent visa | A1 (A2 for visa extensions) |
For the following visas, you will take an English test that assesses your reading, writing, speaking and listening abilities:
Am I exempt from taking the test when applying for British citizenship?
Citizens from certain countries do not need to take an English language test. These countries are:
Antigua and Barbuda
Australia
The Bahamas
Barbados
Belize
Canada
Dominica
Grenada
Guyana
Jamaica
Malta
New Zealand
Republic of Ireland (for citizenship only)
St Kitts and Nevis
St Lucia
St Vincent and the Grenadines
Trinidad and Tobago
USA
If you've studied in the UK
You can prove your language ability if you have:
An English qualification at B1, B2, C1 or C2 level.
A degree taught or researched in English. The degree cannot be vocational and must be academic. If the degree was not obtained in a UK institution, you will need to provide an Academic Qualification Level Statement to prove the degree is at a standard acceptable to the UK standard.
English for Speakers of Other Languages (ESOL) qualifications need to be double checked against the list of approved tests.
Taking the English language test for British citizenship and indefinite leave to remain
ILR is permanent residence in the UK and allows you to work and live in the UK indefinitely without immigration restrictions. If you want to apply for ILR, you will need to take an English language test.
You only need to have ILR for 12 months before you can apply for British citizenship. But it is also possible to remain on ILR for longer than that.
However, since your test result is valid for two years, if you apply for citizenship within that period, you can use the results from your ILR application. If the two years pass, you'll need to take the test again when you apply for citizenship.
There is an exception to the rule: If you have a B1 English language qualification, you can use that for your citizenship application, even if it's older than two years.
How to prepare for the speaking and listening English language tests
The IELTS site has a range of materials on how to prepare. The site also has samples of what you may encounter in the writing and listening tests.
For the verbal tests, such as speaking and listening, you are being tested on how to communicate. Even tasks as simple as talking to friends and colleagues can improve your speech and listening skills for the test. Conversational English will also sound more natural to the examiner rather than words memorised from a textbook.
For listening, it is important to focus on what is being said rather than panicking that you will make a mistake. Feel free to ask questions if you don't understand anything, that's what happens in everyday conversations.
How to prepare for the reading and writing English language tests
The writing tests gives you a prompt to follow. For the general training this can be writing a formal letter to someone or writing about your opinion on a situation. The academic writing test also has the opinion-based exercise but can also include a written interpretation of a graph or diagram.
In addition to the practice materials linked above, there are other everyday exercises to practice for your tests. Do you understand what a news article is telling you? Do you know what is happening in a picture? Try to write a paragraph explaining what is happening to someone who has never seen the article and picture. Letter writing is also a good way to prepare for the writing test. The letter formats are covered in the practice material.
Which venue do I use?
There are a range of approved test centres that can be used inside the UK and outside the UK. If you do not use an approved test centre, your results will not be recognised. The approved test providers are:
What to take with you to the venue
The test centre will need a valid form of identification for you to take the test. The list of valid identity documents include:
Passports
UK Biometric Residence Permit
UK Biometric Residence Card
Convention travel document
Stateless persons travel document
Identity cards of EEA nationals
Photographic government-issued identity cards (for tests outside of the UK)
If you still have any questions, do not hesitate to get in touch with any approved test providers. You want to make sure you are taking the correct test for what you are applying for. And remember, practice makes perfect.
---
No matter how complex your case, our citizenship and immigration consultants can help you every step of the way. Contact our team on +44 (0) 20 7759 5330 or at immigration@sableinternational.com.
We are a professional services company that specialises in cross-border financial and immigration advice and solutions.

Our teams in the UK, South Africa and Australia can ensure that when you decide to move overseas, invest offshore or expand your business internationally, you'll do so with the backing of experienced local experts.

;