The UK's immigration changes for 2021 introduce a new era of immigration control that subjects both EU- and non-EU citizens to the same regulations.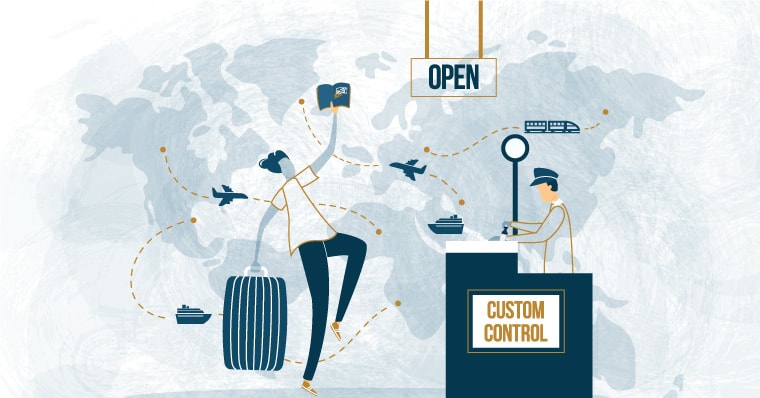 The new immigration system
As part of the UK's immigration changes for 2021, a new points-based immigration system will be introduced when freedom of movement with the European Union (EU) ends on 1 January. These changes will apply to all non-UK nationals (including EU nationals).
The system will rewrite most of the existing immigration routes into the UK. Current routes such as the Tier 1, Tier 2, student, new entrants and a bespoke visa group have all been essentially whittled down and replaced with points-based criteria. Under the new points-based immigration system, applicants will need 70 points to be eligible for a visa.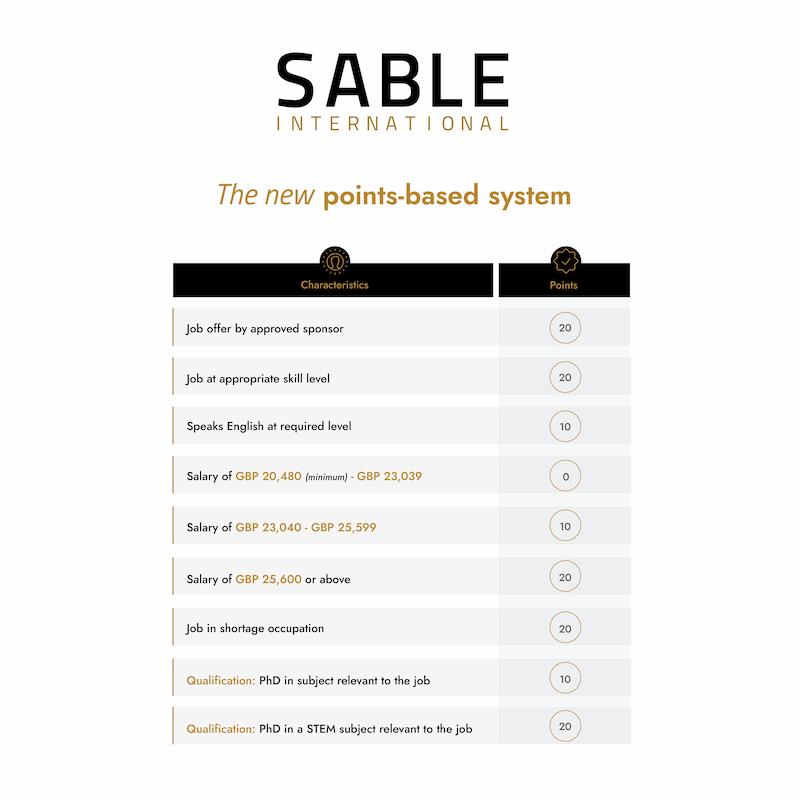 Criteria for skilled workers
The skilled work visa category will replace the current Tier 2 visa route for applications to work in the UK from 1 January 2021. This route will be open to EU and non-EU nationals alike.
The new category will apply to a larger subset of jobs than Tier 2 visas due to opening the route up to Regulated Qualifications Framework (RQF) level 3 (A-Level) jobs, which is a significantly larger pool than those jobs previously eligible at RQF level 6 (degree level) and above.
There will be no cap placed on the number of people who can come to the UK and the resident labour market test will be abolished.
Points will be assigned for specific skills, qualifications, salaries and shortage occupations and visas will be awarded to those who gain sufficient points.
Applicants will have to score a total of 70 points in order to work in the UK. Basic requirements include English proficiency (10 points), a confirmed job offer from a sponsored employer (20 points) and an offer at the appropriate skill level (20 points).
To make up the remaining 20 points to reach the 70 required, applicants will have to be offered salaries at GBP 25,600 or above (GBP 20,480 for those in health or education positions), or at the going rate – a complicated calculation that encompasses a higher salary threshold for higher-paying jobs.
The new rules of the UK's immigration changes for 2021 also clarify that only basic gross pay can be used to meet the salary threshold. The basic gross pay figure is the figure before income tax, National Insurance and employee pension deductions are made. Other benefits and allowances such cost of living or accommodation benefits cannot be included.
Existing Tier 2 sponsors will not have to apply for a new licence and will instead have their sponsor licences automatically transferred over to the new system. Existing Tier 2 visa holders are not required to take any action, although they will need to meet the requirements of the new routes at extension and permanent residence status.
The six-year maximum period of stay and cooling-off period common under the Tier 2 visa will be abolished.
It will be also possible to switch into the skilled worker route from most other visa categories without having to leave the UK.
A new fast-track visa is available to top scientists and researchers that will allow them to go to the UK without a job offer. This global talent scheme replaces the Tier 1 (Exceptional Talent) route and applicants can be endorsed directly by UKRI (UK Research and Innovation).
The Home Office has also launched a new priority service for expedited processing of sponsor licence applications, where businesses can pay an additional fee of GBP 500 to reduce expected waiting time from eight weeks to five working days.
Student visa updates
Education contributes a lot to the country's economy every year (over GBP 20 billion in 2019 alone), and this cashflow is under immediate threat due to the loss of free movement from the EU. As such, the UK has introduced new student visa routes to make it easier for foreigners to study in the country.
Studies can now be done on a visitor visa for up to six months at accredited institutions. For "recreational courses" that are undertaken for leisure, studies can be undertaken at any institution for up to 30 days.
For longer studies, new UK student visa routes came into effect in October 2020. The routes are now all points-based and students will be able to achieve the required points by getting accepted into an approved education institution, demonstrating English language proficiency and proving they are able to financially support themselves throughout their studies.
Moreover, Masters degree students will be allowed to remain in the UK for a further two years following their studies, while PhD students can stay for an additional three years. The possibility to switch over to work routes also opens up if they can find a suitable job.
Revised eligibility requirements
The UK has always had good character requirements under their immigration system, but the new rules clarify specific thresholds that make it easier for immigrants and border control officers alike to implement them.
Since 2012, immigration rules have abided by a complex sliding scale to determine whether someone would be refused a visa based on how long they'd been sentenced to for a crime. Now, if the applicant has been convicted of any criminal offence, in the UK or abroad, and was sentenced to a year or more of imprisonment, the visa request will be denied.
The government has also outlined specific rules that enable border officers to refuse entry to those in sham marriages and those guilty of evasion of duty and tax at the border (e.g. people who carry in excess of their duty-free allowance). Previously, they had to rely on "non-conductive" power, which should be reserved for those who pose a direct threat to national security.
Eased financial demands
Current immigration rules mean that most people who want to get a visa to come and live in the UK must show that they can support themselves, or be supported by someone else who can afford to "maintain and accommodate" the person they are bringing in, or sponsoring. This is so the applicant can demonstrate they won't require government support. Many of the demands have now been relaxed.
Under the new labelling system, students, skilled workers, intra-company transfers, Tier 2 minister of religion, Tier 2 sportspersons, Tier 5 (temporary workers), start-up and innovator applicants no longer need to meet the maintenance requirements if they have been supporting themselves in the UK for more than 12 months.
Applicants are required to show they have held funds for 28 days (initially, only for student, skilled worker, start-up and innovator routes).
Applicants can rely on electronic bank statements without requiring that they be certified by the bank on every page.
Applicants can rely on a broader range of accounts, not just cash or cash savings, as long as the funds can be accessed immediately.
Applicants must submit evidence of funds within 31 days of the date of application.
The maintenance requirement for parents of a child student is set at GBP 1,560 per month, up to a maximum of 9 months; and an additional GBP 625 per month for any child other than the child student who will be under their care in the UK.
The maintenance requirement for skilled workers, intra-company transfers, Tier 2 minister of religion and sportspersons, innovators and start-ups, Tier 5 (temporary workers), including seasonal workers, charity workers, creative and sporting workers, international agreement workers and government-authorised exchange workers will be increased from GBP 945 per month to GBP 1,270 per month and applicants are now required to show they have held the funds for 28 days.
For most dependants, the maintenance requirement is reduced from GBP 630 per month to GBP 285 per month for a dependant partner, GBP 315 per month for the first child applying and GBP 200 per month for each subsequent child.
The maintenance requirement for Youth Mobility applicants will be increased from GBP 1,890 per month to GBP 2,530 per month and applicants are now required to show they have held the funds for 28 days.
The maintenance requirement for students will be GBP 1,334 per month in London and GBP 1,023 per month outside London.
The EU Settlement Scheme
The UK's Withdrawal Agreement with the EU protects the rights of EU and EEA citizens and their families who are already established in the UK to continue to live, study, work as well as travel freely between the UK and the EU.
This means that a few adjustments had to be made to the EU Settlement Scheme, largely aiming to keep families together.
At the end of the transition period (31 December 2020), the government will provide routes for close family and children to join their spouse/parent in the UK. There will also be allowances made for those who miss the Settlement Scheme deadline of 30 June 2021, provided they can prove reasonable grounds.
Identity cards currently used for travel by EU citizens and their EU family members will continue to be recognised until at least 2026 for those who are resident in the UK before 31 December 2020 and hold settled or pre-settled status.
Hong Kong British National (Overseas) Route
In mid-2020, China breached an agreement with the UK meant to ensure Hong Kong had a high level of autonomy until 2034. As a result of this, Hong Kong citizens who were granted the status of British National (Overseas) (BNO) by the UK when it handed over the city to China are being offered a special path to UK citizenship.
This new route allows the holder to work and study in the UK, eventually leading to settlement. It is open to BNO passport holders and partners or children who are part of the same household as the BNO citizen.
The new rules are largely good news for those outside of the EU who previously struggled to qualify for UK visas. They aim to treat EU and non-EU citizens equally and attract people who can contribute to the UK's economy.
---
With the abolishment of the resident labour market test as well as the immigration cap, the UK's immigration changes for 2021 is allowing many more skilled workers to live and work in the UK. Get in touch with one of our experts to kickstart your immigration process today. Call us on +27 (0) 21 657 2180 or email immigration@sableinternational.com.
We are a professional services company that specialises in cross-border financial and immigration advice and solutions.
Our teams in the UK, South Africa and Australia can ensure that when you decide to move overseas, invest offshore or expand your business internationally, you'll do so with the backing of experienced local experts.