While daunting, there are many benefits to studying abroad including increased work opportunities and a possible route to immigration. Getting an education from an overseas university may not be as difficult as you would imagine. Our Study Abroad Director, Brent Morris spoke to Ben Worthington from the IELTS Podcast and gave some valuable advice to students who are considering studying abroad.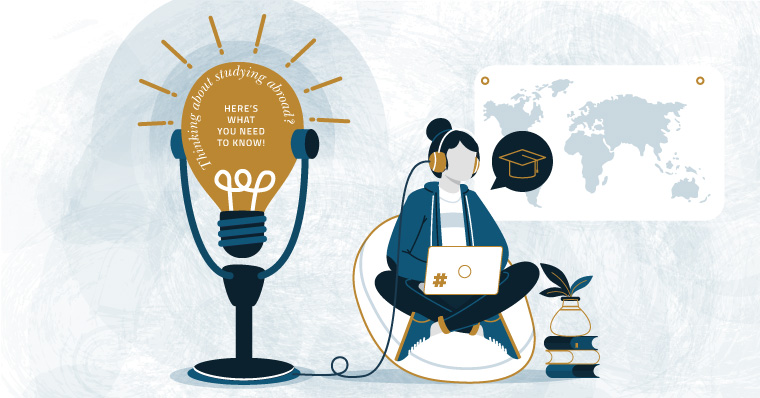 Listen to the interview on the IELTS Podcast
Topic navigation
Episode transcript
Ben Worthington: Let's get started with today's podcast. Hi there, Brent. Could you tell us a bit about yourself and your organisation, please?
Brent Morris: Hi, Ben. Thanks for having me. I work for a consultancy called Sable International: Study Abroad. We're currently based in Africa. I'm sitting in Cape Town at the moment but we've got offices in Nigeria, Uganda, Zimbabwe and South Africa. We help students from this region get into top universities around the world and most of the Anglophone countries. So IELTS, or the ability to be able to speak English at a certain level, is a requirement for all of our university partners.
BW: I see. Brent, can you tell us how you got to work at Sable International? This is always a good story in order to find out a little bit more about our guests.
BM: I started this consultancy [then called IE Abroad] six years ago, in 2016. I moved back from the UK. I'd been living there for a number of years working for universities. When I moved back to South Africa, I noticed there was a need for professional support for our universities. For instance, to be able to expand their outlook to international students from Africa. I came back to Cape Town and set it up out of my home. We slowly grew as we helped more students. Last year, we joined with a bigger group called Sable International who do study abroad, immigration services and wealth management. The focus is on getting students internationalised from all aspects.
BW: Interesting. Before we move on to your top tips for international students, tell me what you loved about the UK and what you hated? I'm very curious about this.
BM: I loved the connection in the UK. The way it was so connected to everything. It feels like it's the centre of the world, when you're there. There's so much opportunity. It really lends itself to be able to grow yourself from a business perspective, travel perspective, and a networking perspective. But I'm from Cape Town so weather is such a big factor.
See also: 7 reasons to study abroad in Ireland
BW: This reminds me of the occasional week of sunshine we get in the UK where everybody takes their shirts off and says, "If England had sunshine, it'd be the best place in the world." But yes, the weather is such a big factor. Okay, so let's move on. What are your top tips for international graduate students applying to study abroad?
BM: The biggest advice we can give you is to consider where you're going and what you want to achieve. For me, the most important thing is to look at the outlook and where you want to be, instead of getting caught up in the specific programme that you have to do and thinking that's the only way you're going to get into the field that you want to study. Look at the general outlook. Sometimes you can study something completely different and still end up in that route. It's more about making sure you go to the right location and the right country that offers the right post-study opportunity which allows you to work and grow within the field that you really want to get into.
Choosing the right study abroad course
BW: So just to make sure I understood this correctly, if for example, somebody is set on being an engineer and they may have researched one route, they don't have to necessarily follow the route they've discovered? If you talk to a consultant, they can tell you how to get to the same endpoint, but with different steps, if it's more economical. Did I understand correctly?
BM: Yes, so students get so caught up in thinking that they have to do mechatronic engineering, because they want to go into that particular field of study. You can maybe do general mechanical engineering, or electrical engineering. You can still get into that field at a later time, if you don't quite get into the programme. These days there are so many diverse types of courses out there, it's quite confusing. It's intimidating for a student, because they get so caught up on these individual programmes that they have to do. I studied finance at an undergraduate level and I don't do finance. I'm into student recruitment and I've ended up in sales and marketing. You don't necessarily have to study what you think you're going to get into. Even when you get into the workforce, what you thought you were going to do is sometimes completely different as you start growing and experiencing life.
You don't necessarily have to study what you think you're going to get into. Even when you get into the workforce, what you thought you were going to do is sometimes completely different as you start growing and experiencing life.
BW: I see. So maybe students should broaden their outlook and possibly be a little more flexible in what they're studying, right?
BM: Particularly at the undergrad level, yes. I think that's why there are different systems with different advantages. For example, in the USA, you don't have to declare a major for the first year. You get to experience it for a bit before you set yourself on that path. Study general courses as a undergraduate, and then focus on postgraduate, once you've got a little more experience in the working world.
See also: When will international students be able to study at an Australian university?
BW: Yes, absolutely. What surprised me when I was at university, especially when I graduated was that I soon realised that my degree was a certificate saying that I could learn to this level. From my degree, I could go into different disciplines. I didn't have to go into the discipline that I had studied for four years. It was quite open and broad. That was in the UK and all they needed was a degree. I don't know if other countries are as flexible. Obviously, if you've studied marketing for four years, you're not going to go into the medical profession. With some subjects, there is that flexibility.
BM: I'm going to challenge you there, Ben. Sorry to interrupt you, but yes. The amount of students that we get coming to us looking to do nursing, after they've done marketing or any degree, realising that their passion is to help people. They want to get into nursing or social work and it's frightening. As I said, as you get into the working world, you realise what's important to you and you grow in that way.
Post-study work visas and using study abroad to immigrate
BW: I totally agree with you there. What I'm saying is that if somebody had studied marketing and they want to get into nursing, they can't use that degree. Next question – what are the biggest trends in international study for 2022?
BM: Within our markets, the trends at the moment are towards post-study opportunities, where you can graduate then get a graduate visa to stay and gain some work experience or potentially even live in the country full time. We've seen big trends towards the UK recently. Because of their high quality of education and now they have a great Graduate visa opportunity, we've seen a huge rise in applications and drive towards that country.
BW: Interesting. I guess this graduate visa opportunity is a recent development?
BM: Yes, it just launched towards the end of last year.
BW: I see. I guess it was probably an answer to Brexit with the lack of new students and lack of new workers coming in, very interesting. I guess this ties into what you just said regarding post study opportunities for international students. We talked about the Graduate scheme for workers in the UK. Are other countries offering this?
BM: It's pretty standard at this stage. I think it's going to be one of the first times that the four major countries offer some sort of postgraduate visa option. Whether it be the USA, Canada, UK or Australia. They've all got really good opportunities now post-study. This makes it very competitive from a student's point of view. They are able to look for the best option for themselves. I think it's going to be exciting for students to be able to choose without having to worry too much about whether they're going to have post-study opportunities for themselves. They will all be offering similar sorts of options for their students to graduate with.
See also: What is a foundation programme and how can it help you study abroad?
BW: Interesting. Am I right in saying that this is because of the disruptions caused by Covid? I know that in Canada, they didn't meet their goals for the amount of international students they needed to join the workforce. I am assuming that these post-study opportunities are more generous nowadays, because of the disruptions of Covid. Would I be correct in saying so?
BM: I think that it's definitely motivated things and navigated them in the right direction. We have been lobbying for it for a long time. I think every country is finally realising that, why would we turn away a graduate that we've educated to our standard of education that the employers want to employ? Why would we turn them away and send them home? Generally, this student has invested in the country, they believe in the country because they've come there, and they have now socialised and started to integrate with the country. Every country that I spoke about needs immigration to grow. It's a common fact that they've got gaps within those professional skills areas in particular, especially within the health industries. So, why would they turn away someone who's integrated within the local population, has studied at a level that they respect and understands the local working culture? They're the ultimate immigrant really, rather than someone that's never lived in that country or studied in that environment. I think that there's a real push towards keeping that sort of immigrant as opposed to trying to find immigrants that don't have the same outlook.
I think every country is finally realising that, why would we turn away a graduate that we've educated to our standard of education that the employers want to employ? Why would we turn them away and send them home?
BW: It's more like common sense prevailing. As you said, it's the ultimate immigrant. I love that phrase. I wouldn't consider myself the ultimate immigrant, although I've lived outside of the UK for a long time. I do think there's a lot to be said about immigrant ambition and sending them back home after investing all this time, money and skills. To then send them back is criminal.
BM: I studied in the UK and I spent five years there learning, understanding and integrating into their society. I came home and I started a business around selling the UK. What better compliment to their country than having someone come back to their own country and build a tie with their country. The ties that it creates are invaluable, from an immigrant point of view and from a business perspective.
How Sable International's study abroad consultants can help you
BW: Going back to your consultancy, Sable International. How can this support international students who want to study abroad?
BM: We work with over 250 universities as their contracted partner in the Sub-Saharan African region. We offer an initial consultation on what and where you want to study. We break down options for you, as to which university would be right for you. After we choose the right option, we will assist with your application or admission. We then support you through your visa process. After that, we do a pre-departure session where we book accommodation and make sure that you've met all the requirements to enrol at your university on time. We provide support through the whole process at no cost because we work for the university. They employ us to act as their representative in the region. This allows us to do this service for students at no cost. As long as you can pay your university fees we are there to help.
BW: If a student wanted to get in touch with Sable International, what is the procedure?
BM: The best place to start is obviously the website. Alternatively, you can email us at sastudy@sableinternational.com and we would be happy to respond and book a session with you as soon as possible.
BW: Great! Anything you would like to add before we finish?
BM: Thanks for having us. It's always interesting to talk about studying abroad because it's a passion of mine. There's no bigger reward than seeing a student succeed and hearing feedback from them in this regard. I had a student recently reach out to me from London letting me know that he got into a top law firm as an intern.
BW: Absolutely! I agree with you there. When I get emails from students saying I passed the IELTS exam, and I can finally get to Australia and start my studies, I get tremendous satisfaction. So your student has an internship in one of the top law firms in the UK, and he's benefitting from this Graduate scheme you mentioned before?
BM: Yes, he is on the Graduate scheme now and once he graduates he will apply for sponsorship from his company.
BW: If he's sponsored for five years and living in the UK, can he get a British passport?
BM: I'm not going to give advice on immigration. We've got a team that can support with that. It is a bit of a process and there are a number of different aspects as to whether he'll qualify for immigration status at the end of his five years.
BW: Super, thank you very much, Brent. I love that phrase, the ultimate immigrant. I think that sums up our audience, students who want a better life. They want to go abroad and they want a better future for themselves and for their families. The challenges we, as immigrants, decide to put ourselves through in order to reach these goals is incredible. Thank you very much Brent.
IELTSPodcast is an online IELTS test preparation company helping international students pass the IELTS exam. The site helps students pass by publishing weekly tutorials, has an online IELTS course and an essay correction service.


---
When exploring your options to study abroad it is useful to have someone guiding you through the process. Our study advisers are qualified to help you with applying to various programmes and will assist you along the journey.
Our direct access to the university admissions teams makes it easy for you to apply and get your enrolment letter. Get in touch with us at sastudy@sableinternational.com or call us on +27 21 657 1543.
We are a professional services company that specialises in cross-border financial and immigration advice and solutions.
Our teams in the UK, South Africa and Australia can ensure that when you decide to move overseas, invest offshore or expand your business internationally, you'll do so with the backing of experienced local experts.