With its excellent standard of education, immigration opportunities and high quality of life, Ireland is quickly climbing up the ranks of the best countries for international students. We take a look at reasons why you should consider the Emerald Isle for your tertiary education.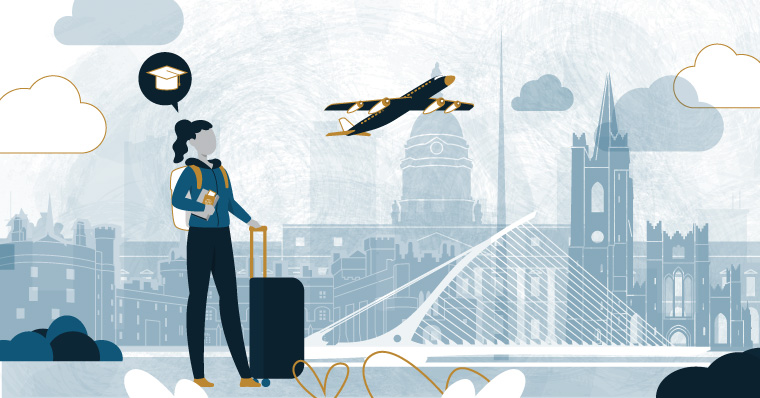 While Ireland might not be one of the first countries you think of when exploring your study abroad options, the small European nation is becoming increasingly popular among the international student community. With its historic universities and beautiful landscapes, we take a look at the other reasons why so many students are choosing Ireland to further their studies.

1. Ireland's universities offer high quality education
According to the OECD 2021 education report, Ireland has the fourth highest standard of education in the world. Added to this, there are also eight Irish universities featured in the QS World University Rankings 2022, with its number one ranking university, Trinity College Dublin, ranking 101st in the world.
See also: What is a foundation programme and how can it help you study abroad?
2. Ireland is home to a large academic heritage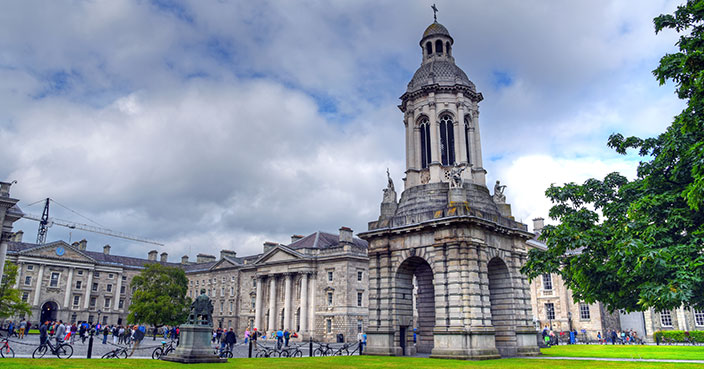 Ireland is steeped in a rich history and some of the best universities in Ireland are also among the oldest. In fact, Trinity College Dublin (est. 1592) is considered one of Britain and Ireland's seven ancient universities. Other notable institutions include the Royal College of Surgeons in Ireland (est. 1784), the National University of Ireland, Maynooth (est. 1795), University College Cork (est. 1849) and University College Dublin (est. 1854).
3. Some international students don't require a student visa for Ireland
Some nationalities, like South Africans for example, are able to enter Ireland without a visa, and don't require a student visa to study in Ireland. However, all non-EEA nationals, including those with visas, must obtain permission to enter the State by reporting to an Immigration Officer at the port of entry. You will need to obtain an Irish Residence Permit (IRP) if you are studying for longer than three months.
Students who need a visa to enter the country are required to demonstrate that they have access to €7,000 before they may be issued with a visa. This makes Ireland a more affordable option for South Africans or anyone from a country on the non-visa required countries list.
After successfully registering with the Garda National Immigration Bureau (GNIB), you will be given a certificate of registration indicating that you have been given an immigration permission allowing you to study in Ireland.
This also grants students the opportunity to be employed in a casual capacity. During term time, non-EEA students can work up to 20 hours per week and, during normal college holiday periods, they can work on a full-time basis for up to 40 hours per week.
Documents required to register for a student visa on arrival
On arrival, you must be able to present the Immigration Officer with any documents necessary to explain the purpose of your visit. So, as a student, you will need to provide the following:
Your passport.
An original letter of acceptance from the academic institution confirming you have been enrolled in a full-time course of study. Your letter must show you are enrolled on a privately funded course at level 7, 8, 9, (or above) of the National Framework of Qualifications.
Proof that at least €6,000 in fees has been paid to the college. If your tuition fees are below €6,000, the full amount needs to be paid up.
Proof of private medical insurance at time of registration.
Proof of financial support – if you did not need a visa to enter Ireland, you will need to show that you have access to €3,000 to support yourself while in Ireland.
It should be noted that a condition of getting permission to study in Ireland is that you intend to return to your home country when your studies are completed.
4. Ireland has a post-study work visa
Ireland has a post-graduate visa option, the Third Level Graduate Programme (Stamp 1G), that allows non-EU/EEA students to remain in Ireland in order to find work for up to two years. Employers are permitted to hire graduates, who have obtained the Stamp 1G, for up to 40 hours per week.
If you obtain your honour's degree (a Level 8 award) in Ireland, you will be granted permission to stay for 12 months. Gaining your master's in Ireland (a Level 9 award) will grant you a further 24 months in the country. While this visa isn't renewable, if you're able to secure work on this visa you will be able to apply for a General Employment Permit or, if you're a highly skilled professional, you can apply for a Critical Skills Employment Permit. With both these permits, after five years, you may be eligible to apply for long-term residency.
See also: How studying abroad can be a springboard to immigration.
5. Studying abroad in Ireland can lead to unique career opportunities
There are amazing career opportunities for international graduates in Ireland as many multinational businesses have their European headquarters based in Ireland. In fact, Ireland is home to five of Forbes top 10 companies: Apple, Google, Alphabet, Amazon and Samsung.
In addition to this, most universities offer internship opportunities, which is a great way to gain real experience in the workplace that can be invaluable when you eventually look for a job.
6. Ireland is culturally unique and beautiful
Ireland is a small but beautiful country that you can easily traverse in around five hours. This makes it easy to explore over the weekend or by taking a day trip. You can discover the world-famous Guinness Storehouse in Dublin or take in the Cliffs of Moher on the west coast.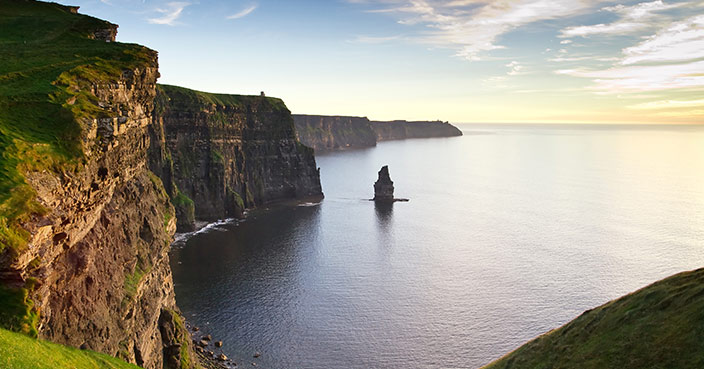 Outside of university life, Ireland is a culturally unique and ancient country well known for its hospitable people and you will quickly be entrenched in Irish culture and traditions. Experience the feast day of Ireland's patron saint with Saint Patrick's Day, listen to traditional Irish music, watch Irish dancing, take part in Irish sports such as Gaelic football and get lost in Irish myths and legends.
See also: Sending your kids to study abroad? Here's what you need to know.
7. Ireland is a safe and friendly country
Ireland is one of the safest countries in the world, ranking eighth in the 2021 Global Peace Index and 13th in the 2021 World Happiness Report. The capital city of Dublin was voted by Lonely Planet as the seventh best city in the world in 2022. The Irish people's welcoming nature coupled with an unrivalled sense of fun, ensures that studying in Ireland will be an unforgettable experience.
How we can help with your study abroad plans
Sable International's study abroad consultants help students from the discovery stage of their study abroad journey to settling in at their new university. We have direct access to our partner universities' admissions departments, making for a more streamlined application process. We also assist with any visa applications and advice that may be required. We take the anxiety out of the whole process by being with you every step of the way.
Our Edusessions are international study abroad fairs that provide you with an opportunity to meet face-to-face with top international universities. You will be able to find out more about their institutions and explore your options for both undergraduate and postgraduate studies.
---
When exploring your options to study abroad it is useful to have someone guiding you through the process of your application. Our study advisers are qualified to help you with applying for foundation programmes and will assist you at every step of your journey.

We have direct access to the university admissions teams making it easy for you to apply and get your enrolment letter. Get in touch with us at sastudy@sableinternational.com or call us on +27 21 657 1543.
We are a professional services company that specialises in cross-border financial and immigration advice and solutions.
Our teams in the UK, South Africa and Australia can ensure that when you decide to move overseas, invest offshore or expand your business internationally, you'll do so with the backing of experienced local experts.