When you sponsor foreign workers, it is of the utmost importance to fulfil your sponsor obligations. We examine the repercussions that UK sponsors might face if they fail to comply.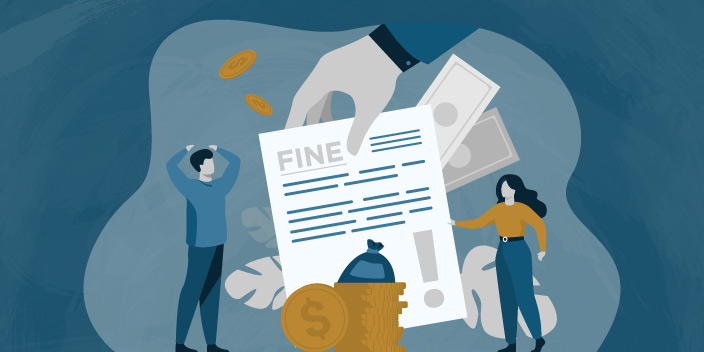 If your business is looking to hire skilled professionals from outside of the UK, understanding the requirements and responsibilities involved in being a UK licenced sponsor is vital. Failure to comply with these responsibilities can result in serious consequences, including significant fines.
As an employer sponsoring overseas workers, you not only have a duty to uphold the immigration laws but also to protect your sponsored employees' rights. Staying compliant ensures that your business can continue to access the international talent pool while avoiding severe penalties.
Types of immigration non-compliance
Non-compliance with sponsor responsibilities can take various forms, including:
Failure to report changes: You must promptly report any changes regarding your sponsored employees' circumstances, such as changes in the employee's job role, salary, or address.
Non-maintenance of records: You must maintain accurate and up-to-date records of each sponsored employee, including their contact details, work history, and relevant visa-related documents.
Failing to monitor sponsored employees: You have a responsibility to track sponsored employees' compliance with visa conditions, especially regarding their attendance, absences.
Penalties for non-compliance
The UK government has implemented a tiered system of fines for businesses failing to fulfil their sponsor responsibilities. The fine imposed will depend on the severity and frequency of the non-compliance, and these penalties can range from thousands to tens of thousands of Pounds.

Civil penalties: These are triggered by various non-compliance issues such as employing workers without the required permission or failing to satisfy record-keeping obligations. These penalties can result in fines of up to £45,000 per unauthorised worker for the first offence and up to £60,000 thereafter.
Downgrading or revoking your sponsor licence: Serious non-compliance can lead to the Home Office downgrading your licence to a temporary lower tier whilst improvements are made, or even revoking it altogether. Losing your sponsorship licence can have devastating consequences for your business, resulting in the loss of skilled staff and potentially disrupting ongoing projects.
Read more: UK sponsor licence: what leads to a rejected application
Key steps to ensure sponsor licence compliance
To avoid fines and maintain compliance with your sponsor responsibilities, you should undertake the following preventive measures:
Regularly review and update your HR policies to ensure compliance with immigration rules.
Establish robust record-keeping practices, ensuring all your employee data and immigration-related documents are accurate and up-to-date.
Organise regular training sessions for your staff who are involved in the sponsorship processes to ensure proper understanding and adherence to sponsor responsibilities.
Regularly review your sponsored employees' visa statuses, ensuring all visa conditions are met and reported promptly if changes occur.
If your business is considering sponsoring foreign employees in the UK, we can help ensure that you are compliant with your sponsor responsibilities by conducting a comprehensive immigration compliance audit.
Our Business Immigration division will check that the correct processes and human resources practices are in place that enable your business to meet your sponsorship duties. We will also ensure that you are compliant with their legal responsibilities as an employer to prevent any breach of immigration law.
---
We understand the complexity of UK immigration law and the issues that could lead to non-compliance. Our experienced team in the UK can guide you through these complexities. Contact us on +44 (0) 20 7759 5307 or at workpermits@sableinternational.com
We are a professional services company that specialises in cross-border financial and immigration advice and solutions.

Our teams in the UK, South Africa and Australia can ensure that when you decide to move overseas, invest offshore or expand your business internationally, you'll do so with the backing of experienced local experts.

;