UK employers are now required to perform right to work checks to ensure their EEA and EU employees hold settled or pre-settled status. This guide will take you through exactly what's required.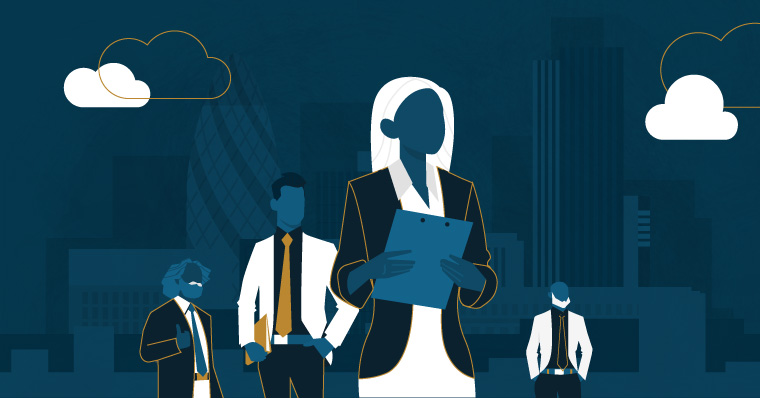 Please note, this blog has been edited and revamped for accuracy and new information.
Seven percent of the UK workforce is made up of EU workers and, as of 1 July 2021, those workers need to be registered with the EU Settlement Scheme (EUSS) to be legally employed in the UK.
The government has put the onus on UK employers to check that their employees are legal and you can face fines of up to £20,000 (per employee) and even harsher penalties for knowingly (or turning a blind eye to) hiring workers who don't have the right to work in the UK. The best way to protect your business from this eventuality is to ensure you conduct the correct right to work checks, as outlined by the Home Office.
Which employees require a right to work check
In short, all employees need to be checked to ensure they have the legal right to work in the UK. Before Brexit, EU citizens automatically had the right to work in the UK and were not legally obligated to show proof that they'd registered for a status under the EUSS.
From 1 July 2021, employers must check that these employees now hold either settled or pre-settled status.
The Home Office categorises employees into List A and List B. List A employees are those without any kind of time limits or restriction on their stay in the UK. For instance, someone with citizenship, indefinite leave to remain or, as of 1 July 2021, settled status.
A List B employee is anybody on a visa with a time limit, which now includes all EU nationals with pre-settled status. For List B employees, you need to conduct a right to work check every time the employee's visa comes up for renewal, so you should have a system in place for tracking and monitoring when these checks are required.
How to conduct a right to work check
There are two important facets of a right to work check:
You must see the person in front of you to satisfy yourself that they are the same person as in their documents. (This may be done in person or via a live video link)
You must inspect their original documents* to make sure they're genuine and the photograph and date of birth are consistent across documents, or make use of the online checking service (only available for some employees)
You must then make a copy of the document and make a note of the date the check was conducted.
*During Covid, the government has temporarily allowed employers to check scans or copies of documents up until 31 August 2021.
Right to work documents
Home office online right to work service
With the EUSS, settled and pre-settled status is now given electronically, so there isn't a physical document to check, and you need to use the Home Office online service. The employee will log in on the website and generate a share code that they can send to their employer. You can then enter the code on the online portal to check the individual's right to work and you can download the proof as a pdf for your records.
When it is not possible to conduct an online right to work check, a document-based right to work check can be conducted.
Document-based right to work check
The documents required vary according to whether someone is a List A or List B employee. A full list of acceptable documents can be found on the UK government website. However, some examples include:
For a List A employee:
A passport showing they're a British citizen or Irish national
A document issued by the Home Office showing they're a family member of an EEA or Swiss citizen and are permitted to stay in the UK indefinitely
A current Biometric Residence Permit or Immigration Status Document issued by the Home Office, showing the holder has indefinite leave to remain in the UK
A certificate of registration or naturalisation as a British citizen, combined with an official document showing the employee's name and NI number
For a List B employee:
A current passport and valid visa showing the holder has the right to work in the UK
A current Biometric Residence Permit showing the holder has the right to work in the UK
A current Immigration Status Document, with a photograph and an official document showing the employee's name and NI number
A frontier worker permit issued under regulation 8 of the Citizens Rights (Frontier Workers) (EU Exit) Regulations 2020
If the List B employee cannot provide any of the acceptable documents, there is a secondary list which grants temporary compliance. However, a follow-up check will need to be conducted within the next six months if one of these documents is provided.
An example of one such List B (Group 2) document is a document issued by the Home Office showing that the holder has made an application for leave to enter or remain under the EUSS scheme before 30 June 2021, together with a Positive Verification Notice from the Home Office Employer Checking Service.
The UK's new right to work documentation online checking tools
The UK government has introduced an easy, online method of checking a potential employee's right to work documentation. By answering a series of questions about the potential worker, it allows an employer to easily find out which types of documents give someone the right to work in the UK and, subsequently, what a right to work check involves for each of them. You will also be told if you'll need to do this check again and if so, within what time period.

The tool lets you know:
If an employee is allowed to work in the UK
If an employee may have the right to work in the UK and what further checks you'll need to do to confirm this
If the evidence provided is not sufficient to allow them to work in the UK
What documents you would need from an employee
If further checks are needed, you may be directed to another tool, such as the
Employer Checking Service
or to a page that allows you to
view a job applicant's right to work details
. This service lets you check the type of work they're permitted to do and how long they'll be allowed to work in the UK.
Update on right to work checks for Biometric Residence Card, Biometric Residence Permit and Frontier Worker Permit holders
On 17 December 2021, the Home Office announced an update to how employees would prove their right to work in the UK. From 6 April 2022, Biometric Residence Card (BRC), Biometric Residence Permit (BRP) and Frontier Worker Permit (FWP) holders will evidence their right to work using the Home Office online service only. The presentation of a physical document will no longer be accepted.
This means that employers will no longer be able to accept or check a physical BRP, BRC or FWP as valid proof of right to work, even if it shows a later expiry date. Employers don't need to retrospectively check the status of BRC or BRP holders who were employed up to and including 5 April 2022. Employers will maintain a statutory excuse against any civil penalty if the initial checks were undertaken in line with the guidance that applied at the time the check was made.
To carry out an online right to work check, employers will need the applicant's date of birth and their share code, which they will have obtained online. See below for guidance on how to conduct a right to work check using the online service.
We will share updated guidance on how to conduct a right to work check on BRC, BRP and FWP holders from 6 April 2022, once this has been published.
How to legally employ foreign workers in the UK
If you wish to hire any non-settled or migrant workers going forward, including those from the EU and EEA, you will need to register as a UK licensed sponsor. You will then be able to grant foreign employees the right to work in the UK, provided they qualify under the new points based UK immigration system.
---
We can help you navigate all aspects of these changes and assist with your ongoing immigration programme management. Contact us on +44 (0) 20 7759 5307 or at workpermits@sableinternational.com.
We are a professional services company that specialises in cross-border financial and immigration advice and solutions.
Our teams in the UK, South Africa and Australia can ensure that when you decide to move overseas, invest offshore or expand your business internationally, you'll do so with the backing of experienced local experts.