If you would like to live and work in the UK, but don't have family ties to the country, getting a work visa may be your best option. Here is a complete guide on the UK's Skilled Worker visa and how to obtain one.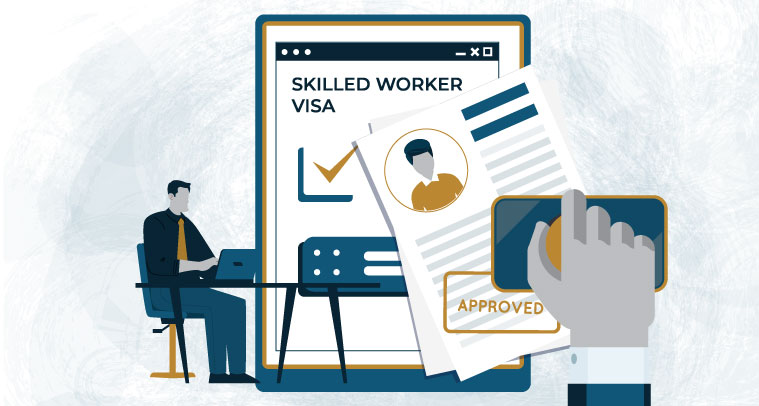 What is a Skilled Worker visa?
A Skilled Worker visa, formerly called the Tier 2 visa, allows you to live and work in the UK. After Brexit a new immigration system was created that brings both EU and non-EU-citizens under a singular immigration regime.
What are the Skilled Worker visa's requirements?
Anyone coming to the UK for work purposes must meet a specific set of requirements for which they will score points. Applicants are required to obtain 70 points to qualify. There is some flexibility around the criteria you need to meet based on your skills, qualifications, and job you wish to apply for.
There are three mandatory requirements, which total 50 points:
A job offer from an approved sponsor (20 points)
A job at an appropriate skill level (20 points)
Speaking English at the required level (10 points)
The remaining 20 points may be earned if the salary is at the "going rate" for the profession, by having a job on the skills shortage list, or by having a PhD in a subject relevant to the job.
To determine if the job you are applying for is eligible for the Skilled Worker visa, you can use the UK government's Skilled Worker eligibility calculator. This tool will tell you whether the UK employer is licensed to employ foreign workers and help you determine if you meet the conditions needed to qualify for a Skilled Worker visa.
It is important to understand the Skilled Worker visa eligibility and application requirements to avoid issues or delays with the application. A refused application will result in the loss of your application fee.
Who can employ foreign workers in the UK?
A Certificate of Sponsorship(CoS) is a virtual document that an employer must provide to any propsective employee in order for them to apply for a visa.
In order to allocate a CoS, an organisation must hold a valid sponsor licence and have access to the Sponsor Management System (SMS). If an organisation would like to apply for a sponsorship license, they must demonstrate that they are a genuine organisation operating lawfully within the UK.
They will also need to prove that they can carry out visa sponsorship duties and that they have appropriate HR and recruitment practices and systems in place. Once an organisation has a sponsor licence, it gives them permission to employ foreign skilled workers via their online SMS account, which assigns a certificate number the employee must use when submitting their visa application.
If the company that offers you a job does not yet hold a sponsorship licence, we can help them apply for one
Get in touch
What you can and cannot do on a Skilled Worker visa
With a Skilled Worker visa, you can:
Work in an eligible job
Study
Bring your partner and children with you as your "dependants" if they are eligible
Do voluntary work
Travel abroad and return to the UK
Apply to settle permanently in the UK after a period of five years
Skilled Worker visas do not allow you to do the following:
Access social benefits
Change jobs or employers unless you apply to update your visa
How much does a Skilled Worker visa cost?
Before applying for a Skilled Worker visa, it is important to know the costs involved. You will need enough money to pay the application fee, healthcare surcharge and to support yourself when you arrive in the UK. Your application fee will be lower if your job is on the shortage occupation list.
The application fee ranges from £625 to £1,423 depending on your individual situation. If you are applying from outside of the UK, the standard fee is determined by whether you'll be in the UK for up to three years or longer.
The healthcare surcharge is normally £625, which you will have to pay for each year your visa is valid for. This will also apply to your dependents.
To support yourself once you arrive in the UK, you will need to have at least £1,270 available.
(All fees are as they stand at time of publication in October 2022)
How the Skilled Worker visa can lead to permanent residence
Your initial Skilled Worker visa will be valid for up to five years. After which you may be able to settle permanently in the UK. Indefinite leave to remain (ILR), also known as permanent residency, gives you the right to live, work and study in the UK, without restriction for as long as you like, and potentially apply for benefits if you are eligible. After holding ILR status for 12 months, you may then be eligible to Naturalise as a British Citizen.
To qualify for ILR you need to:
have lived and worked in the UK for five years in an appropriate visa category
meet the salary requirement
not have been out of the UK for more than 180 days in any rolling 12-month period during the five years
continue to be employed at your job and meet the salary requirements
Other work visa options
There are other visa options that you can apply for to work in the UK.
UK Expansion Worker visa (Global Business Mobility route)
A UK Expansion Worker visa allows you to come to the UK to set up a branch of an overseas business that has not yet started trading in the UK. However, you must already work for the business as a senior manager or specialist employee.
To be eligible for this visa you will need to have a valid CoS from your employer, have worked for the employer outside the UK, do a job that's on the list of eligible occupations list and be paid the minimum salary required for your job.
Scale-up visa
A Scale-up visa allows you to come to the UK to do an eligible job for a fast-growing UK business. You must have a confirmed job offer to work for an approved scale-up business for at least six months and you can only stay in the UK with this visa for two years without renewing it, unlike the Skilled Worker visa and the Global Business Mobility route.
Graduate Visa
International students who have completed a degree at an undergraduate level or above at a UK Higher Education Provider may be eligible to stay in the UK for at least two years after successfully completing their course.
A Graduate visa allows you to work in most jobs, volunteer, travel abroad and return to the UK. You cannot, however, apply for benefits or work as a professional sportsperson.
---
Need help with applying to work in the UK? We help individuals and businesses navigate all aspects of UK immigration and can assist with ongoing employee immigration management. Contact us at +44 (0) 20 7759 5307 or email workpermits@sableinternational.com.
We are a professional services company that specialises in cross-border financial and immigration advice and solutions.
Our teams in the UK, South Africa and Australia can ensure that when you decide to move overseas, invest offshore or expand your business internationally, you'll do so with the backing of experienced local experts.