The UK Home Office has introduced a new business visa aimed at highly-skilled individuals who have been sponsored by a "scale-up company". We take a closer look at the details of the Scale-up visa.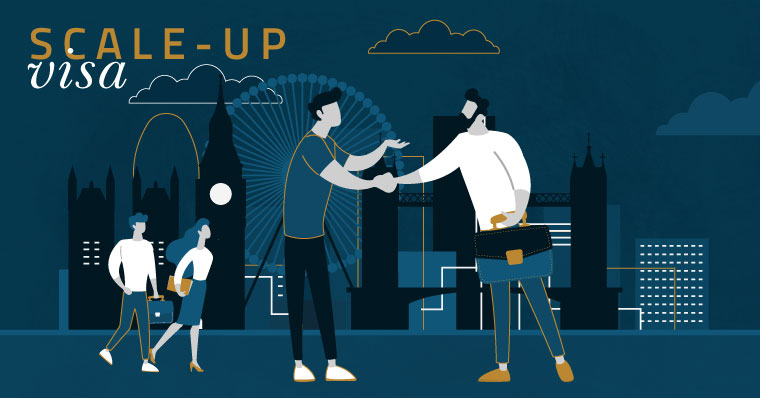 With the UK going through a skills shortage crisis and the limited movement of EU workers, the new work visas announced by the UK Home Office on 15 March 2022 are welcomed by many businesses.
Along with confirming the Global Business Mobility routes, the government introduced some small amendments to the ever-expanding points-based immigration system. These include an update to the going rates for health and education jobs for the current pay scales. However, the big news for UK businesses was the announcement of the much-anticipated Scale-up visa, which is set to launch on 22 August 2022.
What is the UK's Scale-up visa?
This visa is intended for scale-up companies to recruit talented individuals with the skills to enable their business to grow. A scale-up company is a start-up company that has grown, has succeeded in stabilising its business model and industrialising its offer, thereby proving its viability.
The Scale-up visa is a five-year route to settlement that, although initially sponsored by an eligible scale-up, transitions into an unsponsored route. Unlike the Skilled Worker visa and the Senior or Specialist Worker route under the Global Business Mobility visa, there is no Immigration Skills Charge.
The Scale-up Worker visa has two stages. The first, two-year, stage requires a job offer from an eligible Scale-up visa sponsor and you will need to meet the requirements of sponsorship, skill level and salary, as well as an English language and financial requirement. The second, three-year, stage allows existing Scale-up visa workers the flexibility to remain in the UK without sponsorship as long as you earn over £33,000 per year for at least half of your time on the visa.
Scale-up workers will be able to switch to different sponsored roles in the first six months. After at least six months in sponsored work, Scale-up workers can undertake any work (including voluntary and self-employed work) except for work as a professional sportsperson or coach.
See also: How the UK's new Skilled Worker visa eligibility calculator works.
Scale-up visa eligibility requirements for companies and individuals
Visa applicants in this route must have a sponsored job offer from an authorised UK scale-up company, which will be able to apply through a fast-track verification process. To register for this route, a company will need to demonstrate that they:
Have had an annual average revenue or employment growth rate over a three-year period greater than 20% and
Had a minimum of 10 employees at the start of the three-year period.
In addition to this, the job offer must:
Be skilled to graduate level (RQF 6 or higher) and
Have an appropriate salary. This will either be the going rate for the specific role, the general salary threshold of either £10.58 per hour or £33,000 per year (whichever is higher).
How long is a UK Scale-up visa valid for?
The slight quirk with the scale-up visa is that while the initial application requires you to be sponsored, applications for extensions do not. To extend your visa and apply for settlement, you will need to meet the minimum salary requirement and prove that you are employed in a graduate level occupation. And as mentioned above, you must also have PAYE earnings of at least £33,000 per year for at least 50% of your time on the route. Initial permission to stay will be granted for two years with extensions granted for three years.
Does the Scale-up visa lead to indefinite leave to remain or British citizenship?
The Scale-up visa is a route to settlement and dependant family members will be able to join you on this five-year route to indefinite leave to remain (ILR). In addition to the PAYE requirement, you must also meet the standard settlement requirements:
The ILR application fee for 2022 is currently set at £2,404. The UK government generally updates application fees on 6 April every year, so this figure may change after 2022.
See also: The benefits of indefinite leave to remain and naturalisation.
How much will the Scale-up visa cost?
Application for a Scale up visa for both the main applicant and your dependants will cost £715 in addition to an immigration health surcharge of £624 for every year you will be in the UK. This means that for your initial application it will cost you £1,963.
How our Sable International can help you
We offer immigration assistance, advice and support to UK businesses who are looking to employ migrant workers. We can guide you through the process of applying for a sponsorship licence and help you with the practical management of your compliance duties throughout your licence period. We can assist in applying for Skilled Worker visas for any employees you have sponsored.
---
Need help with applying to work or start a business in the UK? We help individuals and businesses navigate all aspects of UK immigration and can assist with ongoing employee immigration management. Contact us at +44 (0) 20 7759 5307 or email workpermits@sableinternational.com.
We are a professional services company that specialises in cross-border financial and immigration advice and solutions.
Our teams in the UK, South Africa and Australia can ensure that when you decide to move overseas, invest offshore or expand your business internationally, you'll do so with the backing of experienced local experts.