Robyn Vogels, Founder and Owner of Personnel Relocations, gives a thorough breakdown of the school fees by Australian state and territory.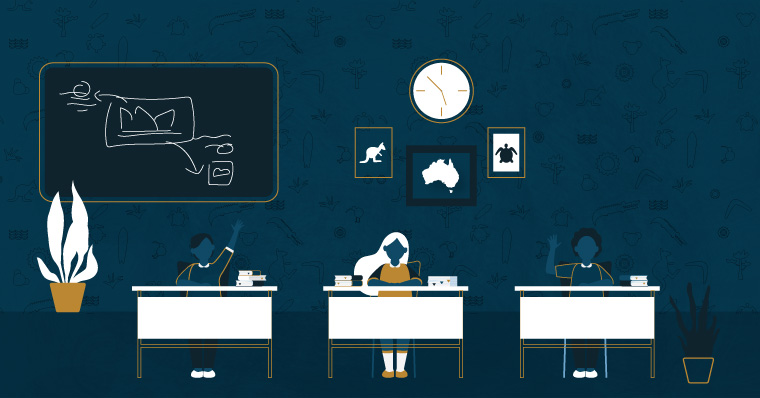 Understanding your schooling options based on your visa can be a minefield. Each State and Territory has different regulations and its own Department of Education.

In this blog, we provide an overview, by state or territory, including exemptions and website links for your further research.

All school-aged students who are under 18 years of age and who hold a subordinate visitor or temporary resident visa based on a parent's principal visa, must reside with the parent during any period of enrolment.

It is also important to note that If your child is assessed by the school as having few or no English skills, they may be referred to an Intensive English Centre. Such referrals are only available to students with permanent residency status, but students on some temporary visas may also be eligible.
Australian Capital Territory (ACT)
Visa classification determines family liability for tuition costs and for those applicants on a bridging visa.

No tuition fees are charged for the school-age dependants of temporary residents who hold particular visa classifications. These include:
Employment-related visas based on the Medium and Long-Term Strategic Skills List (MLTSSL) or the Regional Occupation List (ROL), noting that these lists are regularly updated.
Partner, Carer or Adoption visas.
Higher Education visas if the study is being undertaken by research (as distinct from coursework).
Paid tuition fees are refunded pro-rata from the date of grant of Australian permanent residency.
Find your visa subclass on the government website under "visa subclasses".
New South Wales (NSW)
Most temporary resident students pay the temporary resident administration fee and education fee to enrol in an NSW government school.

Full list of visas and who pays.

The education fee for a temporary resident student is determined by the visa subclass held by the student. The education fee may be paid annually in advance (representing 40 school weeks) or half-yearly in advance (representing 20 school weeks). The education fee is charged on a whole week basis. If for any reason a student only attends school for a part week, the whole week rate is charged.

A non-refundable administration fee is payable on initial enrolment for each fee-liable student. This is currently $120. The 2020/2021 education fee for one year of enrolment of a temporary resident student is currently:
| | | |
| --- | --- | --- |
| Primary School | K – Year 6 | AUD 5,600 |
| Junior High | Year 7 – Year 10 | AUD 5,600 |
| Senior High | Year 11 – Year 12 | AUD 6,400 |
Exemptions
Students in the following specific circumstances are exempt from the education fee. They are, however, liable for the administration fee.
If the child's parents are themselves studying at an NSW University
Students with a scholarship
Exchange students
Children of teachers employed by the NSW government
Further reading
.
Northern Territory (NT)
Dependants of higher education and vocational education and training students are treated as international students and pay full fees. The only exceptions are dependants of Australian aid students and some PhD home country scholarship students as agreed with Charles Darwin University.
Western Australia (WA)
There is a tuition fee for the Temporary Skill Shortage visa (subclass 482) and the Temporary Work (Skilled) visa (subclass 457) holders with dependant children enrolled in public schools. The tuition fee is AUD 4,000 per annum regardless of the number of children a family have enrolled.
If you are an international tertiary student on a 500, 570, 572 or 573 (Non-Masters) Visa, your children need to be enrolled as full fee-paying overseas students for the duration of your visa.
Students on bridging visas may access education on the same enrolment conditions allowed by the previous substantive visa.
Exemptions
Dependants of parents with the following approved scholarships are eligible for the same enrolment entitlement as local students for the duration of their parents' study period:
AUSAID Scholarship
Full scholarship awarded by the Commonwealth of Australia to a person who, because of the scholarship, is permitted under a law of the Commonwealth to reside in Australia
Full scholarship awarded by Edith Cowan University (ECU), Curtin University of Technology, Murdoch University or the University of Western Australia
Students will be required to pay local contributions, charges and fees payable by local students enrolled at the school.
Further reading.
Queensland (QLD)
Most students holding temporary resident visas are required to pay fees to attend a Queensland state school. Tuition fees must be paid in advance and are calculated based on the number of weeks of the enrolment (enrolment for part of a week incurs the charge for a full week). Fees are paid whether or not the student attends school during the period of enrolment.
Tuition fees are subject to change, are reviewed on an annual basis and usually increase each year in line with the Government Indexation Rate. Applicants will be required to pay the adjusted fees from the date of implementation. All fees must be paid in Australian dollars and are inclusive of GST (if applicable).
Visa subclass or citizenship
Do your children need to be enrolled as international or local students?
Link for further information
500
If you are an international tertiary student studying English on an ELICOS course only, your children need to be enrolled as full fee-paying international students
Primary school student

High school student
New Zealand citizen
If your children hold New Zealand citizenship, they can be enrolled as local students.
You will find more information on how to enrol your children at the Department for Education.
188, 400, 401, 403, 416, 420, 476, 485, 489, 602
If you are a business, occupational or cultural visa holder, your children can be enrolled as local students.
You will find more information on how to enrol your children at the Department for Education.
457 and 482
If you are a temporary work (skilled) visa holder, your children can be enrolled directly at your local school subject to capacity.
You will find more information on how to enrol your children at the Department for Education. You may be required to pay a contribution fee.
Dependant student fees for two terms (approximately 20 weeks) are paid in advance.
A full list of fees can be found here
.
Exemptions
New Zealand citizen
The Department of Education, Training and Employment offers fee exemptions for eligible dependant students of temporary visa holders whose parents are studying in Queensland tertiary institutions.

Postgraduate research PhD
Masters research degree at a Regional QLD University

Holds a scholarship with AUSAID, ADS, ALA
Find a full list of exemptions here.
Victoria (VIC)
Tuition fees are the same for all Victorian Government schools. Most temporary visa holders are allowed to enrol their children as local students. There are discounts for students who have a parent studying at a Victorian tertiary institute. More details can be found on the
Victorian Government Schools website
South Australia
A fee applies for families on 457 and 482 visas whose children attend government schools in the greater Adelaide region. Students attending some schools in country areas of South Australia will not have to pay the fee from January 2019.
A list of the country schools can be found here.
The temporary resident student fee is set each year and is based on the annual combined family income you will earn while working in Australia.
The maximum annual fee payable by a family in Adelaide on a 457 and 482 visa for 2021 is:
AUD 5,400 for each primary school student
AUD 6,500 for each high school student
This amount is charged for the eldest child in a family. Fees for all siblings have a 10% discount. For families with four or more children, only the three youngest children are charged. The eldest child is charged the full fee.
Dependants of international tertiary students studying an award course in a South Australian university or tertiary institution can be enrolled in a South Australian government school. Further information can be found on the
South Australian Government Schools website.
The South Australian Government provides a fee waiver for dependants of Higher Degree by Research students studying at South Australian Universities who meet the necessary criteria. Further information can be found on the
Children of SA Government Endorsed Scholarship Holders page
on the
SA Government International Students website
.
See the table of visas and check your category here
.
About Robyn Vogels
Robyn Vogels is the Founder and Owner of Personnel Relocations , who have been providing global mobility support to corporate and private clients who are relocating to Australia for over a decade. As the co-author of Your DIY Move Guide books, Robyn is well placed to offer advice to anyone moving to Australia. She regularly consults and offers her expert opinion to the media on matters relating to culture shock, rental trends and global mobility.
---
If you'd like assistance applying for your Australian visa or Australian citizenship, our team of experts is ready to make the whole process easier. Get in touch via email on migration@sableinternational.com or call +27 (0) 21 657 1526 (South Africa) or +44 (0) 20 7759 5307 (UK) to discuss your options in more detail.
We are a professional services company that specialises in cross-border financial and immigration advice and solutions.
Our teams in the UK, South Africa and Australia can ensure that when you decide to move overseas, invest offshore or expand your business internationally, you'll do so with the backing of experienced local experts.