Criminals have clever ways of defrauding millions each year. They often combine new-school technology with old-school tricks to get people to send money or give out personal information. Amid a rise in HMRC scams, we're clearing up how to avoid getting caught out by them.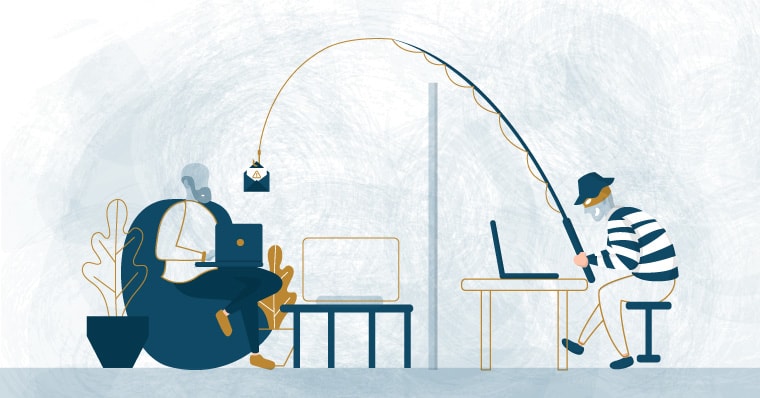 In recent days, there's been an uptick in communications from a few of our clients stating that they received an automated telephone call alerting them that their National Insurance number has been compromised and that, in order to fix the problem and get a new number, they need to press 1 on their handset to be connected to a caller.
These fraudulent scammers claim to be from HM Revenue and Customs (HMRC), warning of a potential criminal record in the future, or giving out threats of arrest.
What is a NI number?
Your NI number helps identify you on UK government systems, including HMRC and the Department for Work and Pensions (DWP). The number is used to track your taxes and National Insurance contributions. An NI number also makes you more employable and ensures that you pay the correct tax rather than UK emergency tax rates, which are much higher than normal tax rates.
Will the HMRC ever contact you?
If you receive a call asking for personal information, do not provide any details to the caller and put the phone down.
It is important to note that the outcome of all these contacts is always to obtain financial details. No matter what type of scam it is, and the different methods employed, a common element shared by scammers is they will go to great lengths to trick people and take advantage of their vulnerability and good faith.
The HMRC will never ask for your bank account details or send you notifications by email or text for:
Tax rebates
Refunds
Personal, private or payment information
If you do receive such an email purporting to be from HMRC or an email promising a tax rebate, don't respond, don't click on any website links within the email and don't disclose any personal or payment information. Instead, contact the authorities directly to check whether the email is genuine.
HMRC has also previously said: "We will only ever call you asking for payment on a debt that you are already aware of, either having received a letter about it, or after you've told us you owe some tax, for example through a self-assessment return."
What to do if you suspect you're being scammed
Confirming personal details like your email address, date of birth or mother's maiden name can be used by criminals to commit fraud. If you have any doubts about what is being asked of you, hang up the phone. No legitimate organisation will rush or pressure you.
HMRC has also issued the following tips:
Recognise the signs. Genuine organisations like banks and HMRC will never contact you out of the blue to ask for your PIN, password or bank details.
Stay safe. Don't give out private information, reply to text messages, download attachments or click on links in emails you weren't expecting.
Take action. Forward suspicious emails and details of calls claiming to be from HMRC to phishing@hmrc.gsi.gov.uk and texts to 60599, or contact Action Fraud on 0300 123 2040 if you suffer financial loss.
---
Moving to the UK? Take the stress out of the process and hit the ground running when you arrive. Download your free UK Relocation Pack here.
We are a professional services company that specialises in cross-border financial and immigration advice and solutions.

Our teams in the UK, South Africa and Australia can ensure that when you decide to move overseas, invest offshore or expand your business internationally, you'll do so with the backing of experienced local experts.

;