If you want to gain top-notch international work experience, the UK is definitely the place to do just that. Finding a job in such a competitive job market can be tough if you don't have the right know-how. Not to worry, we've got the experience and knowledge that'll help get you that job. If you've just moved to the UK and are looking to find work, these are the steps you'll need to take to secure yourself a position in the UK job market.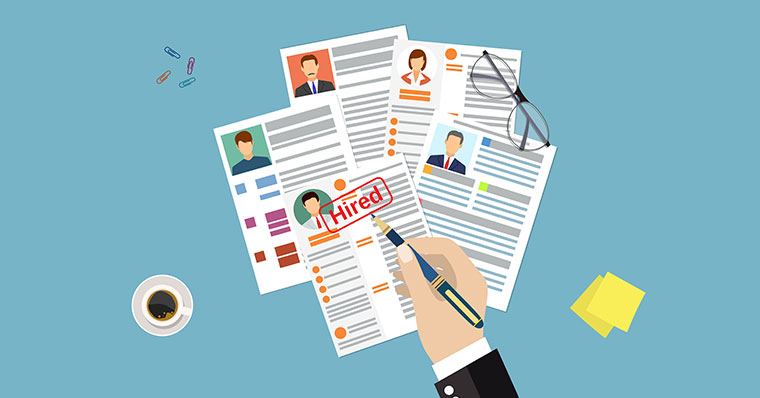 You're going to need a National Insurance number
It's mandatory for everyone seeking UK employment to have a National Insurance (NI) number. Your NI number ensures that you're not taxed more than you should be and that you're paying the right amount of National Insurance contributions. If you don't get your number before your first pay day, then any money you earn will be taxed at a very high rate.
What's more, most potential employers may not be willing to hire you without an NI number. So, it's important that you apply for one as soon as you arrive in the UK.
Getting your NI number is notoriously tricky and frustrating. There are two ways you can apply for one.
The DIY route
You can choose to apply for it yourself. This means that you will have to call the Department for Work and Pensions (DWP) to arrange your Evidence of Identity interview with a local Jobcentre Plus. You will also have to find out which documents you need and get them yourself.
At your interview, it is vitally important that you bring the correct documentation, otherwise you could end up having your application refused. This will mean that you will have to start the application process again.
It can take anywhere between four to eight weeks from the date you appear for an interview before you receive your NI number. This means that if you've already started working, you will pay the higher tax rate while you wait to receive your number.
The "with a little help from your friends" route
Alternatively, you can opt to use a service that will do everything for you. This is especially useful if you're a newcomer and don't know your way around your new city. It will also save you a lot of time and money in the long run.
When you apply for your NI number using our NI number service, we take care of all the admin and assist with any queries you may have. We will make all the calls, arrange for your interview and liaise with the DWP until you receive your number. With our service, you should expect to receive your NI number within four to six weeks.
To ensure you have all your bases covered, we can also help you get a UK bank account. With our 1st Contact UK Relocation Package, you'll also receive an international SIM card, a free wealth consultation, a free international money transfer and travel discounts, in addition to setting up a UK bank account for you.
Get your CV ready
Now that all the admin is out of the way, it's time to polish up your CV and get it noticed. If you moved to the UK without an offer of employment, you'll want to make sure that your CV is up-to-date and highlights the key skills that will make you stand out from the rest of the applicants. If your CV exists online, such as on your own personal website or on LinkedIn, it's important these versions are updated too and consistent with the one you'll be sending out.
Here are some things to consider when prepping your CV for the UK job market:
Make sure to include your contact details such as your full name, home address, contact number and email address
Check that your CV is in the correct format
List and date all your education in reverse chronological order
List all your work experience in reverse chronological order and make sure you include experience that's relevant for the industry you want to work in
Mention any languages you may speak (other than English)
Make sure to mention that you're eligible to work in the UK
Your CV shouldn't be longer than two A4 pages
Make sure that there are no spelling errors
Sending your CV to a recruitment agency
In the UK, most candidates apply for jobs via recruitment agencies, as opposed to directly applying to companies' personnel departments. So, if you don't use a recruiter, it will be much harder to find employment, if not impossible.
That being said, it doesn't mean that if you've sent your CV to a recruitment agency you can expect to be flooded with interview requests. You'll need to ensure that you send your CV to the relevant recruitment agencies and that your CV gets noticed.
Generally, recruiters like to know that you are legally allowed to live and work in the UK. They may request that you provide them with proof of this.
When you get a response from a recruiter, it's a good idea to act on it quickly and arrange to meet them as soon as possible. The job market is very competitive, so the more effort you put in, the better.
Adding your CV to job websites
You can also take initiative and conduct your own job search. This will give you a sense of the UK job market and you'll be able to see the kind of jobs that are available in your industry and your city. You'll also get a better understanding of the kind of experience employers are looking for.
These are some great websites to get your job search started:
What happens once you get offered an interview
So, you've landed your first job interview, congratulations! Now that you've gotten through the hardest part of your job search – getting noticed – all you have to do is impress them at your interview. Here's how you can make sure that you're properly prepared.
A little company research goes a long way
Make sure to research the company and your role thoroughly. Check out their online profiles, learn about the company's history and their services and offerings. The more you know about the company, the better you'll be equipped to structure your answers favourably and impress your interviewer with your in-depth company knowledge.
Get all your documents ready
Ask the recruitment agency which documents you should bring to the interview. You may need to bring your passport and a portfolio (should this be applicable to your role/industry).
Research popular questions for your role and industry
Go online and find out what the typical questions are for your industry. While many interviewers generally ask the same questions, it's a good idea to be prepared for questions that are more directed to your industry. So, do some research and practice your response. Even if they don't ask you these questions, the practice will make you feel more prepared and confident going into the interview.
At the interview
Try to arrive at least 10 minutes early. Never, ever, be late. If you do run even just a few minutes late, always notify the person with a phone call.
It's always better to overdress than underdress. So, keep it professional, even if your industry has a more relaxed dress code.
In the interview, speak clearly and answer questions honestly and give explanations. Use your experience, skills and personal traits to motivate why you are the stronger candidate for the position. Be confident and friendly.
Get your foot in the door with some expert help
If you need a little help navigating the UK job market, our job assistance service can assist. We'll put you in touch with some of the UK's best recruiters to help you find your ideal job.
---
If you've just moved to the UK, we can help you get your new life started from the moment you arrive, stress-free. Send our 1st Contact team an email for assistance with getting your NI number, setting up your bank account and career advice.
We are a professional services company that specialises in cross-border financial and immigration advice and solutions.

Our teams in the UK, South Africa and Australia can ensure that when you decide to move overseas, invest offshore or expand your business internationally, you'll do so with the backing of experienced local experts.

;