The cost of living varies greatly from one Australian city to another. We take a comparative look at Sydney and Adelaide to see which is the most affordable when it comes to everyday expenses.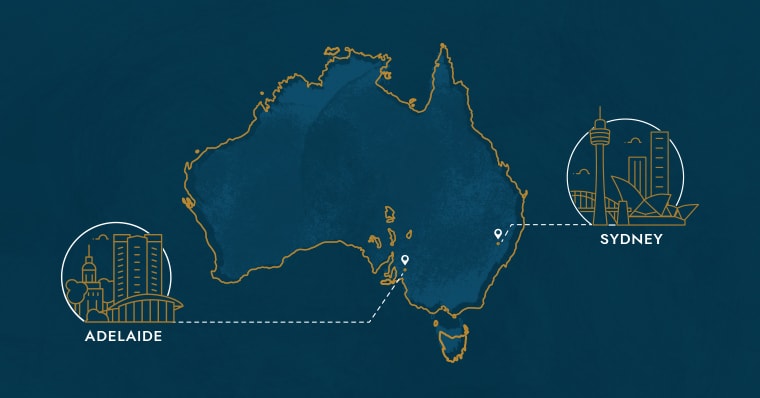 What Australia has to offer
Australia is a friendly and accommodating country with major cities being called home by expatriates from across the world. Expats from Europe can find the cost of living in Australia to be relatively high compared to back home. However, there's a lot of variety in real estate options depending on your requirements and budget. Let's look at two major expat locations: Adelaide and Sydney.
What it's like to live in Adelaide
Adelaide offers you the best of everything. It's a diverse city with thriving local industries and low unemployment rates.
Adelaide has a population of just over one million people who enjoy a Mediterranean climate and relaxed lifestyle. According to the bureau of statistics, people from the UK are Adelaide's largest migrant group, making up 10 percent of the population. The next largest expat groups are Italians (2%), Greeks (1%), Germans (1%) and Vietnamese (1%).
Adelaide is not considered a trendy city like Sydney, so if you prefer to shop at fashion boutiques and wear designer labels Adelaide may disappoint you. However, there is plenty to see and do here, from hiking and stand-up paddle boarding for the more adventurous individuals to cheese and wine tasting for those who enjoy driving around the nearby vineyards.
What it's like to live in Sydney
Sydney is best known for its harbourfront Sydney Opera House and is Australia's oldest and largest city, with a population of around 4 million. Sydney is unique in that it does not have a city centre but is divided into ten distinct villages.
According to the bureau of statistics, Sydney is an important entry point for many new arrivals to the country. Sydney is host to a number of higher education institutions and businesses which draw in overseas migrants.
There are many positives to relocating to this cosmopolitan city. With more than 500 neighbourhoods, each with their own distinct character, it's one of the most picturesque places to live in the world.
Comparing the costs
Accommodation
When looking at homes available for rent it's important to note the amount listed is usually the cost of rent per week and not per month. Most people are paid monthly, so rent is therefore calculated for the full term of the lease and is then divided to be paid monthly. This is because the number of days differs month-on-month so the rent is expressed as a weekly figure for easy comparison.
Adelaide has over 1 million inhabitants, but few of them live in the city centre. This is because there are cheaper options in the outer neighbourhoods, and you can reach the city centre in under an hour by either bus or tram.
The cost of living in Sydney is high. On average you will pay AUD 600 per week for a one-bedroom apartment plus utilities. Sydney is Australia's most expensive capital city and one of the costliest cities in the world. Just like the price of living in most cities, the closer you are to the centre, the more you can expect to pay.

Below we compare the cost per month for a one-bedroom apartment in the city centre:
| | |
| --- | --- |
| Adelaide | Sydney |
| AUD 1361.52 | AUD 2602.16 |

The below table shows the cost per month for a one-bedroom apartment outside the city centre:
| | |
| --- | --- |
| Adelaide | Sydney |
| AUD 1005.43 | AUD 1893.38 |
Basic utilities
Below we compare the cost per month for your basic utilities while living in a 85m2apartment:
| | | |
| --- | --- | --- |
| | Adelaide | Sydney |
| Electricity, heating, water, refuse removal | AUD 178.87 | AUD 180.69 |
| Internet | AUD 71.10 | AUD 71.35 |
Transport
Adelaide is known as the 20-minute city, because you can get just about anywhere in 20 minutes. Despite most people choosing to drive themselves, Adelaide has a very good public transport system that consists of trains, buses and trams. Buses are frequent and you can travel by bus for free in the city centre. You can also purchase a MetroCard, which gives you access to trains and trams for travelling further distances.
Sydney has several train lines from the Central Railway Station, which makes the train system the most practical choice for getting to the outer suburbs as well as to the bus.
Sydney uses an Opal card to pay for public transport. Load your money onto your card at a station or authorised store and you're on your way.
Below is a table illustrating how much transport in Sydney and Adelaide can cost:
| | | |
| --- | --- | --- |
| | Adelaide | Sydney |
| One-way ticket on local transport | AUD 4.00 | AUD 4.00 |
| Monthly pass on local transport | AUD 99.00 | AUD 217.39 |
| Fuel per litre if you own your own vehicle | AUD 1.48 | AUD 1.49 |
Food and drink
Adelaide has an abundance of cuisines and top restaurants to dine at in the city and surrounding neighbourhoods. Explore Adelaide's booming bar scene where some of the coolest spots are in basements, behind secret doors and unmarked alleyways. Just outside the city centre are some of the world's most renowned wine regions to enjoy.
According to Budget Direct's cost comparison tool, grocery prices in Sydney are 15.88% higher than in Adelaide and restaurant prices in Sydney are 16.70% higher than in Adelaide.

Below we compare the prices of eating out and weekly grocery shopping:
| | | |
| --- | --- | --- |
| | Adelaide | Sydney |
| Average weekly grocery bill (staples) | AUD 90.00–AUD 135.00 | AUD 104.00–AUD 156.00 |
| Restaurant meal for two | AUD 60.00 | AUD 86.75 |
| Domestic beer at a restaurant (0.5L draught) | AUD 8.00 | AUD 8.00 |
| Average bottle of wine at the supermarket | AUD 15.00 | AUD 18.00 |
Childcare
A good online resource for babysitters in Australia is the website Find a babysitter. Once you pay a registration fee, this platform will give you access to babysitters and au pairs in your area. You can also advertise that you are searching for help.
What you can expect to pay per hour for a babysitter or nanny:


| | |
| --- | --- |
| Adelaide | Sydney |
| AUD 15.00–AUD 25.00 | AUD 17.00–AUD 35.00 |
Will my salary be sufficient?
Moving to another country is not a decision to rush. It's important that you understand what your living costs will be and how much you will be earning in relation to that. What may seem like a good opportunity could end up costing you in the long term.
According to Budget Direct's cost comparison tool, a person working in Sydney will typically earn a net salary of AUD 4845.00 per month and someone working in Adelaide will earn a net salary of AUD 4208.73. This is of course dependent on your particular job and level of expertise.
The longer you live in a certain place, the more you become accustomed to the prices. Although the cost of living may be higher than you're used to in Europe, it's likely that your salary will compensate for this and it will even out in the end.
Factor in pre-departure costs
Before you set off and move down under, there are a few pre-departure costs to consider, such as medical examination costs for your visa application (AUD 350–AUD 500), air travel (AUD 1180) and visa application charges (from AUD 4,000).

Additional costs after arrival may include two weeks' upfront deposit on your accommodation and any household setup costs like internet and telephone connection expenses as well as furniture and household goods you may need.
Australian visas for expatriates
There are many different Australia visas available and it's important that you apply for the right one. Your employment and travel plans will dictate which visa you need.
A visa can be temporary or permanent, and if you're planning to stay for an extended period of time you may want to consider a path to Australian citizenship.
Expert advice
We're experts in helping people from around the world with Australian immigration and citizenship. Get in touch with a MARA-registered Australian migration agent who can assess your situation and advise you on which visa would suit you best.
A registered migration agent will also help guide you through the entire application process and ensure your application is approved – saving you valuable time and money.
---
For expert advice on immigrating to Australia or help with your visa application, contact our team at immigration@sableinternational.com or call us on +61 (0) 38 651 4500.
We are a professional services company that specialises in cross-border financial and immigration advice and solutions.

Our teams in the UK, South Africa and Australia can ensure that when you decide to move overseas, invest offshore or expand your business internationally, you'll do so with the backing of experienced local experts.

;