The UK government has announced massive increases to the Immigration Health Surcharge fee as part of a move to fund a pay-raise for public sector workers. We take a look at the changes.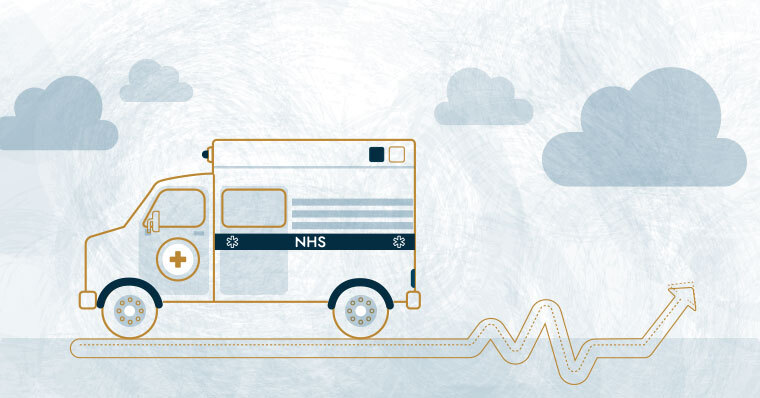 How much the new surcharge levy will cost you
On 13 July 2023, Prime Minister Rishi Sunak announced a proposal to increase the immigration health surcharge (IHS) from £624 to £1,035 per person per year – a massive 66% increase.
The discounted rate which applies to students, their dependants, and Youth Mobility Scheme applicants will increase from £470 to £776 per year. The surcharge will also be set at £776 for all children under the age of 18.
If you're coming to the UK for longer than six months you will need to pay the mandatory IHS as part of your UK visa application. You need to pay the total amount upfront with your visa application, so that it covers you for the duration of your visa.
For example, if your visa is valid for five years, you must pay, at the current fee of £624, a health surcharge of £3,210 when you apply for your visa.
With this massive increase to the IHS fee, this will mean that if you apply for a five-year visa, you will have to pay £5,175 upfront, and that's aside from your actual visa fees.
This increase forms part of the government's plans to fund a pay raise for public sector workers and bring an end to recent industrial action.
How does the surcharge system work?
The IHS is used to fund healthcare from the UK's National Health Service (NHS). By paying the IHS, you gain access to NHS services while you're living in the UK – you won't have to pay to visit a doctor, healthcare centre or hospital. Everyone has access to the NHS, however, there may be additional charges for certain consultations and hospital visits. This will depend on your individual circumstances and medical needs.
Once your visa has been granted and you have paid the surcharge, you can register for NHS at the nearest GP practice to you. You will need to complete and return a registration form, available at your chosen practice.
Who is exempt from paying the immigration health surcharge?
You'll be able to use the NHS without paying the surcharge or getting a reference number if:
you're applying for indefinite leave to enter or remain
you're a health and care worker who is eligible for a Health and Care Worker visa (or you're their dependant)
you're applying to the EU Settlement Scheme
you're a diplomat or a member of a visiting armed forces and not subject to immigration control
you're a dependant of a member of the UK's armed forces
you're the dependant of a member of another country's armed forces who is exempt from immigration control
you're applying for a visa for the Isle of Man or Channel Islands
you're a British Overseas Territory citizen resident in the Falkland Islands
you're an asylum seeker or applying for humanitarian protection (or you're their dependant)
you're a domestic worker who has been identified as a victim of slavery or human trafficking
you're applying for discretionary leave to remain in the UK as someone who has been identified as a victim of slavery or human trafficking (or you're their dependant)
the Home Office's domestic violence concession applies to you (or you're their dependant)
being made to leave the UK would be against your rights under Article 3 of the European Convention of Human Rights (or you're their dependant)
you're an S2 Healthcare Visitor
you're eligible for a Frontier Worker permit and have an S1 certificate
When will the increase come into effect?
There has been no announcement yet about when these fee changes will come into effect, so if you are thinking about immigrating to the UK, you should get in touch with one of our immigration advisers to discuss your next steps.
---
Our immigration advisers can assist you at every step of the visa process. Speak to one of our immigration consultants on +27 (0) 21 657 2180 or email us at immigration@sableinternational.com.
We are a professional services company that specialises in cross-border financial and immigration advice and solutions.

Our teams in the UK, South Africa and Australia can ensure that when you decide to move overseas, invest offshore or expand your business internationally, you'll do so with the backing of experienced local experts.

;